Build a profitable business within the Health Insurance Industry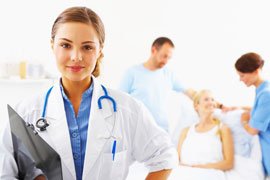 Growing uncertainties within the NHS mean that more people are looking at ways to protect their biggest asset: their health. Private Medical Insurance will never be a full substitute for the NHS however, but it complements the much-loved national system by funding treatment in private hospitals for non-urgent, acute conditions.
In this exclusive article, Western Provident Association (WPA), a not-for-profit private health insurer with a heritage of over 110 years, gives us a unique insight into this industry and share the benefits of franchising within it.
The benefits of going private
There are a number of advantages of using a private hospital which include; avoiding waiting lists, having a private room, unrestricted visiting hours, and freedom of choice – choosing your consultant and where you want to be treated.
Who buys medical insurance? This can be broadly split into 2 categories:
1. Individuals/families who want to ensure they have the access to health treatment should it be needed. Many individuals who purchase medical insurance are self-employed and cannot afford to risk waiting lengthy periods for treatment on the NHS.
2. Companies purchase on behalf of their employees as a way to reward them, reduce absenteeism, and help recruit new staff. Each year 300,000 people leave work due to illness and injury (DWP) costing UK businesses £16 billion per year (1). Health and wellbeing has therefore become an important part of business healthcare and sickness absence strategies. A strong benefits package not only helps employers make sure they get the pick of employees at recruitment but can also help retain them.
The number of people in Britain taking out private medical insurance has risen significantly for the first time since 2008. After falling steeply between 2008 and 2011 and then staying flat, demand for private medical insurance cover in Britain rose by 2.1% in 2015 with just over 4 million people insured. (2)
Franchising within this sector
The contribution of franchising to the UK economy is now estimated to be £15.1 billion, an increase of 46% over the past 10 years and up 10% since 2013. Additionally, the total number of people employed in franchising in the UK is 621,000 with a record 97% of franchisee-owned units reporting profitability. (4)
With the franchise industry continuing to prosper (3) and the uncertainty of the healthcare systems in the UK, we have never been busier. WPA Healthcare Practice franchise has been trading for 10 years as a main distribution channel for Insurance and a growing franchise network of 76 franchisees.
When considering the right franchise route for you, it is essential to look at how a franchisor responds to industry demands, customer needs and the fierce competition. For example, although the private medical insurance industry is highly competitive WPA have remained true to their heritage and are continuing to expand their loyal customer base. This may be due to the fact that local business owners are able to deal directly with the WPA Healthcare Partners (who are also local business owners).
Benefits of investing in an established franchisor
One of the main benefits of investing in a franchise model is that you often do not need any experience in the sector you are looking to join - a good franchisor will provide comprehensive training enabling you to run the business.
Daniel Wade, Director of New Practice Development, describes what they, as an ethical franchisor, provide so as to give you an understanding of what you should expect from a good franchise network:
'We have invested heavily in our training and mentoring programme over the past 3 years to ensure we give our new Healthcare Partners the best opportunity for success. As a franchisor within a regulated environment, we have a responsibility to ensure our Healthcare Partners are trained to the highest possible level. We initially offer a week-long residential training course followed by a 2-day follow up course 6 weeks after the initial training. We also assign a mentor who is a successful Partner who can be on hand for any day-to-day queries".
Summary
Franchising is a partnership, so a good franchisor should invest in initial and ongoing training, with both parties investing in each other to build a long-term relationship.
To find out more about the WPA Healthcare Practice franchise, click here. Why not look at other Insurance-based franchises here or, alternatively, have a look at other franchises that work in the care industry here.
References:
(1) http://www.personneltoday.com/hr/sickness-absence-rates-and-costs-revealed-in-uks-largest-survey/
(2) https://www.theguardian.com/business/2017/jan/16/private-medical-insurance-sales-surge-health-nhs
(3) http://www.thebfa.org/about-franchising/franchising-key-facts
(4) http://www.thebfa.org/about-franchising/franchising-industry-research
---