Lindsay Parkinson of Avensure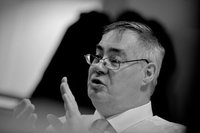 Lindsay joined the Army at 16 as a Military Accountant in 1976. Completing training in August 1977, spending time with various infantry and logistics regiments in the UK, 3 tours of Northern Ireland, 2 years in Cyprus, Germany, visits to Louisville Kentucky with 101st Airborne Division, Edinburgh/Cyprus with 1st Battalion Argyll and Sutherland Highlanders.

Joining Royal Mail in May 1985, his first role was operational dealing with measuring performance and quality of service,. Through a number of re-organisations he ended up in Industrial Relations working with national and regional trade union representatives to facilitate change where local offices have reached an impasse.

Over the last 14 years working in the field of employment law, with a mixture of public and private sector experience which allows him to use the knowledge acquired to work with clients to develop focused solutions to meet the client's needs.