Find out why the domestic cleaning sector is worth £4.7 billion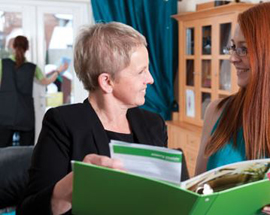 The domestic cleaning industry is reportedly worth £4.7 billion pounds – That's a phenomenal sum. The question might be why is it worth so much?
In this exclusive article, Merry Maids, one of the largest domestic cleaning franchise businesses in the world, gives us an expert insight into this highly lucrative industry
Domestic cleaning: Supply and demand
Demand for domestic help in the home is growing at a rapid rate because we are all leading very busy lives and in many cases both parents need to work – therefore are significantly time poor, and have made a conscious decision that "we are not spending our time off cleaning the house".
Families want to spend quality time together, taking the kids out, meeting up and having lunch with family and friends not running round the house with a vacuum cleaner and a feather duster.
The industry has seen a huge upturn in request for service and we at Merry Maids have seen that first hand. Recruiting high quality, reliable staff is the key to any business at Merry Maids we take time to recruit and train all our teams to the highest standard.
Being part of an established and highly reputed brand
Building a reputation for being the best cleaning company with a reliable team locally is a great asset and being part of an established brand carries extra weight.
The consumer is now looking at employing companies rather than independent cleaner because they offer so much more. Merry Maids for example offers – free no obligation in home quotation, guarantee quality of work, rooms and times to suit you as well as regular and one of cleans
Cleaning businesses are becoming more and more popular and franchising offers a great opportunity to people who have a burning desire to be their own boss and run their own business, the franchise industry is the fastest growing business sector, and currently contributes over £15 billion to the UK economy.
The perks of investing in a tried-and-tested franchise model
The beauty of a franchise is that all the hard work has been done – you are investing a proven business model / system that works, with the added bonus of support.
For example, Merry Maids pride themselves on offering their franchise network the highest level of support, from set up to exit your whole journey is supported with our team at Servicemaster house.
Investing in franchising is more inclined to give you a better than average success rate, as 95% of franchise businesses are more likely to succeed.
About the author
Merry Maids is a member of the ServiceMaster family of brands, which was established in Chicago in 1929 and franchise over 55 years ago. As a global leader and a Full member of the British Franchise Association, Merry Maids offer franchisees a thriving domestic cleaning management opportunity. To find out more about it, click here.
To consider other cleaning (both management and single operator) franchises, click here. Alternatively, whey not have a look at other management franchise businesses here.
---