Providing an essential service in the face of disaster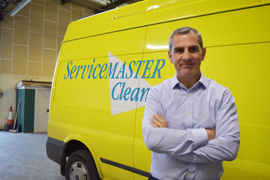 For those that are not familiar with the phrase disaster restoration then you may be reading this out of curiosity. The Disaster Restoration industry, or DR as it is usually known, is about the solutions that are provided to people & organisations that need to return to normal as quickly as possible following a significant event, such as a flood or a fire.
In this exclusive article, Servicemaster Clean Disaster Restoration gives us an eye-opening account of what to expect from this sector, what disasters you would deal with, and the satisfaction of resolving such challenges for clients.
Disaster Restoration in a nutshell
DR companies are typically the first responders to a policyholder or a business that has suffered one of these disruptive events. The DR businesses role is to get to the property quickly and begin the process of getting the individuals or businesses back to normality as soon as is practical to do so.
Disasters don't work 9 to 5! So DR companies make themselves available 365/24/7 in order to respond to demand and maximise the potential for restoration. The speed of response is critical to the restoration process ensuing that maximum restoration is achieved; this means acting quickly to save cherished personal items for the individual whilst saving money for the insurer.
In these challenging moments, those affected will look to businesses with a solid reputation; this is where a franchise business holds its own. Franchisees benefit from the established brand name and reputation, as well as the business model that has proven to work nationwide.
What kind of disasters we face
We all recognise the major flooding events that we see on news footage; there is a less obvious need for water damage restoration – frozen pipes bursting in winter, leaks from radiators, an escape of water from bathroom fittings, underfloor heating or kitchen fittings or appliances; and even water ingress after high winds and storm damage.
There is little for us to do in a property that is heavily burnt; however many fires can be relatively small, the resulting smoke will travel throughout the property or premises and needs to be dealt with by experienced restorers – again swift action ensures that maximum restoration is possible.
DR also means mitigating the risk for commercial clients; responding effectively to assist businesses so that they can open as normal without loss of trade. Alternatively, reacting quickly to remove graffiti from a building, providing a professional service in removing needles and drug paraphernalia that may pose a risk to customers & staff.
Essential services no matter the size of the damage
Some of the work that a DR company undertakes can seem quite mundane in comparison to the extremes; we may be asked to remove stains from a carpet or piece of upholstered furniture – this is a great opportunity to demonstrate acquired skills and the ways in which we can save clients & insurers money.
The work of a DR company is varied; no day is ever the same so the ability to work under pressure, being flexible and responsive comes with the territory.
About the author
ServiceMaster Clean is one of the leading restoration and cleaning franchises in the UK and offer 4 different franchise packages that each cater to a niche within the restoration and cleaning industry. To find out more, click here.
To consider other franchises who deal with disaster restoration for insurance claims, click here. Alternatively, why not have a look at other property maintenance franchises in the UK here.
---