UK Courier and Shipping Market - the Commercial Opportunity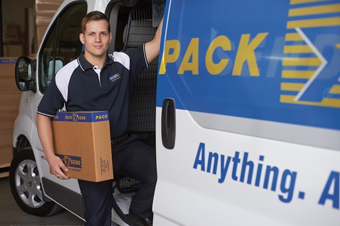 When considering franchise options, apart from considering what you feel you will be happy doing, the first step is to assess which markets are showing positive commercial trends. In this exclusive article, industry leaders, PACK & SEND, share their inside knowledge of this thriving sector and why a franchise which offers a unique concept puts you ahead of the game.
Logistics and Shipping - A £billion industry
A look at the logistics and postal services markets reveals that this is a massively important sector for the UK economy.
Such services are not only key drivers and enablers for general commerce, within and beyond this country, they are also seeing enduring growth through the relentless move to internet-enabled remote commerce. To top it off, they also turnover some £55billion annually - around 5% of total UK GDP.
That revenue, however, has attracted many businesses and there now around 63,000 companies (ref: PwC) participating in the UK logistics market which leads to a squeeze on prices and margins.
Commercial success thanks to unique proposition
This is a challenge for typical courier or freight businesses who handle standard pre-packed freight and who are having to deliver increasingly high shipment volumes to make a profit.
Niche market propositions, such as PACK & SEND on the other hand, are riding the growth whilst maintaining prices and margins.
The secret to this commercial success is due to a unique proposition, developing a distinctive brand and delivering excellent customer service. For PACK & SEND, the point of difference is clear; whilst there are many businesses that offer part of what they do, there is nobody that provides their wide range of shipping options combined with multiple packing services and a flexibility to meet virtually any customer's needs.
The Logistics Sector - Considerations
As with most markets, commercial success in the mass freight market depends on scale, which in turn requires significant infrastructure investment and a large headcount. These can be difficult for a franchise model to deliver.
What's more, the logistics market has two kinds of customer which have historically been served by different types of businesses. However, if a company is to be successful in both the domestic and business markets then it needs to demonstrate efficiency and knowledge whilst remaining accessible and easy to deal with - a difficult task for many logistics providers to achieve.
A premium niche market proposition, however, is ideally suited as a franchise business where sales and service are the key deliverables and the investment far more manageable. Franchises, like the PACK & SEND model, have low-cost retail locations and wide service flexibility which, subsequently make the business ideally suited to the domestic consumer and B2B customer.
Offering multiple or combined services
In a market primarily geared towards moving packed parcels and packages, a combined packing and delivery service is a powerful proposition as shipments for unpacked goods can arise for many reasons:
• items bought or sold via trading sites such as ebay
• items that are unique such as artwork, antiques or classic car parts
• movements of operational or used equipment
• collection and return of items inadvertently left at a location such as hotels or airports
• personal items such as student 'end of study' moves or temporary work moves
A leading authority in the franchise industry
When considering franchising within this sector, it is important you consider the unique propositions they offer you. For example, it is essential that you do your due-diligence and check that they are an ethical franchisor – are they a member of the British Franchise Association for example?
Think about what service they offer and is there a demand for it. PACK & SEND, for example, has a 'user-friendly' end-to-end service that is very different from a simple shipping company and like-for-like sales growth in excess of 30% last year illustrates the demand for this. Their trading model is very different too! Whilst an ordinary courier typically needs to handle hundreds of parcels to make money, a PACK & SEND store could be a £1/4 million business with just 3-5 customers each day!
In conclusion, when looking to invest in a franchise, it is crucial that you look behind the scenes and get a good understanding of how the market may impact your business. Due diligence will save you a lot of time and money down the line.
To find out more about PACK & SEND's franchise opportunity, click here. Alternatively, why not have a look at other franchises within the logistics and delivery sector here.
Ref: (PwC): http://www.pwc.co.uk/industries/transport-logistics/transport-and-logistics-logistics-posts.html
---