Want your business to thrive on the local high-street? Try franchising!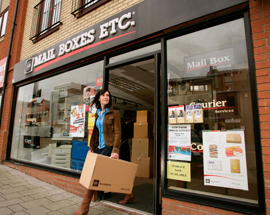 There are so many businesses well-known to UK households but, just stop for a moment and imagine the number of businesses that may exist but may not be not widely recognised! This is the reality for many business owners, and having your brand grow to be loved and recognised on a national scale is just a dream for them.
Opening a retail business is a large investment and it can often be difficult to establish a brand, build a customer base and stand out from competitors – many of these businesses don't survive in the long term.
Mail Boxes Etc. has thrived on local high streets while many other brands have fallen by the wayside. So, what's the difference between starting your own business and investing in a proven franchise model in the retail sector? In this exclusive article, Mail Boxes Etc. outline how to build a successful retail business.
Location, location, location
Property costs can mean that retail businesses may have a higher start-up cost than other new businesses. The location of a retail store can have a major impact and the ideal location will depend on a number of factors including customer demographics, footfall and competition.
When joining forces with a retail franchise, your franchisor should support you in finding the perfect location for your store, as well as helping you negotiate the terms. They will have an in-depth knowledge of the market and business opportunities to guide you towards selecting a great location. But it doesn't stop there!
Once you've found that perfect location, your franchisor should support you on fitting out the premises, creating another bright new store to match all the others in the network, and adding strength to the brand.
Profitable revenue streams
Choosing a retail franchise that appeals to a broad market and offers more than just one product or service can greatly reduce risk; having a range of products and services on offer makes customers more likely to come back to you for repeat business as their needs change. Having a broad product range will also appeal to a wider audience.
Another important factor to remember is that using the strength of their network, franchisees often benefit from negotiated supplier rates which not only helps towards reducing set up costs but more importantly provides attractive margins on their products and services.
Innovation for continued success
The beauty of joining a franchise network is that you invest into a business that is established and may allow you to trade into profit earlier than if you had started up on your own.
Many people forget that a franchisor is there to continue developing the business model, planning for and adapting to market changes together with introducing new products and services. These activities can take up a huge amount of time, and resources you are unlikely to have when setting up a business on your own.
The team at Mail Boxes Etc. keep a close eye on trends and changes in the market and use it to their advantage by introducing new products and services that reflect customer demands. These activities are what helps them stay one step ahead of their competition and, despite fluctuations in the economy, their franchisees can remain profitable and successful.
Summary
When researching retail franchises, it is vital that potential franchisors provide the right level of support, have a proven profitable model and react to changes in the market. Reduce the risk of success by asking the right questions and discover the right path to your business success!
To find out more about an exciting opportunity with Mail Boxes Etc., please click here. To look at other franchises within the retail sector, click here.
---