Prospering through procurement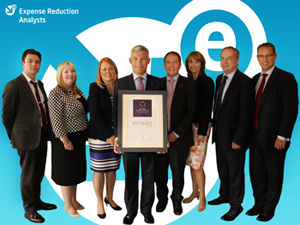 Most franchise opportunities focus on a specific sector or industry, whether it's in a Business-to-Business (B2B) or Business-to-Consumer (B2C) market. But imagine if you could target any industry and any sector, regardless of your own personal experience.
Expense Reduction Analysts explain how to leverage collective knowledge in a franchise network for maximum market-reach and what you should look for when considering a Procurement opportunity.

The B2B marketplace
Profitability and efficiency is at the heart of every organisation. Put simply, the best way for businesses to boost their bottom line is to sell more or spend less. Clearly one is a little easier and a lot more attractive than the other!
According to the Deloitte: Chief Procurement Officer (CPO) Survey 2016, cost reduction has become the top priority for CPO's as they look to sustain business growth in a slowing market. A staggering 76% highlighted cost reduction as their biggest goal for the coming years with 62% believing their in-house teams lack the skill and capability to meet this requirement.
An effective procurement business should be able to offer solutions to any industry, giving any business the opportunity to flourish despite economic fluctuations. The ERA model takes advantage of this perpetual demand for cost savings and improved efficiency by leveraging the collective knowledge of its network to achieve maximum marketplace penetration.

Leveraging collective knowledge
An obvious advantage when investing in any franchise is the ability to benefit from the knowledge and experience of your fellow franchisees. A franchisor should facilitate regular opportunities for their network to meet, both regionally and nationally, to share real-life stories, best practice and ideas.
The ERA business model goes one step further and actually utilises the vast knowledge and skillsets of its franchisees to enhance the business model.
Rather than work completely independently, franchisees have the option to collaborate with one or more colleagues which means there's no business or project that cannot be taken on or actively pursued. This in turn ensures that clients can have access to a level of specialist cost-centre expertise that is second to none.
Results that feed sales
With any B2B service, the ability to demonstrate proven success in a particular industry or cost-centre is vital for franchisees. Only by doing so can they effectively market to and win new business. Put simply, it is important that business owners see tangible results and with a Procurement franchise, that becomes even more important.
As part of your due diligence, it can be useful to incorporate questions on this subject for a franchisor. For example, what tools and methods are available to franchisees to help them showcase success? Where do these resources sit in the local and national marketing strategy and how often are they refreshed or updated?
The ERA strategy ensures that a library of client success stories are available for franchisees to tap-into. New examples are prepared every month and highlight not only cost savings but efficiency improvements. These case-studies cover as wide a variety of sectors, business types and industries as possible. From telecoms and fleet projects with international organisations to insurance and printing projects with charities and High Street banks.
Through ERA's training and business development programmes, franchisees can not only generate new business but achieve exceptional results and retain customers for the long-term.
Are you suited to Procurement?
Whilst almost all white-collar franchises will look for a certain level of management or professional experience, sector and industry should have little sway on your suitability. Specialist knowledge may lead you to focus on a specific cost centre, you could even become the go-to expert in your network.
Or perhaps with a natural flair for sales you could focus your efforts on Client Relationship Management or Business Development Manager roles, partnering with your fellow franchisees to undertake the technical work.
Instead of asking if Procurement is the opportunity for you, better to ask yourself if you're interested in making a difference? Is empowering other business owners to improve their situations and in many cases, reinvest savings to grow and evolve the type of thing for you?
About Expense Reduction Analysts
Expense Reduction Analysts, one of the world's largest and fastest growing consultancy franchises. To find out more their opportunity, please request their FREE and non-obligatory franchise prospectus here.
To look at other 'Business Service' franchise, click here. Alternatively, check out 'white collar' franchise opportunities here.
---