Benefiting from an ethical franchisor in a competitive market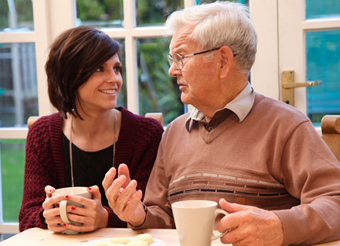 The strongest argument for buying into a franchise is the support that it offers and, never is this more valid than in the care sector, where franchisees are responsible for the welfare of vulnerable clients and subject to regulation and complex legislation.
The benefits of investing in a care franchise
Having the safety net of an experienced franchisor behind you is hugely beneficial, as not only will you receive a framework for compliance from the franchise's operational policies and procedures, you should also be able to access anytime-support in all aspects of compliance, safeguarding and quality control.
Operating at the premium quality end of the market, with a client-base that is predominantly self-funded, franchise owners – like Right at Home's - really do need to set the highest standards of care delivery.
A good, ethical franchisor's system should furnish them with a wide range of Quality Assurance tools and tailored business support that enables you to scale up your businesses whilst maintaining the focus on quality and compliance.
Find a franchise that share your personal principles
Whilst the first 12-24 months of establishing the business can be highly challenging, a care franchise should allow you to work to your own personal principles from Day 1 and to enjoy the rewards of having a truly positive impact on people's lives.
For example, at Right at Home we follow the 'mum test' of only recruiting CareGivers we would happily trust to care for our own mother. We don't believe quality care can be delivered in short visits, therefore our preferred minimum visit is 60 minutes, which allows us to deliver care with dignity and go the extra mile to enhance our clients' quality of life. We are also absolutely committed to supporting our clients with consistent care staff, so that they can build relationships that really add to their sense of well-being.
One of the strongest incentives to enter the care sector is the reward of personal satisfaction as you witness the wide-ranging impact that a genuinely caring service can have on both an individual and their family. Operating to these values has seen us recognised as the most highly recommended national company on Homecare.co.uk, the leading independent review site for care.
Investing in a lucrative market
There has never been a better time to enter the homecare sector, providing you have the right tools with which to do the job. Demand for care in the home is growing exponentially, due to our rapidly increasing population of independent elders who have no desire to give up their daily routines or their home comforts.
Demographic data shows that the number of over 75s is going to double over the next 20 years and, like many Western societies, we are living longer lives with one in 3 children born today predicted to live to 100 years old.
The customer care expectations of ageing Baby Boomers have been met by a model of self-funded, discreet support that has emerged from America, offering holistic support that encompasses all physical, social and emotional needs and wishes.
Care franchises make their mark in the international market
Care franchises now have a considerable presence in the international franchise market; in January 2017, Right at Home was the highest-ranking care franchise in the Enterprise Top 500 franchise listing, and in the UK Right at Home and other care brands have won major BFA awards and industry accolades such as the Best Franchise Award.
While an emerging market inevitably attracts a rising level of competition, franchisees should find that the benefits of an established brand and an award-winning support system help them to establish a reputation for quality, leading to ongoing word-of-mouth referrals.
Experienced franchisors offer unrivalled support and guidance
The most significant challenge faced in the quality care sector comes from recruiting high calibre staff at a rate that allows your business to grow and meet demand.
Again, a good franchisor will provide significant support; at Right at Home our Group Head of Recruitment works with individual owners to develop creative strategies for identifying, attracting and retaining suitable candidates.
Are you right for franchising?
When considering the care sector, it is always a useful exercise to assess yourself against the recognised attributes of a successful franchisee.
For example, Right at Home franchisees must be comfortable networking and building relationships with potential referral sources and enjoy a customer-facing role in their local community.
Given the need to build up a trust-based reputation, they will have realistic expectations about the time it will take to break even – averaging around 12 months – and a determined mindset, driven by aspirations of long-term profitability built upon a well-respected brand.
Above all, at Right at Home, we look for a genuine passion for helping others. Without this, you will never stand out from the crowd; but with it, you can achieve truly astounding outcomes and build a business you can really be proud of.
About Right at Home
Right at Home is a UK-leading care service which provides high quality care, companionship and support services. To find out more about their franchise opportunity and to immediately download their FREE and non-obligatory franchise prospectus, click here.
To discover what other care franchises are available in the UK, please click here. Alternatively, have a look at 'management' franchises like Right at Home, here.
---