Take a fresh look at promotional merchandise industry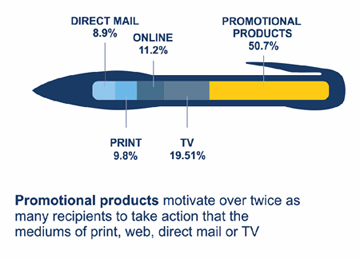 When you think how you might promote and market your business, collateral such as TV, radio, posters and press may be the first mediums that spring to mind. However, it might be time to challenge that traditional thinking.
At Recognition Express we've spent 35 years understanding what makes a promotion successful and how to generate brand awareness. We know that promotional merchandise offers more exposure and value for money than any other advertising medium out there. In this exclusive article, we want to give you a unique insight into this thriving industry and share why franchising in it, may be a profitable route into business ownership for you.
Top results for brand awareness and promotion
94% of recipients of branded merchandise remember the product or the company for over six months.
BPMA research
These results, generated by using promotional products, knock the performance of traditional marketing methods out of the park. A huge amount is spent on traditional marketing methods with varying degrees of measurable success. Marketeers using promotional merchandise to target customers can be far more precise.
Marketeers have the names of everyone who received the item – and can track response rates accordingly. Compare the cost of a small advertisement, and the wastage factor of not hitting the right people, against the cost of sending out 500 pens, mouse mats or fridge magnets to individually named targets. Promotional merchandise is more cost effective and more easily measures.
Our franchises offer businesses better brand exposure
With the right product, you can ensure your brand gains maximum exposure. A mug for example will stay with a customer many times longer than a bottle of whiskey and a mouse mat serves as a constant reminder of your company.
Likewise, a well-designed fridge magnet will be seen by all the target's family and branded USB flash drives remain one of the most sought-after corporate gifts and are used at home and in business. Used in conjunction with direct marketing, promotional products are probably the single most effective means of creating brand awareness.
As a highly-experienced franchisor, Recognition Express franchisees have the tools to confidently market the benefits of our services to clients. We have proven that, by knowing exactly who you are sending the item to, clients can opt to spend either a few pence or many pounds per unit, thus controlling their budget and turn the promotional tap on or off as business demands.
Helping businesses maximise the effect
Essentially, from our extensive experience over 35 years, we believe that there are three things a promotional item needs to be really effective – personal, usable and memorable.
If you can achieve all three at the same time you will have found the right tool to promote your business. Products that are both usable and personalised will be kept and used time after time. Let's have a look at each of these:
#1 Personal
52% of recipients with branded products on their desks bought products or services from those companies.
BPMA research
The most effective product is one which is personal to the user. People identify with their company name or even better their own name – but make sure you always check and double check logos and spellings.
Whilst a stylish pen with your name on is to be treasured and remembered, one with incorrect personalisation is also memorable but for the wrong reasons!
Thanks to digital technology, today's marketer can order just one name badge, one mug or one t shirt at a sensible price from our franchisees – and those days of high volume minimum orders are long gone.
#2 Useable
Over 50% of us have three or more free promotional products on our desk.
BPMA research
In a B2B situation you're looking for a product that can be branded AND will stay on the recipient's desk for as long as possible. According to the BPMA research the 10 most desk items remain:
1. Pens
2. Diaries
3. Desk Pads
4. Notebooks
5. Calendars
6. Mugs
7. Calculators
8. Pencils
9. Post-It Notes
10. Mousemats
A product that's useable is retained – a product retained is remembered and a product branded with your company details and personalised with theirs becomes a call to action.
#3 Memorable
Spend some time putting a bit of creative thought into the choice of promotional item. Find out what he or she is interested in outside work and send them a useful branded related item. For example, golf balls or ball markers are always welcomed by golfers.
Something different or particular to an event or time of the year can also have the effect of raising awareness in the mind of the recipient. A mug branded one side with your logo and personalised to the recipient on the other filled with small chocolate eggs and sent out at Easter will be remembered. Equally a chocolate advent calendar at Christmas will evoke fond childhood memories – and at the same time draw the recipient's attention to your brand 24 times!
Summary
It's time to take a fresh look at promotional merchandise. With thousands of products to choose from there's the perfect item for every business and every campaign.
Recognition Express franchisees benefit from the success of promotional merchandise and the thoroughly tried-and-tested franchise model which allows them to build a thriving business within this industry. It is a win-win situation!
To find out more about Recognition Express' franchise offering, please click here. To consider other franchises which market business or sales opportunities in a variety of capacities, please click here.
---