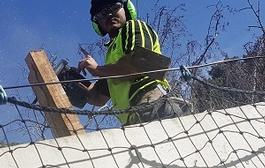 Name: Harley Smith
Location: Mornington
Franchise: VIP Fencing and Home Maintenance
Why did you go down the franchise route? And why did you choose your V.I.P. Fencing and Home Maintenance franchise?
I chose this path as it offered me a lot of security along with plentiful work and to be a part of a national brand that is highly rated was also important to me.
What did you do before taking up a V.I.P. Fencing and Home Maintenance franchise?
I was a sub-contractor chippy prior working mostly with a high-end builder in the Melbourne bay side suburbs from Port Melbourne down to Brighton and everywhere in between.
How did you raise the finance?
From savings I had made, I also already had all the tools required plus a relevant vehicle.
What training and support did you receive initially and ongoing?
It surprised me how much I needed to learn about fencing as I am already a qualified carpenter, the training I received was excellent not only in the actual building area but also in how to run a business which is something you are not taught when you do an apprenticeship!
What is a typical day for you as a VIP Fencing and Home Maintenance franchisee?
Outside of building fences or decks etc you are constantly in contact with clients who are either accepting quotes you have provided them with or booking in times to look at jobs for them. It can be fairly hectic at times particularly when you are first starting out but once you get into the groove things become less hectic.
What challenges have you faced?
Transitioning from employment to sub-contractor is one thing, but running a full-time business is another. Fortunately, you get loads of assistance with this but initially it takes a bit to properly get your head around things. Also dealing directly with retail customers can be quite challenging at times but again there is lots of support, guidance and assistance available to you to help you get this art down pat.
Has becoming a VIP Fencing and Home Maintenance franchisee changed your life, if so how?
Yes, it has in many ways, first thing that comes to mind is not travelling for around 3 hours every day to get to work and back! The other thing I'm really enjoying is the flexibility of work hours and days and my income is now roughly DOUBLE what I was getting!
What marketing/promotional tools do you use to grow your VIP Fencing and Home Maintenance franchise?
I have been working hard on my "Landing Page" presence along with "Social Media" which greatly assists you showcasing works done for clients along with their testimonials. This is already starting to pay off via direct contact from potential customers.
What differentiates your VIP Fencing and Home Maintenance franchise from the competition?
I think overall, it's the team spirit and closeness of the team, everyone wants you to succeed and they all are really helpful!
In your opinion, what makes a successful franchisee?
Probably those who are prepared to follow tried and proven systems, take responsibility for their actions, are prepared to put in some hard yards and to make a few sacrifices early days and like working in a team environment are going to be the most successful.
What advice would you give to someone thinking of buying their first franchise?
Do your research, there are several offerings in this area and like my colleagues I chose this one because of the overall value proposition and the friendly team environment. It's also great that you are part of a five-star rated niche club.
You should also be very honest with yourself about how committed you are to make a success of yourself in your own business.
What are your plans for the future?
I hope one day to become a trainer and to put on at least one staff member.
Would you do it again?
Absolutely, after the initial shock of all that's involved and getting through the training processes, I have found post that this has been a great move for me, and I really look forward to the future!