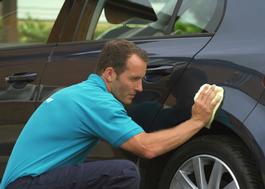 Market research shows that over more than two thirds (69%) of the 34 million vehicles on the UK roads suffer from minor car damage which can be rectified by mobile automotive repair franchises. This means that franchisees in the industry can enjoy massive demand from a rapidly growing market, which we estimate to be worth over £3.6 billion.
Furthermore, an increasing number of car owners are beginning to learn of the time and money-saving benefits of recruiting a mobile automotive franchise to repair their vehicle. As more customers learn that there is a practical and cost effective alternative to local body shops and rectifying their car damage through their insurance policy, the market will keep on growing.
Opportunity to do something you love
If you like cars and motors, then an automotive repair franchise is a perfect opportunity for you to combine your passion with your career!
Not only does an automotive repair franchise enable you generate a high level of turnover through a proven business model, it also gives you the opportunity to work on a wide range vehicles and do something that you enjoy, ultimately providing you with a happier life.
Loyal, repeat market place
The automotive repair sector benefits from an excellent level of repeat and referral business, as more and more customers become aware of the benefits of using a mobile franchisee.
At ChipsAway franchise, for example, recommendation is one of the main drivers of consumer leads. Customers are so impressed with the outstanding quality of their repair and the convenience of the service, that they tell all their friends and family all about the company who has come to repair their vehicle!
Management expansion opportunities
In a market which is growing in demand, owning your own automotive repair franchise provides excellent opportunities for expansion as your become more established in your local territory.
Depending on your business ambitions, it is possible to expand from a single operator by taking on new staff, develop into a multi-van and multi-unit operation and purchase a larger territory, which will give you access to a higher number of customers and vehicles.
ChipsAway
Established over 20 years and as the originators of minor automotive paint repair technology, ChipsAway have built a fantastic reputation for providing high quality repairs to minor car paintwork scratches, bumper scuffs, alloy wheels, smart repairs and dents to car body work.
More about Chipsaway's franchise opportunity can be found here. To look at other franchises which work within the automotive industry, click here..
---