Exclusive interview with Driving Miss Daisy franchisee for Ipswich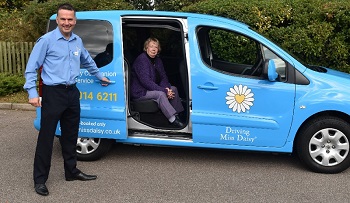 Name: Nigel Stead
Location: Ipswich
Franchise: Driving Miss Daisy Ipswich
Date launched the franchise: July 2017
Can you tell us a bit about yourself and what you were doing prior to buying a franchise business?
I have previously worked predominantly across the South East in regional operational roles leading teams in retail and government funded training organisations, such as Woolworths, Sainsburys and Learndirect.
I enjoy working with people and delivering great customer service to help grow a business.
Can you also tell us about Driving Miss Daisy franchise?
Driving Miss Daisy has been in the UK for several years now and links in with the famous film of the same name as we're all about helping people who are less able, aiming to improve their mobility and assist where families or friends are not able – in a reassuring, engaging and reliable manner.
Why did you go down the franchise route? What made you choose the care and companionship industry? And why did you choose Driving Miss Daisy?
I wanted to have a business with a USP and recognisable brand and knowing people in the care sector and the growing older population this is an area that will only increase in coming years.
How did you raise the finance?
I invested my savings!
What training and support did you receive initially and ongoing?
The franchisor provides comprehensive training as part of the package, covering all aspects of the brand, setting up, running and growing a Driving Miss Daisy franchise. The Client Support Centre in Hampshire is very good at supporting both at start up and ongoing, taking client calls and passing them to us and keeping us up-to-date with compliance, operational developments and additional training as required.
How would you describe your day-to-day role as a franchisee?
I am naturally hands-on as I enjoy dealing with people so currently I spend a lot of my time driving whilst working in time for tasks like networking, admin, social media and planning for the future.
What challenges have you faced?
I entered with my eyes open, knowing this was a new brand/concept in the area so my first task was to get as many leaflets circulated as possible to then explain our services. Inevitably the first challenge is it takes time – to spread the word and build the bookings and then to demonstrate our value for money, as the first impression for many is to compare us to traditional taxis.
Lots of challenges have come our way – including balancing tasks when our priority is the customer – but we face this with a positive mind to find solutions, often needing to flex our original business plan.
Has becoming a franchisee changed your life, if so how?
An initial driver for doing this was to get a work/life balance ie to work locally rather than spend hours every week just getting to/from work – and to put into practice all the experience gained (working with people) over the years.
This has met my expectations, so the bigger surprise is how rewarding it is when customers are so grateful for the service they receive. Many of these customers have suffered with illness, old age, ailments or isolation – and we've been able to help put a smile back on their faces, which makes you realise the positive impact you can have on others less fortunate.
What is the most invaluable piece of advice you could give someone looking to buy their first franchise?
Look into the concept – and ideally its USP – and the value you can bring: ask yourself, why should people come to you?
In your opinion, what makes a successful franchisee?
Passion + persistence, ideally with customers as the priority!
What are your plans for the future?
To establish ourselves with a great local reputation so we can then build on this with more vehicles to supply the growing demand in years to come. All our team should then be great ambassadors for the brand to support our future growth.
If you had to do it all again, what would you do differently? It would be ideal to have a team ready to go but with (licensing/training) costs prohibitive this would need more front ended investment – although from a standing start we're delighted with the progress we've made in our first year here in Ipswich.
Agency Express offers family security and flexibility

Name: GEMMA VETTRAINO
Franchise Territory: BURY ST EDMUNDS
Year Joined: 2017
Gemma Vettraino launched her Agency Express franchise in November 2017. Previously a Human Resources Manager of 15 years Gemma felt it was time for a complete change of direction. She was drawn to the idea of owning a business and to the unique benefits that came with being her own boss, but having a young family security and flexibility were high on her list of prerequisites.
After much consideration Gemma made the decision to pursue a career in franchising due to the security and success rates they offer, and it was the Agency Express franchise opportunity that met her requirements. So, when an established territory came up for resale within Gemma's area she seized the opportunity of becoming a franchisee.
One of the reasons Agency Express appealed to me was due to the flexibility that the franchise provided. I have three young children, so the ability to work hours that fit in with family life is important to me. Security also played a huge part in my selection. I wanted a franchise with a strong brand name and reputation and Agency Express are the leaders in their marketplace. Knowing that I have the opportunity to expand the business gave me the confidence I needed to proceed.
After successfully completing a comprehensive training course Gemma was assisted in the launch of her new business. This included a combination of hands on training and a programme of visits to new and existing customers, enabling her to connect and build relationships with the people she was going to be working with.
I found the training process really useful. It was invaluable spending time out on the road with different people to see how they tackled different challenges. This also provided an insight into the physicality of the job.
Within her first few months Gemma had built strong relationships with her customers and her high standard of work has helped her secure further business.
I am so pleased that I have joined Agency Express, I have even referred a friend to do the same. For me I no longer sit behind a desk all day, I manage my own time, I'm active and I feel healthier for being active. Every day is different, which I enjoy. One day I could be erecting large commercial board and the next I could be erecting boards for an event. Needless to say, there are always a number of residential boards to take care of. You have to work hard but it is well worth it if you are looking to run your own business.
Norwich's first wine café, Veeno, is set to open in September 2018
An Italian wine café is to become the first of its kind in the city to specialise in the Italian dining style of 'Aperitivo', bringing a taste of 'La Dolce Vita' to Castle Mall.
Bespoke wine café Veeno is set to launch its latest outlet in Castle Mall, as part of the regeneration of the area. Veeno specialises in 'the art of Italian Aperitivo' - an after-work culture of drinking, eating Italian-style appetisers and relaxing with colleagues, friends and family.
Veeno was formed in 2013 by two friends in their twenties Nino Caruso & Andrea Zecchino and has seen phenomenal growth in a very short space of time. The Italian wine cafes now boast 18 branches across the UK in locations which include Manchester, London, Cardiff and Edinburgh. Inspiration is taken from Caruso and Minini - a vineyard in Sicily established by Antonio Caruso, great-grandfather to Nino Caruso.
As well as its exclusive award winning wine offering, which includes wine tasting experiences that are totally unique, Veeno will be the only outlet in Brighton to champion an 'Aperitivo' culture - a culture which encourages guests to enjoy a moment of mindfulness. Alongside their family-grown Sicilian wine, Veeno serves authentic 'Spuntini' - boards of meats, cheeses and other appetisers imported from individually-selected producers in Italy. All food preparation is handmade fresh to order and visible through open kitchens.
Nino's fellow co-founder Andrea Zecchino said, "We're delighted to be bringing the Veeno experience to Norwich. Veeno is all about bringing people together to relax and to share some delicious nibbles and quality wines.
"It's similar in concept to sharing tapas and drinks in a leisurely setting - At Veeno we live La Dolce Vita and we want our guests to have that same experience."
"We felt that there was a real gap in the market in Norwich for an outlet such as ours which provides a genuinely authentic Italian experience, as well as a superb lunchtime menu and excellent venue for weekend drinking and dining.
"We're all very excited to make our mark on West Street, the area has so much to offer this fantastic city and we feel that Veeno will fit in seamlessly to its surroundings. Just a stone's throw from West Street's bustling venues, we offer a moment of mindfulness and hope to form long lasting local relationships with all of our guests. We're excited to give Brighton the opportunity to sample the Veeno experience and live La Dolce Vita!"
Opening: September. Address: Unit 1, Castle Mall Timber Hill, Norwich NR1 3LA
Recognising the potential of an Optic-Kleer franchise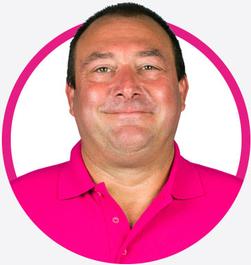 Name: Justin Bladen
Location: Bedfordshire
Franchise: Optic-Kleer
Date launched the franchise: 2015
Can you tell us a bit about yourself and what you were doing prior to buying your Optic-Kleer franchise business?
I bought my Optic-Kleer franchise in 2015. Before becoming a franchisee I worked for two major glass companies for 20 years.
Can you also tell us about Optic-Kleer franchise?
Optic-Kleer is a windscreen repair franchise. We repair cracks for customers, meaning they don't need to replace their windscreen.
Why did you go down the franchise route? What made you choose the automotive industry? And why did you choose an Optic-Kleer franchise opportunity?
I initially approached Optic-Kleer as a customer and then after realising the technician had worked for me previously, we got chatting and he told me more about the business. Keen to find out more, I met with David Overton, Optic-Kleer franchisor. We had a very relaxed meeting about how the business operated, and I decided to take it further from there.
Unlike most Optic-Kleer franchisees, I did have experience in the industry. Therefore, when I found out more about the business, I knew straight away the potential in the chip repair market and that it was the right franchise for me.
What training and support did you receive initially and ongoing?
The training course lasted about a week and whilst it was very in-depth, it was also very relaxed. Even though I had experience in the industry, I wanted to know the Optic-Kleer way of doing it; the right way of doing it!
Confident I knew what I was doing, I was able to open for business the Monday after my training finished. If I needed help, Head Office was only a phone call a way and more than happy to assist.
How would you describe your role as a franchisee?
Although I'm working for Optic-Kleer as a franchisee, it is still my own business and I'm in charge of my own destiny. If I go to work I earn money if I don't, I don't. I have generally found that the harder I work at it, the easier it becomes. Opening my first pay packet after working my first month with Optic-Kleer showed me that I get out of the business what I put in to it.
Every day is different. You get to meet different people, from different walks of life, which is the great thing about the job. It makes my work more enjoyable.
What are the key USPs of the Optic-Kleer franchise opportunity?
The brand is very strong and unique. It is very unmissable. When people come into a carpark they spot us immediately. All our equipment, the canopy, the van etc makes it very striking. There is no one else that looks like us!
Signs Express' first franchise celebrates 25 years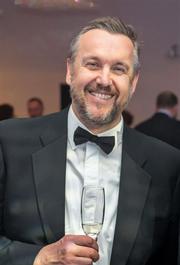 Name: Nick Dawes
Location: Ipswich, Suffolk
Franchise: Signs Express
Date launched the franchise: 1992

Tell us a bit about yourself and what you were doing prior to buying your Signs Express franchise business?

After a career in retail management, where my main function was to facilitate the roll out of what is now a household name across the South-East, I was looking for a change. I then spent some time in Canada where I came across the sign franchise concept, which greatly appealed to me.

Why did you go down the franchise route? What made you choose the sign industry? And why a Signs Express franchise?

Although I had a broad range of experience from my time in retail, there were many elements of business which were completely new to me. As a real team player, I liked the idea of being in business for myself, but not by myself.

I'd always had an interest in graphics and design and knew I wanted a management franchise rather than a man in a van operation, so Signs Express seemed like the perfect fit for me.

How did you raise the finance?

I raised the initial investment and start-up costs from personal savings, which I combined with bank finance supported by the Government Small Forms Loan Guarantee Scheme at the time.

What training and support did you receive initially and ongoing?

I received full training and ongoing support around all elements of running a sign business. Obviously, our support needs have changed as the business has developed and the staff at the Franchise Support Centre have always been very supportive and flexible in the help they offer myself and my team.

What is a typical day for you as a Signs Express franchisee?

The great thing about the sign industry is its diversity. I tend to focus on key customers and larger projects, splitting my time between site visits and office work whilst keeping an overview of the ongoing daily bread and butter of the business.

What challenges have you faced?

In a deadline driven, customer focussed industry, the challenges are many and varied! Having been established for 25 years we've worked hard to establish a great reputation by offering excellent, consistent service. As a result, we have built a very broad and loyal customer base locally.

Has becoming a franchisee changed your life, if so how?

Definitely. I now enjoy the freedom and financial rewards of running my own operation and take great personal enjoyment in seeing members of my team continue to grow within the business.

What is the most invaluable piece of advice you could give someone looking to buy their first franchise?

Research your chosen business sector thoroughly and be clear in your own mind about what you are prepared to sacrifice to be a success. There's no magic formula beyond ensuring that you join an established franchise with a proven business model, in an industry you enjoy. You must be prepared to work your socks off to make it successful.

In your opinion, what makes a successful franchisee?

A credible, realistic, hard worker, prepared to follow a proven system and do whatever it takes to keep customers happy and ensure they return.

What are your plans for the future?

To keep growing and developing both my business and fantastic team, which will then allow me to spend more time at our home in the French Alps skiing!

What would you say have been your highlights so far as a franchisee?

There have been many, but developing a great team and being part of a truly successful franchise network and seeing it grow since I became a franchisee in 1992 has been, and continues to be, extremely rewarding.

Would you do it again?

One word. Yes.

If you are interested in a Signs Express franchise then click here to find out more
TaxAssist Accountants proves to be ideal white collar opportunity for Richard Brookes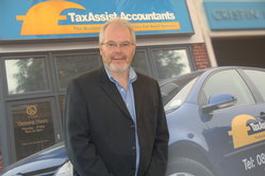 Name: Richard Brookes
Location: Cambridge
Franchise: TaxAssist Accountants
Date launched the franchise: June 2008
Tell us a bit about yourself and what you were doing prior to buying your TaxAssist Accountants franchise business?
I am a Chartered Accountant and had worked for 2 large multi-nationals over the preceding 20 years, spending a few years overseas with one of them. In late 2007 the opportunity arose to exit my employer with a lump sum and, rather than look for another job, I decided it was time to work for myself.
Why did you go down the franchise route? What made you choose the accountancy industry? And why a TaxAssist franchise?
At that time my wife owned a franchise in a different industry and, having helped her with her initial research, I was aware of the benefits of buying a franchise.
The decision then was which one? I looked at various 'white collar' options but decided to stick to what I sweated to get the professional qualifications in – ie accountancy.
As part of my research I went along to discovery days for the 2 main options available and it was an easy decision to choose to invest in a TaxAssist franchise. Thankfully the Cambridge territory was available for purchase.
How did you raise the finance?
Whilst I had funds available I knew that I would have an additional cash requirement to be able to allow the business to develop properly in its initial phase. I wrote a business plan and put together financials – using a model provided by the franchisor – and secured the funding I needed from NatWest.
What training and support did you receive initially and ongoing?
The initial training was for 6 weeks and covered both technical, marketing and systems related matters along with how to operate the business model. There was further training after 2, 3 and 6 months and ongoing support – whether technical or for general business matters - is always readily available from the Support Centre in Norwich.
What is a typical day for you as a TaxAssist franchisee?
I'm not sure a typical day exists! If it does, the nature of it has certainly changed over the last 8 years. In the early days, it involves seeing all new prospects and doing most of the work, alongside general running of a business, whereas now in reality I do very little actual technical work. I am looking after larger clients, reviewing fees and managing the 8 other individuals in my team.
What challenges have you faced?
The challenges I have faced have been no different to those faced by any new business. Building a business involves many other things above just doing the work you are technically able to do. There are premises and your finances to look after, staff to look after and develop and, in my game, constant legislative changes to understand.
Has becoming a franchisee changed your life, if so how?
Running your own business isn't something everyone either wants to do or is suited to do. It can be lonely at times, but owning a franchise in a successful network with a good franchisor gives you great support. If I had decided to just be my own boss I would have needed to buy things like technical support, systems, training as well as marketing support – so why not have them all under one roof as part of a franchise. The key thing is that being part of a successful franchise has meant that my business has grown much, much quicker than it would have done otherwise.
What is the most invaluable piece of advice you could give someone looking to buy their first franchise?
Be thorough with your research, don't be afraid to ask hard questions and speak to existing franchisees.
In your opinion, what makes a successful franchisee?
Someone who doesn't try to reinvent the wheel. You bought a franchise for a reason so follow the model and be successful.
What are your plans for the future?
Due to continued business growth I am looking for additional premises whilst making the business less reliant on my full-time presence.
Would you do it again?
In a heartbeat! I wish I could have done it sooner!
To find out more about a TaxAssist Accountants franchise click here
Cleanhome franchise ticks all the boxes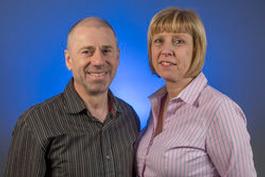 Name: Mark and Sarah Underhill
Location: Sutton Coldfield
Franchise: Cleanhome
Date launched the franchise: May 2015
Tell us a bit about yourself and what you were doing prior to buying your Cleanhome franchise business?
Having owned our own business which we sold, we were then looking for another "challenge". We also own a number of properties which we rent out.
Why did you go down the franchise route? What made you choose the cleaning industry? And why a Cleanhome franchise?
We like franchising as any good franchisor should have already made the mistakes and so you can get your business up and running quickly and with more support than "going it alone". There is so much choice out there, you need to spend time ensuring you are getting into something that fits with your skills, values and long term goals, also you need to like the people that you are going into business with. Cleaning seemed to be a booming market and one which we could see would have good long term growth.
How did you raise the finance?
Savings
What training and support did you receive initially and ongoing?
We had two days of initial training, there are meetings for all franchisees twice a year and constant telephone support from HO as well as the network of other franchisees who are always happy to give advice and support.
What is a typical day for you as a Cleanhome franchisee?
Every day is different for us and as we have employed a manager she now deals with the day to day running of the business we are able to concentrate on building the business and running it in the most efficient way possible.
What challenges have you faced?
Coming from a fairly laid back life style, when we first started Cleanhome it really was full on with phones ringing, going to see clients and cleaners, doing the back office work, etc, it was a bit of a shock to the system, but, when you see your T/O going up you know you are going in the right direction.
What is the most invaluable piece of advice you could give someone looking to buy their first franchise?
Always make sure that you are choosing a franchise that fits with your values and skill set. Listen to your instincts.
In your opinion, what makes a successful franchisee?
Someone who is going to put in 100% effort and follow the system that you are buying into, it is there for a reason so do it! You need to be organised and learn from your franchisor and others in the network. Always continue to learn.
What are your plans for the future?
We will continue to grow the business, ensuring our employee is happy and fulfilled in her role by putting systems in place which will give us all the lifestyles that we want.
Would you do it again?
Yes
Read more about a Cleanhome franchise opportunity
Interview with WPA Healthcare's Norwich franchisee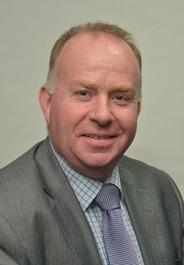 Name: Philp Morter
Location: Norfolk
Franchise: WPA Healthcare
Date launched the franchise: May 2012
Tell us a bit about yourself and what you were doing prior to buying your WPA franchise business?
Before buying the WPA franchise, I ran our family business which were two Euronics centre's in Mid Norfolk which had been in the family for over 90years.
Why did you go down the franchise route? What made you choose you're the insurance industry? And why a WPA franchise?
Having been a customer of WPA for about 10 years, I was well-aware for their good reputation and was looking for another business to take me to retirement. My local representative mentioned about WPA being a franchise business and it seemed to fit my ambitions. I was impressed with the support that WPA provided me in the early stages which has helped me grow the business to the size it is today.
How did you raise the finance?
I had an old endowment policy from my Norwich Union days about to mature which covered the relatively low purchase price. Having a business background, I realised immediately that the franchise fee is incredibly low compared to the support you receive as a new franchisee and the earning potential.
What training and support did you receive initially and ongoing?
The initial training covered all aspects and cannot be faltered. This was a five day residential course at WPA head office in Somerset. There was a follow up course 6 weeks after the initial training course to give us a chance to share ideas having made some mistake in the first few weeks! Ongoing, WPA run quarterly meetings as a region and a national conference every 6 months where the whole franchise team (76 healthcare partners) get together.
WPA also launched a training academy for all franchisees in their first 2 years which is a great idea. It gets everyone together to knowledge share and improve our skills. It's also great team building as we get to share 3 days together in an intense training environment.
What is a typical day for you as a WPA franchisee?
Typically a day involves meeting potential new customers (discussion usually involving a cup of tea!), attending networking meetings, meeting with existing customers about their policy renewal and completing any necessary paperwork
What challenges have you faced?
Like with any business, the initial launch phase is hard work and takes a lot of patience and effort. This wasn't a surprise to me as it was made clear that the first 18 months – 2 years are tough but all new franchisees are assigned a mentor for 2 years which helped me through this phase.
Has becoming a franchisee changed your life, if so how?
Joining WPA has changed my life. I am now 52 and have had a varied work history involving 4 different roles and I can honestly say this is the best job/career I have ever had. WPA are a fantastic company to be associated with, professionally and caring. I think I perhaps appreciate it more as I have worked elsewhere and can compare from experience.
What is the most invaluable piece of advice you could give someone looking to buy their first franchise?
Look into it closely, not only the business potential but also the life style change it will make to both you and your family.
In your opinion, what makes a successful franchisee?
Don't get me wrong you need to work hard, but I believe the key is to enjoy it.
What are your plans for the future?
I am planning to stay in this role until retirement and sell the client base which is my asset.
Would you do it again?
Without hesitation!
Find out more about WPA Healthcare franchise opportunity
Cleanhome Norwich is launching!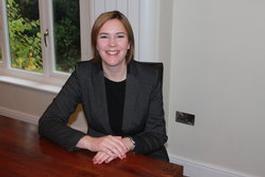 Following a successful career as a marketing manager in a FTSE 100 company, Rebecca Greenall decided the time was right to start her own business and she will be launching her Cleanhome Norwich branch in January 2017.
Rebecca knew how Cleanhome can help her build a successful business first hand as she used to live next door to Nicola and Laurie Ryan from Cleanhome East Cambridge so when she was made redundant she decided to invest the redundancy money into starting her own franchise business.
Rebecca, who has a two year old daughter, is looking forward to being able to spend more time with her family but is also really excited about being her own boss and challenging herself.
Rebecca has so far found her Cleanhome experience, from initial fact finding, through to signature of contract and setting up the business, so very straightforward:
'I can't wait to get started. My first impressions are that this is a very professionally run franchise and I will receive support where required, there are regular training days, and I'm looking forward to meeting the other franchisees to learn from them, and hopefully, in time, help them with ideas of my own.'
To find out more about the Cleanhome franchise opportunity and to see it it is the right route into business ownership, click on this link.
Interview with Rachel Jackson, Oscar Pet Food, Hertfordshire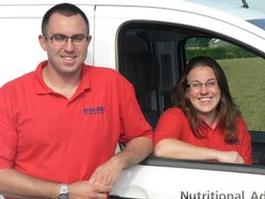 Name: Rachel Jackson
Location: Hertfordshire
Franchise: Oscar Pet Food
Tell us a bit about yourself and what you were doing prior to buying a franchise business?
I worked full time as a project manager in a civil engineering consultancy.
What attracted you to franchising versus started starting up on your own or finding employment?
My husband and I were Oscar' customers; feeding our own dog Oscars food. When the franchisee we bought our food from announced their retirement and sale of their business we started to look a lot into Oscars and whether a franchise would work for us. We liked the support and branding of a franchise, as it gave us the confidence that the business could work.
Why did you choose Oscar Pet Food franchise? What research did you undertake?
As customers we were already confident in the product and like the service offered. We looked at other similar franchises on the market, but liked the support offered from Oscars to continue growing our business even after the sale of the franchise. As we love animals, it seemed the obvious choice to do something we enjoyed!
Do you feel there is enough support or training in the industry, or externally, to help mums looking to get back into work and considering starting a business? What additional support do you think would help?
"Oscars have been extremely supportive and understanding that we work our business around our young family."
We have the opportunity to attend regional meetings to meet with other franchisees and members of the management team, to share ideas and learn about new products and industry developments.
There are also regular conference calls between the management team and franchisees on different aspects which is perfect as you don't even need to leave home! The franchisee support team have also attended meetings with me at home to help to work on marketing ideas that fit in with our family life style and our business.
How did you raise the finance for funding your franchise? Did you use any financial support (grants etc) specific to business startup?
We applied for a small business loan from the bank. Oscars helped us with our business plan so we were confident when meeting the bank manager.
What training and support did you receive initially from your Franchisor?
We attended a residential training course and then had the support of a field trainer who worked with us in our area to start to build the business. Our trainer was also available to answer any questions over the phone if they arose.
What is a typical day for you as a Oscar Pet Food franchisee?
After dropping my son at nursery I usually sort out any paper work in the office such as invoicing my customers and processing their card payments. I organise my delivery route and print off my stock picking sheet whilst my daughter has a nap. I then load my van ready with stock for that day's deliveries.
After collecting my son from nursery we have lunch and then spend the afternoon in the van delivering to our customers. Once my children are in bed I call or text my customers to see if they need a delivery the following day and put their orders on to my management system ready for the morning.
Balancing work and family life is important for all franchisees but more so for working parents, do you think franchising gives a good work and family life balance? Has becoming a franchisee changed you and your family's life?
With the business model already in place, it allows franchisees to follow a tried and tested formula, so you can concentrate on the things that really matter and grow the business.
"Becoming a franchisee has allowed me to continue working and earning a living, whilst at the same time working flexibly so that I can look after and spend time my children."
Did you take advantage of any support available to women looking to get into business? E.g. member of a women in business network, attend any specific women business events?
No not yet, but I am aware of several groups in my area.
What is the most invaluable piece of advice you could give other mums looking to get back into work and considering starting their own business through franchising?
Look at as several different franchises so you can pick the right one to suit you and your family. Make sure that the franchisor offers ongoing support after the purchase of the franchise. You need to be organised and self disciplined, but it's a great opportunity.
What are your plans for the future?
To continue with Oscars and to work to grow my businesses further.
Would you do it again?
Without a doubt!
To request the FREE Oscar Pet Food franchise prospectus, click here.
Driver Hire franchise heads for Huntingdon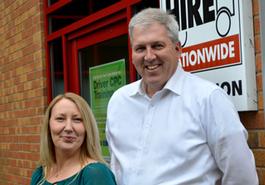 Rob Stead is the latest recruit to the Driver Hire franchise network. He's just bought their Huntingdon territory. A greenfield site, along with Huntingdon, the office also covers Chatteris, St Neots and St Ives.

Rob's business background is rich and varied, starting in property management before joining Hypo Bank in the City of London where he became an administrative accountant, producing management information for their European operations. When his employers relocated to Germany, Rob decided it was time to look for a new challenge.

"I'd no preconceived ideas about what I wanted to do," says Rob. "I came across Driver Hire at a franchise exhibition and learnt that it's one of the UK's leading franchises, with a proven business model and a long-history of success. I did some research and spent time with one of their existing franchisees. His candid advice was one of the key reasons I decided to invest."

Driver Hire provides temporary and permanent drivers and other logistics staff to organisations across the UK. They help when customers need extra staff to deal with holidays, illness or business expansion. Driver Hire is also a leading provider of Driver CPC and other logistics training.

"Over the past 30 years Driver Hire has built an excellent reputation as a franchisor," says Rob. "The levels of support I've received so far have been outstanding. I've just completed a two week foundation training course and, as a new franchisee, for the next six months, I'm part of their Franchise Development Programme. I'm really looking forward to the challenge of running my own business and meeting the staffing needs of local businesses here in Huntingdon."
Interview with Gary Riches of Driver Hire, Colchester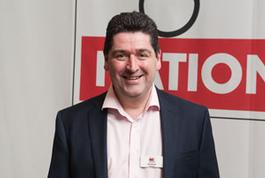 Before buying his Driver Hire franchise in November 2012, Gary hadn't really considered owning a recruitment business.
"Before joining the world of commerce, I was a serviceman in the Royal Corps of Transport and I subsequently worked in sales for a number of big brand courier companies. Recruitment wasn't on my radar. What actually alerted me to the excellent business opportunities with a Driver Hire franchise was my experience of using their Bury St Edmunds office, as a client."
The franchise business model seemed pretty straightforward, where the ingredients to a healthy business income are simply matching candidates with clients at the right time, good sales activity and providing excellent customer service."
Having bought the business as a resale – the business was already established – Gary has already achieved significant business growth. And he has also started winning awards. Gary was recognised at the coveted annual 'Startups Awards' when he won the 'Franchisee of the Year' category in the autumn of 2013. He was also named Driver Hire's New Start of the Year 2013.
Gary adds: "The last financial year [2013/14] was a great year, especially as sales tipped over the £1 million mark. So naturally I'm looking to grow the business even further. There's always room for improvement and being part of the Driver Hire network means that we can also tap into their additional revenue streams such as training and licence checking services."
When asked what persuaded him that Driver Hire was the right franchised business for him, Gary explains, "One of the things that convinced me to invest was how easy it was to get finance to buy the business. One of the banks I spoke to was more than willing to lend me the funds, when I told them it was a Driver Hire franchise I was looking to buy."
It's been a great move and I love what I do."
A partnership made in Oscar Pet Foods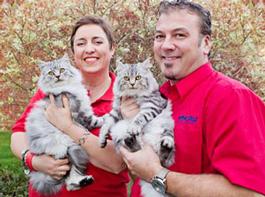 Franchisees:Stuart & Teresa Curtis
Territory: Cambourne, South Cambridgeshire
Franchise: Oscar Pet Foods

We just wanted to change our lifestyle. The long unsociable hours of working in the public transport sector had reached the point of no return for me, resulting in the decision for Teresa and I to build a business together.

It has been a long-term dream and to find OSCAR for sale in our area came just at the right time and with a product that gave us the chance to work with something we love – pets!

Some years ago we were OSCAR customers in another area so we understood the benefits of the food and the excellent service. Meeting the franchise team, who were extremely supportive, confirmed that no other franchise would take our interest.

The process of buying an existing business was thorough and seamless, which has helped us to adapt with ease, happily meeting existing customers while looking forward to new challenges over the coming months.

Supported by an excellent range of products we can also provide our elderly rescue dogs Skeet, Lucy and Freddie with a senior diet that includes a mobility system to help them maintain good health at this stage of their lives.
Leading 'bumps and scuffs' repairer comes to Chelmsford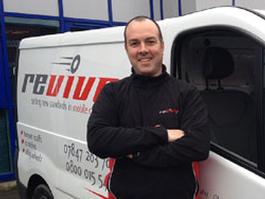 Revive!, the UK's leading provider of minor paint and bodywork repairs for vehicles, is opening for business in Chelmsford.
After serving 22 years as a Royal Signals Sergeant, Peter Mulcahy (41) is ready for a new challenge and will own and manage Revive! Chelmsford with the help of his step son Zac.
Said Peter: "I've always wanted to run my own business and fully control what happens around me. Together, Zac and I aim is to establish Revive! as the number one SMART repairer in the area. We will work hard to establish ourselves, earn a good reputation and build a solid base of work."
Peter has high ambitions for his business, which only uses repair technicians accredited by the Institute of the Motor Industry, providing quality, cost effective repairs at a time and place to suit customers.
Explained Peter: "In time I will expand the business from 'one man in a van' to a fleet of vehicles servicing the Southend area as well."
Revive! works with car dealerships, fleet and lease companies, insurance companies and the general public. All work carries a lifetime ownership guarantee.
Revive! franchisee goes for gold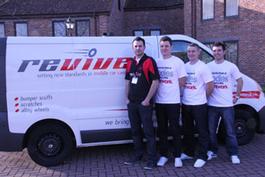 August 2012 will go down in UK history as the month that team GB did the country proud in the Olympics – and for Cambridge businessman Nathan Holmes it also marked his own personal achievement -smashing the company's national record for monthly sales!
Nathan from Huntingdon set up Revive! Cambridge five years ago, a mobile repair service specialising in repairing minor scuffs and scrapes to vehicle bodywork and alloy wheels. He started with just one van and now there are five on the road. In August the company carried out £34,500 worth of work for local car dealerships, fleet management companies and private motorists.
He said:" Month by month I could see the sales figure rising, but even I was staggered when I realised that we were heading for our biggest total ever, beating the previous month's figures by over £10,000."
Revive! has the largest network of smart repairers in the UK and has its own IMI accredited training centre. Each technician owns his own business covering 105 regions throughout the country. The previous record was held by Revive! Luton for achieving sales of £29,500 in a single month.
From the beginning Nathan knew he wanted to build a business not just be a one man band. His strategy for growth saw him adding another van and technician each year and three months ago recruited a business development manager to drive expansion.
Revive! Cambridge carries out work for most of the major car dealerships in the area and has just added the Bentley Dealership to its customer list. Whilst most of the work comes from garages around 20% of the team's time is spent repairing minor scuffs and scrapes for private motorists who have heard about their outstanding service.
Nathan continued: "It's not just luck – we have all worked extremely hard to ensure that the business grows through reputation. Customer service and quality of work is the key to our success. I make it my policy to speak with customers properly, and train my technicians to do the same. Our work has to be of the highest quality, and everyone knows that I will be checking on jobs to make sure that standards are maintained. If I am not happy with the work that has been carried out we'll do it again, and people know that.
He added: "I am incredibly proud of my team, Adrian Holmes, Stuart Lavender, Ollie Hine and Andy Blackhurst. We're officially the best in the country – and plan to stay in that top slot for the foreseeable future!"
Smart (small to medium area repair technique) repair is a quality, cost effective and time-saving alternative to taking the vehicle to a bodyshop for minor paintwork repairs. Costing far less than most insurance policy excesses, the work is carried out at a time and place to suit the customer, minimising vehicle downtime and protecting the owner's no claims bonus.
Creativity and your own business with Barrett & Coe!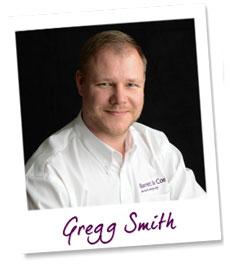 Name: Gregg Smith
Location: Welwyn (Hertfordshire)
Franchise: Studio (Part time)
Why did you go down the franchise route? And why did you choose your franchise?
I liked the fact that there was continued support not only from Barrett and Coe with comprehensive training and continuous advice but also from the network of other franchisees
What did you do before taking up a franchise?
I am a fully qualified teacher having taught for two years and secondary school and a further 10 at a HE College.
How did you raise the finance?
Saving hard and also support and help from family.
What training and support did you receive initially and ongoing?
I opted for the easy track method that Barrett and Coe offers as it allowed me to develop my photography skills at a comfortable pace and the way the training is set up it also meant that I could completed the training days at weekends when I was available and also gave me time to study and complete the homework/assignments which were set which was enjoyable.
What is a typical day for you as a franchisee?
At the moment I am devoting my weekends to the business so its hard work but fun. With me currently working full time lecturing my admin is completed in the evenings (Fire up calls, letters sent out and image editing etc) and then I complete shoots on the Saturday and viewings on the Sunday which seems to be working at the moment but I am definitely looking to begin to start my own marketing and setting up local partnerships with suitable companies.
What challenges have you faced?
It's all a challenge, so if you're not ready for that stop reading now. I have never had my own business so even small details are tough to get to grips with when your used to just turning up for work and not worrying about keeping accounts, generating new business and dealing with everything linked to the photography but again I have always been someone who likes new challenges so this is another set in the direction of becoming a successful new business. I think one piece of info I would give to anyone looking to start up is be patient and be committed. Its easy to sometimes think it's all too much but the saying 'Rome wasn't built in a day' definitely springs to mind with photography.
Has becoming a franchisee changed your life, if so how?
At the moment I would say yes and I don't have any free time as I am working two jobs, but it's the long term I looking forward to when I have got the studio to where I want it to be and I am in control of my own destiny.
What advice would you give to someone thinking of buying their first franchise? Take your time, think about the area you wish to work in, ensure you have the finances to make the step and speak to other franchisees to get a view from the coal face. It's also important that you have support from those around you (Friends and Family) as it will put you under increased pressure no matter what way you tackle taking on a new business.
What are your plans for the future?
To keep working hard to further develop both my business acumen, and photography skills to lead me to running a very successful photography studio.
Would you do it again?
Its been a lot more challenging than expected, but so far so good and its exciting times ahead and if you can make a business work in the current economic climate then things can only surely get better so a definite YES!
Doctor brings big business experience to Hertfordshire SMEs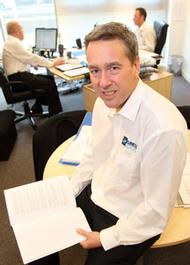 Successful businessman Kevin Blissett is launching a second Business Doctors office in Hertfordshire to provide advice and assistance to small and medium-sized businesses in the mid-Hertfordshire area.
Working alongside existing Business Doctor Georgie Cox, who launched the first Hertfordshire office in October last year, Kevin will work with businesses in St Albans, Hatfield, Harpenden and Potters Bar and the surrounding areas.
Business Doctors is a national organisation, providing expert, friendly, practical support and advice to small and medium-sized businesses. From strategies for sales and profit growth to people engagement and help with accessing funding and financial support, it provides businesses with proven methodologies for success.
Working from a central office in St Albans, Kevin brings with him many years of experience working with the likes of Vodaphone, Citigroup, Xerox, Dell, IBM and Sun Microsystems as well as a number of smaller companies.
He says: "No matter what the size of your business, there are proven processes that lead to long term growth and prosperity. What Business Doctors does is to provide these processes within a structure that I have seen be hugely successful with all businesses looking to get on the right track to success.
"By setting up a Business Doctors office in St Albans and servicing the mid-Hertfordshire area I'm hoping to put something back into my local area, working with young businesses or older businesses seeking to adapt to new times."
Photo: Business Doctor Kevin Blissett
Confident in the success of TaxAssist Franchise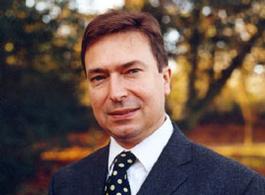 David Dixon
Colchester, Bishop's Stortford & Ipswich
January 2011
I am a qualified Chartered Management Accountant and prior to joining TaxAssist Accountants worked as a Group Financial Controller for a large motor dealership group based in Colchester. Prior to that I had many years experience within the small company sector including several years as a director of the family motor dealership business. I also spent a year working in the Stock Exchange following qualification.
I joined TaxAssist Accountants in November 2002 opening my first shop in October 2005. I opened my second in 2007, based purely on the success of my first shop. I opened my third shop in 2010 and I am now planning to open my fourth shop in the autumn. I've found that the shop front produces pretty much all the volume of new business that we can handle, putting the business in its best position yet.
In response to the increase of business I now employ five full-time accountants and an administrator between the three shop fronts. I was initially wary of taking on people unless absolutely necessary but I found that it's clearly the way to go if you want to grow your business. The last thing I want is to have to turn business away so to cope with demand and to maintain good client service the team is absolutely essential.
With three shop fronts, it's important to put some thought into how to manage both at the same time. I have now appointed a manager to run the Bishop's Stortford shop front and I am based in Colchester. The third and fourth shop fronts will run on a leaner basis as satellites of the two main business, with one person dealing with clients' accounts day to day, letting me come in two days a week. I expect the new shop front to grow steadily and when the time's right I expect I'll take on a couple more employees in relation to the amount of business. The rate of development with TaxAssist Accountants is very fast – there's a great deal of potential there for franchisees.
As my business has grown, I've continued to make use of the training and support on offer from the Norwich based Support Centre. TaxAssist Accountants have provided me with an incredibly comprehensive training package that included a five-week course that focused on all aspects of running a business. The training taught me new approaches to accounting while reinforcing what I already knew. It gave me the confidence that I would be able to bring success to the business - refocusing my existing skills to ensure I had a full understanding of the TaxAssist Accountants model.
I was initially attracted to TaxAssist Accountants because of the significant support – the whole package is incredibly solid and I found it very reassuring. In fact, since I launched the business in 2002, in many ways the support has kept on getting better. TaxAssist Accountants are dedicated to their franchisees and their advice and guidance is very clear, to the point and incredibly helpful.
I can now report that at Winter 2010 I have a total client base of over 800 with a turnover of around £500k. Net growth in fee bank continues at a steady pace.
Seeing the great potential in purchasing a Driver Hire franchise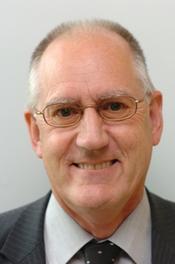 George Griffiths could be described as an all-rounder. A qualified Accountant; he's also got an Honours Degree in Chemistry. Originally from New Zealand, he settled in the UK and used his accountancy skills working for a number of motor dealerships. "I guess you could say that I had one redundancy too many," says George. "That was when I decided it was time to work for myself."
There's no better advertising than a recommendation. And that's what introduced George to both the idea of franchising and Driver Hire. One of his good friends was – and still is – Dave Quinn, owner of Driver Hire's Chelmsford franchise. He suggested George take a look at Driver Hire. He liked what he saw – both at Driver Hire and franchising in general. "I looked at a number of other franchises, but settled on Driver Hire. The final decision, as much as anything else, came down to the fact that it was a people business. I wanted to get out of the accountant's back office role and into the front line."
In the end, George purchased a 'turnaround' situation. The franchise in Bury St Edmunds and Ipswich had been doing over £1m a year but when I looked at the business it was well down on this. I reckoned that if it had been there before, it was possible to get it back. In other words I saw plenty of potential."
Working alongside his wife Jacqui and with two other members of staff, he's certainly turned things around in a big way. During a strong summer 2009 performance, despite an unhelpful economy they achieved a record weekly turnover and the Bury-based business is now well on target to return to its former glories.
So, two years down the line, what does George reckon you need to make a success of a Driver Hire franchise? "It can certainly be a demanding business - I once spent an awful lot of time finding a driver for a job that would only make about £15 profit. But it was a customer I wanted to do business with long-term, so I reckoned it was time well spent. I think a lot of the success is down to the individual franchisee's desire and motivation. But I also have a lot of help from Driver Hire's support staff, particularly in those early days when you really need it. Getting the right staff helps too, as does a good grasp of the numbers, so financially you know how you are doing. And, finally, you need to be a good relationship-builder; not afraid of talking to people, understanding their businesses and influencing their purchasing decisions."
Drain Doctor franchise offers rainwater harvesting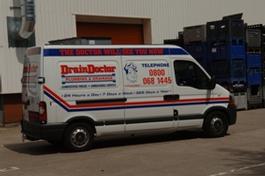 Peterborough-based Drain Doctor Plumbing – the UK's largest emergency plumbing and drain repair service – is offering rainwater harvesting systems as part of its portfolio of plumbing and drainage services.
Usually rainwater runs off roofs through the soakaway system and is lost. In properties that have the old combined sewage system, rainwater joins the foul water and flows through the drainage system to the local water treatment plant for cleaning.
Now it is possible for homeowners to collect and use rainwater and re-use 'grey' waste water from sinks and baths – helping to save money and the environment in the process. Reduced water consumption can lower bills and help to create a more sustainable built environment.
In addition to its existing plumbing and drainage services, Drain Doctor will now provide a complete rainwater harvesting installation service that includes site surveys, planning consultations and building and inspection work.
Drain Doctor's operations manager Robin Banks explains: "There are two types of water harvesting system. By installing a collection tank in the garden, rainwater runoff from the roof can be collected and used to fill a water butt or supply a garden tap by use of a pump.
"Rainwater is harvested for non-drinking water applications and can also be pumped back into the house for use in flushing toilets and filling washing machines.
"The second type of water harvesting involves collecting grey water from sinks, washing machines and dishwashers and using it to flush the toilets. With this system household water is used twice which has an immediate payback on the water meter.
"Drain Doctor franchisees offering the service will project manage the whole installation from start to finish. We will liaise with planners and complete the work using selected highly trained subcontractors, tailoring each solution to the customer's requirements. The customer will have one point of contact from the start to final completion of the project."
Launched in the United Kingdom in 1993, Drain Doctor Plumbing has quickly grown to become the country's largest emergency plumbing and drain repair service. It now provides a 24 hour a day, 365 days a year service in every part of the country with each franchise run as an independent business.
The central principle is to deliver dazzling levels of service in a market plagued by cowboy operators who are overcharging customers for shoddy workmanship. Franchisees offer a full 24 hour per day seven day per week service with no call out charges and they give fixed-price, no obligation quotes with a full guarantee on all their work.
Technicians are trained not just with technical skills – including the latest techniques such as closed circuit camera drain surveys and no-dig drain repairs – but in customer care that is reflected in such things as wearing overshoes while in customers' homes and clearing up carefully after every job.
Lucky streak with Servicemaster franchise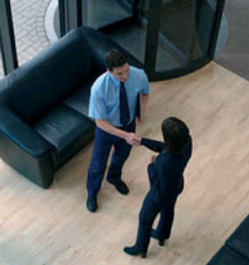 Contract Services - Servicemaster Clean franchise
I have been a Servicemaster licensee for just over two years now. I had previously worked for a large and reputable department store group for some 30 years. During that time I held a number of selling management posts before becoming a facilities manager for one of their stores. In that time I met with cleaning contractors…. And thought to myself if ever I left the company I could do that!!
I had considered a franchise from the outset, as it seemed the safe way to pursue running my own business. With the comfort of a regular income for thirty years in a reputable company I was looking for as much security as I could find in taking the plunge.
Luck brought me to Servicemaster franchise. A local newspaper ad saw the CS license up for sale.
ServiceMaster quickly provided me with all the facts and figures required and put me in touch with a number of nearby franchisees. It was after visiting the second of these neighbors I drove back home, and in that time decided to commit. The process then was simple and straightforward and within weeks I was a director in my own company…. Wow!
Being in control of my own destiny

The freedom from the old 9 - 5 regime

No commuting

Making more use of my core skill of selling

A greater risk but with greater rewards…. If you do it well!
Servicemaster give excellent support to the newcomer. However the greatest benefit is the network of people running the same type of business around the country. Everybody is so helpful when you call for assistance and support.
The business has co directors, myself and my wife Lindsey. Her skills have always been in business administration and so there is plenty to keep her occupied.
What you must remember though it is a cleaning business. If you have any hang ups about cleaning toilets or dusting etc then think seriously about what you are doing. Both Lindsey and myself are quite naturally clean and tidy and therefore our business standards are a simple extension of those we bring to our own home.
Part of the TruGreen franchise family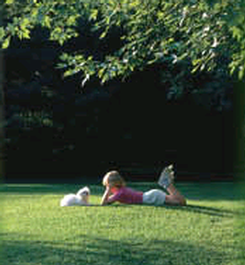 Tony Lawrence
TruGreen Franchisee
Hertfordshire
"In finding an advert for lawn-care franchise TruGreen in a national newspaper, I unwittingly found the future business I would run together with my son.
When I saw the TruGreen franchise opportunity it immediately grabbed my attention In fact, I had no intention at the time of looking to invest in a franchise, but the TruGreen concept really interested me.
At the time, I was working in financial services and my son was about to finish his A-levels: My son has always wanted to work outdoors It was something that was very important to him, so I thought that this would be brilliant opportunity for him to start his working life.
After speaking to TruGreen, we found the business concept appealed even further and our Hertfordshire franchise business was launched in 2004.
My son received plentiful and comprehensive training. There was a lot to take in but it covered everything from marketing plans to banking to product knowledge to lawn-care itself. With an effective initial marketing campaign, I was delighted when work started coming in straight away. However, the business started to grow quickly and was going so well that I decided to join my son in running the business
I was planning to wind down my career but the TruGreenfranchise business was going from strength to strength. Taking on a behind the scenes role in their home based business, I left my son to do what he loves - getting outside to do his work while meeting new people everyday. Whilst enjoying our independence and ability to work on our own terms.
I also benefit from Trugreens continual support: They give us good advice and are always there at the end of the phone should we need them. Now advertising in the local press, as well as sponsoring a youth golf tournament, I am positive that the business will continue its success:
The business benefits from a very high level of customer referrals and this is only going to get better. With my younger son planning to work with us in the near future, our TruGreen franchise is turning into a real family business."
X-Press Legal Services' Franchise of the Year 2008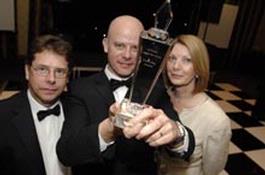 Neil Mason, franchisee for Norwich and Norfolk, has scooped X-Press Legal Services' "Franchisee of the Year" award, chosen from their national network of 40 outlets.
He received the accolade in recognition of his achievements in developing his own business, as well as his outstanding contribution to the franchise network as a whole. This accolade comes a year after winning X-Press's "Best Newcomer Award" in 2006, which he received within months of starting his franchise.
Since then, the business has expanded rapidly. Neil has created an enviable client base, moved to new premises and his brother Michael has joined to work full-time with Neil's team. He is also an inaugural member of the X-Press Action Group, a committee of franchisees which, with X-Press management, reviews topics and initiatives.
During 2007, Neil worked with the Norfolk Hip Initiative on trials of the government's new property search regulations with the introduction of Hips.
This work has greatly benefited the entire network and has been invaluable in promoting the X-Press brand nationwide.
Announcing Neil's award at the company's annual conference, X-Press managing director, Lynne Lister, said: "Neil has worked very hard from day one. For his focus, commitment to the system, selflessness and dedication Neil is an extremely worthy "Franchisee of the Year". We are also delighted to be able to recognise his willingness to help others and his significant contribution to the network as a whole."
Unlike most people who become franchisees, Neil did not need to invest considerable time and effort in researching the whole concept and the industry's track record in the UK, because he was employed in a franchise as a recruitment manager for a well-known financial services franchise.
"I already knew and understood the principles of franchising before I actually considered it seriously for myself," John said. "Before being employed by the franchise, I had worked with a recruitment company where I specialised in corporate recruitment. Everything was going really well until two of our largest customers decided to abandon most of their UK operations in favour of overseas offices and call centres. The impact of loosing two big contracts on my employer was great and so, along with many of our customers' staff, I faced redundancy," Neil explained.
"I felt this would be an ideal opportunity to start a business of my own, something I had always wanted to do. I had considerable experience of dealing with many different types of business and felt I had developed enough business acumen to be self-employed. At that stage, I was considering what type of business to go for and what product or service to specialise in.
"I shelved the idea temporarily while I accepted a job with a franchise on a fixed term contract to manage a specific project. By the time that came to an end, I had a thorough understanding of franchising. At the same time, I had clarified my plans and identified my priorities. The big advantage of franchising is that you can adopt someone else's good practices and gain from their experience, instead of trying to reinvent the wheel. Once I discovered X-Press, I knew it was exactly what I was looking for. I have an interest in property anyway, so it was a natural fit."
Before making any direct approaches to X-Press, Neil conducted some market research in his area by approaching conveyancing solicitors with the question "if you wanted a search agent, would you use me?" Receiving consistent positive feed-back, Neil felt sufficiently confident about his future to ring X-Press.
"After an initial chat with them and knowing that this area was still available, I went to the Warrington head office. I was most impressed with their set up and the people there. It all seemed very straight-forward and professional. I kept thinking "where's the pitch" but there was no hard sell. It sounds mad but this was a life-changing moment for me – I knew this was definitely what I wanted to do," Neil continued.
"Motivation is crucial when you first start-up," Neil advises. "Moving into a completely new sector and starting from scratch can be a bit daunting at first, which is why X-Press's marketing support is so invaluable, especially in the early days," he summed up.
Annual Conference has largest turnout on record for Norwich Franchisor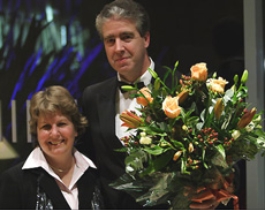 TaxAssist Accountants, the UK's leading accountancy and taxation service for small businesses reaches its 10th Anniversary and celebrates in style.
TaxAssist Accountants, based on Thorpe Road in Norwich celebrated its 10th Anniversary at its Annual Conference held on the 11 November in the Midlands. The Conference attracted the largest turnout ever of its national network of accountants with over 300 franchisees, sponsors and branded service partners in attendance.
TaxAssist Accountants is the largest network of accountants in the UK offering a range of services specifically matched to the needs of small business. Services range from the completion of end of year accounts and annual tax returns to payroll, VAT and bookkeeping. This is further complemented by additional services designed to help small business owners maximise their financial position including debt recovery, independent financial advice and personnel (HR) services.
The Annual Conference, consisted of an upbeat motivational afternoon conference followed by a formal black tie Gala Dinner and Awards Ceremony. The awards were presented to winners by Sandi Toksvig, comedienne and author.
Karl Sandall, Chief Executive comments
"We were delighted to celebrate our 10th anniversary in style. We are confidently building our reputation as a "one stop shop for small business" all over the UK, centred around a professional and value for money accounting and taxation service."
CHELMSFORD CLEANER WINS LIFETIME ACHIEVEMENT AWARD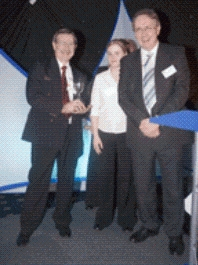 A Chelmsford man providing specialist cleaning to homes throughout South Essex has won a national 'Lifetime Achievement' award.
Geraint Williams, who has owned a Safeclean franchise for over 20 years, won the award at the company's annual conference. Geraint initially set up his Safeclean franchise after leaving his role as an internal auditor in 1982.
Geraint became a Safeclean franchisee after deciding that he wanted to run his own business. Since he began at the company he has seen many changes take place.
"I can remember originally cleaning carpets and furnishings with a sea sponge we then gradually moved on to newer more impressive technologies like the industrial machinery that you see today. I've also seen the introduction of Guardsman products which remove stains with little or no fuss and warranty packages that help protect customer's furnishings for longer."
Now running the business with his wife Debbie, the couple concentrate on the planning, marketing and quoting side of the business, with a further three full time operatives looking after the actual cleaning and working in the office. With four children to look after and entertain, Ffion, Megan, Rhys and Rhian, this extra help is crucial: "I run a tight ship with good sociable hours so I can fit in holidays and quality time with my family!" says Geraint.
Geraint is no stranger to awards. In previous years he has won 'Franchisee of the Year as well as the 'Safeclean Gold Technical Excellence Award'.
"I'm really proud to have won this latest award," admits Geraint. "It means so much to be recognised by your peers and I hope that I can continue to provide a great cleaning service to the people of the Chelmsford area".
Safeclean's national awards cover a number of different categories in furnishings and upholstery. Safeclean's Director of Operations, Paul Roberts believes the awards show the high quality of work carried out by franchisees: "These awards illustrate the depth of knowledge of our franchisees and the specialist skills used in a Safeclean service.
"Every franchisee that wins one deserves it for their commitment to excellence and continued desire to help Safeclean retain it's position as the market leader in the cleaning of domestic furnishings and upholstery."
Safeclean currently has a range of opportunities available in Kings Lynn, the South West, Wales, Scotland, Doncaster, Chester, Halifax. If you think that you have what it takes to succeed as a Safeclean franchisee or you would like more information about the business please call 01235 444705 or visit www.safeclean.co.uk.
IT'S A FAMILY AFFAIR FOR RON WITH NEW PLUMBING BUSINESS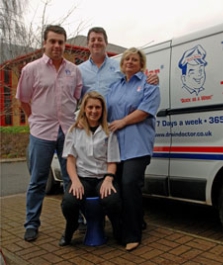 Ilford and Romford's newest emergency plumber is keeping it in the family as he launches his Drain Doctor Plumbing business.
Ron Bacon is calling on the support of his wife and three children as he vows to help rebuild plumbing's tarnished reputation and offer the residents and businesses of Romford and Ilford a dazzling plumbing service.
Ron, 48, will be assisted by his wife Angela, 43, and children Daniel, 21, Lee, 19, and Sheree, 16.
He said: "Without a doubt my family is very important to me and I am delighted we have this opportunity to build a bright future for ourselves with this franchise. We are a tightly-knit family and we are really looking forward to working together.
"I'm originally from the East End of London so I know this area very well and know that people around here deserve a plumbing service that they can trust - this is exactly what Drain Doctor Plumbing will deliver."
Ron is a sixth generation tradesman and has also worked as a chauffeur for the 'Wogan' television programme, ferrying stars such as Audrey Hepburn, Mickey Rooney, Michael Jackson and Sylvester Stallone to and from the studios.
He said: "I chose to buy a Drain Doctor Plumbing franchise for a number of reasons. For the past ten years or so I have considered buying a franchise and recently I chose six or seven businesses to examine further. I spoke to people at head office and existing franchisees and was very impressed with what they had to say about the first class service Drain Doctor Plumbing provides.
"I was also impressed with the potential for business growth. There is a great opportunity for expansion in this area - something I am keen to do. I am looking to double the number of technicians I employ by the end of the year."
Ron, who is a keen Tottenham Hotspur fan and also enjoys watching boxing, cricket and darts, was also impressed with the emphasis Drain Doctor Plumbing places on customer service.
"Customers are given fixed-price, no obligation quotes and all our work is guaranteed," he said. "Our technicians are fully trained in latest techniques, such as closed circuit camera surveys and no-dig drain repairs. We go out of our way to ensure our customers receive sparkling service."
Drain Doctor Plumbing - 08000 68 19 58.
Historic town receives face lift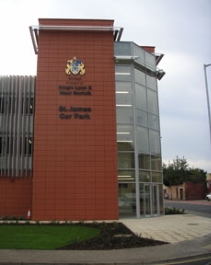 Sign and graphics specialists Signs Express (Kings Lynn) have recently been involved in several key signage projects in the historic town of King's Lynn, commissioned as part of the regeneration of the area and in celebration of King's Lynn's 800th anniversary.
Signs Express were commissioned by Alfred McAlpine Special Projects to supply and install new signage featuring the town's historic crest onto two towers of the newly completed St James' multi-storey car park. Spanning over 1.5m in height, the crests are made from bespoke moulded Glass Fibre with hand painted detailing and gilded with 23.5 carat gold leaf. The individual lettering spanning an area of nearly 2.4m in height x 2.0m in width was created using 5mm black acrylic and both were installed using non ferrous brass studs chemically bonded though 30mm thick Terracotta tiles and into the concrete structure of the building.
The crests were covered until the official unveiling by the Mayor of King's Lynn on 17th October. Signs Express (King's Lynn) owner Mike Snow said, "As the only multistorey car park in King's Lynn, it's a very prominent building and one which is at the heart of the regeneration programme for the area. As such, the development required signage which reflected the prominence of the building and uses the crest to keep the historic nature of the town combined with cutting edge design and construction of the building. We are very proud of the finished signage".
He continued, "Such projects which use a unique combination of skills are fairly unusual and combined with the working height in excess of 10.0m raised a number of challenges".
The leading sign company was also commissioned to provide 100 full colour digitally printed banners for The Borough Council of King's Lynn & West Norfolk, each 1.6m x 0.6m, which were displayed on the southern and northern approaches to the town to celebrate the town's 800th anniversary. Each Banner was full colour printed on both sides and combined the 800 years anniversary logo with individual local company logos.
Signs Express provides a complete design, manufacture and fitting service for all forms of signage and is based on the Hardwick Industrial Estate in King's Lynn. Signs Express is a member of the British Sign & Graphics Association and Norfolk Chamber of Commerce, for further information contact 01553 761762.
Driving the Business Forward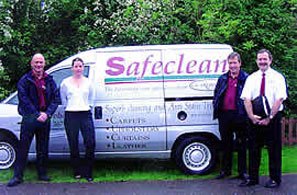 A Chelmsford man providing superb specialist cleaning to homes throughout South Essex is celebrating his 20th anniversary with Safeclean.
Geraint Williams left his managerial role as an internal auditor in 1982 to join the Safeclean franchise, offering cleaning and protection to carpets, curtains, rugs, upholstery and leather after deciding he wanted his own business, "I soon realized I was no good looking at figures and wasn't cut out to be an employee, so I started looking for my own business."
Since then Geraint has seen all the developments and progress in the franchise and in the work: "I saw all the changes, including starting with the sea sponge and moving on gradually to impressive technology" he recalls, along with the introduction of a Guardsman database, warranties and more brand marketing. Geraint firmly believes that the greater investment in advertising by head office and himself has improved his business but it is the original concept behind Safeclean that has produced the results, "I have held firmly to the belief of selling a premium cleaning service largely by quality work with resultant recommendations."
Now running the business with his wife Debbie, the couple concentrate on the planning, marketing and quoting side of the business, with a further three full time operatives looking after the actual cleaning and working in the office. With four children to look after and entertain, Ffion (7), Megan (4), Rhys (2) and Rhian (5 months), this extra help is crucial; "I run a tight ship with good sociable hours so I can fit in holidays and quality time with my family!"
Geraint has recently been awarded the Safeclean Gold Technical Excellence Award, achieving the highest percentage in the whole franchise network. Designed by Safeclean Head Office, the awards cover a number of different furnishings and upholstery problems and services and ensure their franchisees keep up to date with the latest furnishing solutions. Safeclean General Manager Paul Roberts believes the awards show the high quality of work carried out by franchisees: "These awards illustrate the depth of knowledge of our franchisees and the specialist skills used in a Safeclean service."
As for the future, well Geraint only sees one thing, "to drive the business even further forward, increasing the customer base by constantly improving the service." The last twenty years have been very rewarding for Geraint, his family and his team, and he adds "there are not many days that pass where I feel any regret about taking on the franchise!"
For further information on Safeclean contact Kathy at keley@valspar.com
New Plumbing Business for David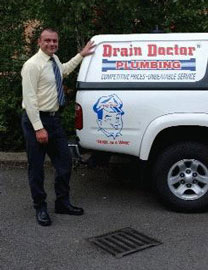 After 14 years in public service roles, David Spurrier (37) is making a dramatic career switch by launching a new Drain Doctor Plumbing business to serve the 750,000 people in the Cambridge area.
Based on a successful business formula, David aims to build a team of skilled technicians operating from fully equipped vans with the ability to solve the plumbing and drain repair problems of residential and business customers alike. Starting with two technicians he plans to expand rapidly into a 10-van operation.
"During my career I have developed some leadership and management skills that I believe are ideal for running a successful business," said David.
His Cambridge business will be part of the national Drain Doctor Plumbing network, which introduced unprecedented levels of customer service when it was launched in 1993 and quickly grew to become the UK's largest plumbing and drain repair service.
"This will be a genuine 24-hour service with no call-out charges and all our workmanship is guaranteed," said David. "Our policy is to offer fixed-price quotations before we start work so there are no unwelcome surprises for customers and all new customers are entitled to a free domestic water system check."
In addition to providing a full range of plumbing and drain repair services, Drain Doctor Plumbing technicians carry out closed circuit television surveys of drainage systems and are trained in latest re-lining and patch repair techniques.
David, who is a keen angler and soccer fan, researched a number of franchise business options before choosing Drain Doctor Plumbing.
"It is an exciting business concept that focuses very strongly on providing exceptional standards of customer service," he said. "It also has a very professional head office support team."
Drain Doctor Plumbing is a full member of the British Franchise Association and now has 74 franchise areas covering more than 90 per cent of the UK population plus the Republic of Ireland. The company recently launched a search for the UK's oldest working ballcock to help celebrate its tenth anniversary.
Bill Invests in New Plumbing Business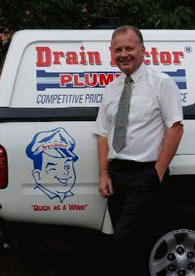 Norwich finance broker Bill Thompson (50) is making a dramatic career switch by launching a new emergency plumbing and drain repair business to serve the 750,000 people in Norwich and Norfolk.
"Competition in the finance business has become really intense with supermarkets offering cheap-rate loans," said Bill, who has just launched his new Drain Doctor Plumbing service. "My earlier training as a surveyor and experience working for an estate agency provides a solid base from which to manage my new business."
Based on a successful business formula, Bill aims to build a team of skilled technicians operating from fully equipped vans with the ability to solve the plumbing and drain repair problems of residential and business customers alike.
His Norwich business will be part of the national Drain Doctor Plumbing network, which introduced unprecedented levels of customer service when it was launched in 1993 and quickly grew to become the UK's largest plumbing and drain repair service.
"This will be a genuine 24-hour service with no call-out charges and all our workmanship is guaranteed," said Bill. "Our policy is to offer fixed-price quotations before we start work so there are no unwelcome surprises for customers and all new customers are entitled to a free domestic water system check."
In addition to providing a full range of plumbing and drain repair services,Drain Doctor Plumbing technicians carry out closed circuit television surveys of drainage systems and are trained in latest re-lining and patch repair techniques.
Bill, who plays cricket for Cringleford and is a member of Norwich Veterans rugby squad, researched a number of franchise business options before choosing Drain Doctor Plumbing.
"It is an exciting business concept that focuses very strongly on providing exceptional standards of customer service," he said. "It also has a very professional head office support team."
Drain Doctor Plumbing is a full member of the British Franchise Association and now has 74 franchise areas covering more than 90 per cent of the UK population plus the Republic of Ireland. To celebrate the company's tenth anniversary it recently launched a search for the UK's oldest working ballcock.
From High-Flying Career to Plumbing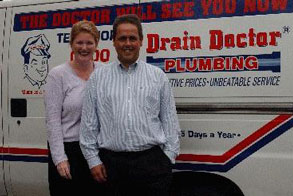 Computer software professionals Andy Bellinger and Karen Taylor are making a dramatic switch from their high-flying careers to more down-to-earth roles as they launch a Drain Doctor Plumbing business covering Watford and St Albans.
Their unusual move makes perfect sense to Andy and Karen, who live in Bushey Heath. "We both worked in high-pressure positions with market leading companies and were faced with constantly rising sales and marketing targets," said Andy.
"When the downturn hit the computer industry we were both made redundant and that gave us the opportunity to launch an entirely different business where we are in charge. We investigated a broad range of franchise options before selecting Drain Doctor Plumbing, a national plumbing and drainage company focused on customer service and delivery."
Andy and Karen plan to recruit a team of skilled technicians who will operate from fully equipped vans while delivering exceptional standards of customer service to the 550,000 people living in the Watford and St Albans area.
Andy and Karen are enthusiastic about the prospects from their radical career change. "We both have practical and management skills and I installed our own central heating and plumbing systems," said Andy, who was previously marketing director with a US NASDAQ quoted software company. Karen was previously Europe, Middle East and Africa sales support consultant with one of the world's largest software companies.
Karen added: "Public perceptions of the plumbing trade have suffered from horror stories about poor workmanship and rip-off prices so our policy is based on providing exceptional standards of customer service - right from the first telephone contact through to guaranteeing all workmanship.
"Unlike most plumbers we don't impose call-out charges, we don't charge extra for working unsocial hours and we agree a fixed price quotation with customers before starting work. Our technicians even wear plastic boot covers and use work mats to protect household furnishings."
Drain Doctor Plumbing is the first national organisation in its sector to achieve Quality Mark approval under a new government scheme that protects householders from shoddy workmanship by 'cowboy' tradesmen.
To become Quality Mark Approved tradesmen must have their technical capability independently evaluated, adhere to a 12-point code of practice, meet statutory health and safety requirements, demonstrate financial stability and have adequate public and employer liability insurance.
Nationally, Drain Doctor Plumbing is a member of the UK Trades Confederation, which also operates a customer satisfaction scheme that aims to combat rogue traders, and it is continuing its accreditation programme under the ISO quality standard.
The company was launched in 1994 and now has a network of 74 franchise areas covering 90 per cent of the UK population plus the Republic of Ireland. Drain Doctor Plumbing achieved an award of merit in the 2003 British Franchise Association's Franchise of the Year competition.