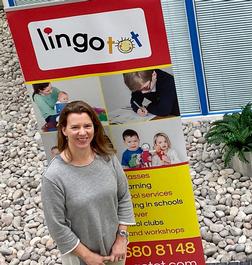 Sofia Cola´s runs Lingotot Ireland as well as her own franchise area in South Dublin. Born in Madrid to Spanish and German parents, she grew up in a trilingual household and has lived in Madrid, The Netherlands, Canada and London. It is not surprising that languages are a huge part of her life!
After a long stint in the corporate world in London, followed by a career break to raise a family, Sofia set up Lingotot South Dublin in 2018 and has found a fulfilling role for herself which works around family life. With three young children of her own, she's passionate about the early language learning benefits for young children and making this as fun as possible in her classes.
"Even before my 3 children were all in primary school I spent some time thinking about not only going back to work, but what area I wanted to go back to. I researched and looked at potential opportunities all of which had to at least fulfil the one precondition of allowing me to also spend time with my family.
It is important to reiterate that the master franchise role is a completely different one but I am so passionate about the offering and see a strong need for this type of early education in Ireland, so when the opportunity came up I couldn't let it pass.
My adventure with Lingotot started in May 2018 with the acquisition of the South Dublin franchise. The experience of starting a new business, teaching the classes together with the warm welcome from all stakeholders really helped me visualise what an exciting opportunity it would be for communities around Ireland to have a fun and interactive Lingotot language class near them.
Other factors that played a key part in my decision were:
- the belief that languages are important and open up so many opportunities both socially and professionally.
- Lingotot as a best in class franchise opportunity in the children's education sector supported by an accredited curriculum, tutor training, reputation and ethos.
- I have a fulfilling role that I can make work around my own family
- the great rapport I have with Angela and the amazing support from the entire HQ team and network.
My role is to recruit, train and provide ongoing support to each franchisee in Ireland. I'm really excited about growing the Irish network in the growing children's education sector."