Interview with Riverford Organic franchisee, Manchester South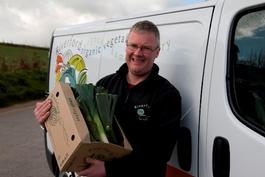 Name: Dave Hanlon
Location: Manchester South
Franchise: Riverford home delivery
Date launched the franchise: April 2008
Tell us a bit about yourself and what you were doing prior to buying your Riverford franchise?
In 2007 we were looking to move our young family out of London where we'd lived in Walthamstow for 9 years. I had worked in the wine trade with Majestic for over 15 years in several retail roles including Regional Management and finally as Retail Operations Manager based at the head office in Watford. With a thorough grounding in retail, customer service and business operations, I was keen to put these skills into a business of my own.
Why did you decide to go down the franchise route?
I looked at several business opportunities within the Midlands and North West. I was aware of and impressed by Riverford through deliveries we had to the office, and was interested to find they operated through a franchise network. Until then, I'd not looked at franchising opportunities, but I made enquiries via the website and was invited to an open day at the farm in Devon. The more I found out about the business the more interested I became. During the open day, Guy Watson, Riverford founder, gave us a tour of the fields and I was left feeling impressed that this was a real business with a strong vision and ethics.
Why did you choose the organic industry? And ultimately a Riverford franchise?
I have always been interested in food and wine and had worked and travelled abroad extensively. While in London I gained a diploma in Professional Cookery studying at college after work. I was really keen to pursue this interest into a small business and Riverford offered such an opportunity. The fact that at the time I discovered Riverford they were expanding operations into the North West was a fortunate coincidence as we'd lived in South Manchester before and wanted to return.
Why have you decided to sell your business?
Balancing the commitment required to run and develop a business with the demands of family life has become more challenging in the last two years. There are many benefits in terms of lifestyle and freedom, but running your own business can become all-consuming and I've found striking a balance has become an increasing struggle – two consecutive weeks holiday would be great!
What's the key selling points of your business?
Good quality produce supplied by a respected and longstanding organic grower in a growing specialist market. The demographic of the territory is extremely strong, encompassing a large and diverse area of South and Central Manchester, North Cheshire and areas of High Peak. Deliveries are made to between 320 - 360 households a week and there is a high quality, engaged customer base with over 600 customers receiving a delivery in the last 3 months. The business is operationally well organised with recent model vans, capacity to grow and would transfer to another operator easily. Turnover has grown by 5% in the last financial year and the opportunities for future growth in an area with excellent economic prospects are good.
What support should the new franchisee expect to receive from Riverford?
Full training is provided by Riverford and ongoing support from the franchise department in Devon and also a business development manager based in the North of England. There's a strong culture of help and advice from other franchisees both nationally and in the local area; the hub where produce is delivered is shared with two other franchisees so there is always someone to talk to and share ideas and swap advice. I'll also be available during a handover period and be happy to advise on an ongoing basis.
What are the other benefits of buying a resale Riverford franchise?
When we started the business we delivered to 19 customers in the first week just as the recession was starting to bite. It was a tough period and now we can make up to 400 deliveries in some weeks. The advantage of having a loyal, engaged customer base in an area that has proven demand for Riverford produce will give the purchaser an immediate income and a base to learn the business operations and then take the business forward.
What is a typical day for you as a franchisee?
We deliver Tuesday to Friday and on those days I leave home between 5.30 and 6am; if you had told me that was my future when I worked in the wine trade I would have laughed. I set up the two vans for the day at the delivery hub which can take several hours checking stock and then packing customer orders so that we can deliver efficiently off the vans – a critical factor in maximising our resources. I then drop one of the vans to a driver and get home by around 10am. I still drive a full round each Friday and enjoy the customer contact; there are customers that have been with us for the entire time we have run the business. Through the week there are many jobs to juggle: customer communication, administrative tasks, accounts, business development, social media, vehicle maintenance etc. In the summer months there are days at the weekend when we take a stand at a local show/food festival - a key time of year to gain new customers. In all it's a physically demanding role, utilising varied skills. The hours are long but it's rewarding.
Has becoming a franchisee changed your life, if so how?
Becoming a franchisee allowed me to satisfy an ambition to run my own business, it allowed us as a family to make an important move from London to the North West and I think it has taught me a great deal. It's enormously satisfying to start from scratch and grow a business. There is also a need to understand that your income is directly linked to the effort put in and performance of the business.
What is the most invaluable piece of advice you could give someone looking to buy their first franchise?
As well as research of the business and the franchisor, talk to as many existing franchisees as possible.
In your opinion, what makes a successful franchisee?
Hard work, commitment, flexibility, creativity and an open mind to learn new skills.
Read more about Dave's Riverford franchise for sale in Manchester
Read more on a Riverford Organic Farmers Franchise