Riverford franchisees 10 years delivering Vegboxes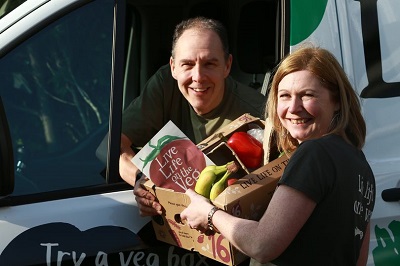 Ian & Gwen young launched their Riverford home delivery business in 2007, covering Newcastle & North Tyneside. At the time of their launch, Riverford had only recently expanded their delivery network within the North. Ian & Gwen saw the potential and haven't looked back. Now celebrating 10 years as Riverford franchisees, Gwen explains why they took on a franchise and why they still enjoy it!
What prompted you to choose to run your own business?
We started to look for business opportunities as I had reached a career crossroad having had a couple of long breaks due to maternity leave, Ian had been thinking of running his own business for a while.
Why did you choose a franchised company and why did you choose Riverford?
We had no experience of running pour own business so expected that the support from a Franchisor would set us on the right track, however we were not actively looking at lots of Franchises to see which would be best for us, it was just lucky that we were Riverford customers and it was a franchised business. We had no experience of running our own business but anticipated the support a Franchisor could offer us would set us on the right track, however we weren't actively looking at lots of different Franchise businesses to see which would be best for us, it was just lucky that we were Riverford customers and learnt that they were a franchised business. It was a natural option to investigate.
We also had no previous experience in the food sector. We were both employed within the IT industry (that's how we met). I also had a brief stint as a secondary school teacher just before we joined the Riverford network.
What did you do before taking up a franchise?
Ian and I were both in the IT industry (that's how we met). I had a brief stint as a secondary school teacher just before we started Riverford
How did you raise the finance?
We were lucky to have enough savings for the franchisee fee and we leased our first van to reduce the requirements for further up front costs.
What training and support did you receive initially from Riverford and did it give you the start you needed?
We had a week at the farm in Devon which was ideal. Riverford also helped us get our first delivery days filled with customers. We had a fantastic development manager called Roger who helped with all our queries , however silly!
What is a typical day or week for you as a franchisee?
It has certainly changed over the 10 years we have been Franchisees. We have a daily deadline which means some parts of the day are focussed on getting round sheets produced for the next day of deliveries. The rest of the day can involve all sorts of things. There's a lot of communicating with customers by phone or email. I tend to do an hour of work quite late at night to check the orders are looking sensible before they are submitted for packing. We could also be at at workplace doing a lunchtime demo or in the evening we could be hosting a Master Veg cooking class. At weekends (especially in the summer) we will be at shows and events with our produce.
What challenges have you faced?
In the very year we started, The Northern Rock bank went under! That had a huge effect on the economy of the UK but was felt keenly in the North East where the bank was headquartered.
Has becoming a franchisee changed your life, if so how?
Absolutely. It's totally different to being an employee. I can decide how to run my business and I can play to my strengths. I'd be a terrible employee now! Also my house is constantly full of amazing food!
How does running your own business fit in with your family/lifestyle?
It fits in very well. In the beginning it was tricky when the kids were small and we had to attend a whole weekend show but family mucked in and it's a lot easier now. I love working from home and I've never missed a sports day!!
What marketing/promotional tools do you use to grow your franchise?
We use the full range, leaflets, adverts in print, PR, social media, shows and events. We encourage word of mouth as much as we can as this is the best way we can gain customers.
What differentiates your franchised business from the competition?
In the 10 years we have been operating, we have seen so many vegbox schemes close. Riverford has the scale and infrastructure to weather adversity. You need to be bigger than you can be as an individual to stop everyone going straight to their mega-supermarket for their fruit and veg
In your opinion, what makes a successful franchisee (skills or personality required)?
You need to be really friendly. You need to love food and be able to cook a few simple dishes. If you can withstand wet/cold/windy weather that is a bonus! When things go wrong I panic big-time so it's good to have a business partner who can talk you down (which I fortunately do have!)
What advice would you give to someone thinking of buying their first franchise?
No one needs me to tell them that it will be tough, that money will be tight and there will be some real low points. Make sure it's a business you really believe in and that will see you through.
What are your plans for the future?
We intend to put cooking at the centre of what we do at Riverford Newcastle. We have to concentrate more on what happens to our veg when it arrives in someones kitchen. Only that way will we ensure customers who are trying a vegbox out of curiosity becomes a long term box customer. This will also help existing customers stay with Riverford.
Would you do it again?
The 'Gwen' from ten years ago definitely made the right decision :)
Learn more about franchise opportunities with Riverford Organics by requesting an obligation-free prospectus!