Snack in the Box franchise for sale in Leeds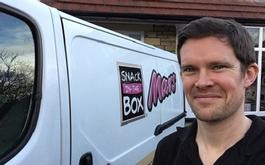 Name: Alex Hall
Location: Leeds
Franchise: Snack in the Box
Tell us a bit about yourself and what you were doing prior to buying your Snack in the Box franchise?
I had time off work with anxiety but had been working for an international company for over 15 years.
Why did you go down the franchise route initially? And why did you choose A Snack in the Box franchise?
I wanted the freedom to be my own boss and also the flexibility to see more of the kids.
Why have you decided to sell your business?
At the time of purchase we needed the franchise income but now my wife has a fast track into teaching so I will need to become the house husband and we won't need the income. I also still struggle with my long-standing anxiety issues so we decided it would be best if I focus on the home/ our young children and my own well being.
What's the key selling points of your business?
Established client base – income from day 1.
Flexibility as to what hours are worked and decent return for these hours.
I'm currently devoting less than 30 hours a week to it due to my health - working a 3.5 to 4 day week – and so there is much more potential to grow the business for someone in the right frame of mind.
Because of my personal circumstances I'm also selling it at substantially less than I paid for it.
What support should the new franchisee expect to receive?
The business will be handed over by myself (overseen by SITB) and then over the first few weeks in business the new Franchisee will receive continuous field support – via engineering, sales and operational time in the field
What are the other benefits of buying a resale?
Proven to work. Established client base and means of working the business.
What is a typical day for you as a franchisee?
Get out and service my clients then return home – usually early afternoon to do an hours prep for the next day.
Has becoming a franchisee changed your life, if so how?
I'm seeing more of my kids than I did working my previous job. It's helped me realise what is important in life.
What is the most invaluable piece of advice you could give someone looking to buy their first franchise?
Talk to other franchisees of the business and get time with them.
In your opinion, what makes a successful franchisee?
Being prepared to listen and learn from the franchisor and other franchisees. And someone who is fairly organised and enjoys getting out and about.
Find out more about this Snack in the Box franchise for sale
Read more on a Snack in the Box Franchise