Yorkshire news and case studies:
There are many successful franchise businesses in the Yorkshire area. If you're considering becoming a franchisee in Yorkshire, why not read through the case studies below and find out how these people in this area made the successful journey into franchising.
---
Snack in the Box franchise for sale in Leeds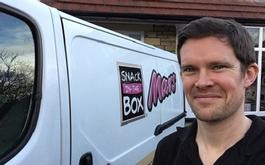 Name: Alex Hall
Location: Leeds
Franchise: Snack in the Box
Tell us a bit about yourself and what you were doing prior to buying your Snack in the Box franchise?
I had time off work with anxiety but had been working for an international company for over 15 years.
Why did you go down the franchise route initially? And why did you choose A Snack in the Box franchise?
I wanted the freedom to be my own boss and also the flexibility to see more of the kids.
Why have you decided to sell your business?
At the time of purchase we needed the franchise income but now my wife has a fast track into teaching so I will need to become the house husband and we won't need the income. I also still struggle with my long-standing anxiety issues so we decided it would be best if I focus on the home/ our young children and my own well being.
What's the key selling points of your business?
Established client base – income from day 1.
Flexibility as to what hours are worked and decent return for these hours.
I'm currently devoting less than 30 hours a week to it due to my health - working a 3.5 to 4 day week – and so there is much more potential to grow the business for someone in the right frame of mind.
Because of my personal circumstances I'm also selling it at substantially less than I paid for it.
What support should the new franchisee expect to receive?
The business will be handed over by myself (overseen by SITB) and then over the first few weeks in business the new Franchisee will receive continuous field support – via engineering, sales and operational time in the field
What are the other benefits of buying a resale?
Proven to work. Established client base and means of working the business.
What is a typical day for you as a franchisee?
Get out and service my clients then return home – usually early afternoon to do an hours prep for the next day.
Has becoming a franchisee changed your life, if so how?
I'm seeing more of my kids than I did working my previous job. It's helped me realise what is important in life.
What is the most invaluable piece of advice you could give someone looking to buy their first franchise?
Talk to other franchisees of the business and get time with them.
In your opinion, what makes a successful franchisee?
Being prepared to listen and learn from the franchisor and other franchisees. And someone who is fairly organised and enjoys getting out and about.
Find out more about this Snack in the Box franchise for sale
Nick and Pat Brook celebrate opening of third TaxAssist Accountants shop!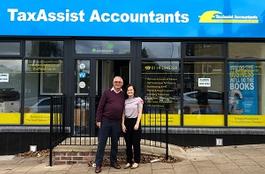 Nick, who has been a part of the TaxAssist Accountants network for over 12 years, operates shops from Barnsley and Huddersfield and has now opened a shop in North Sheffield in partnership with his wife Pat.

On the 1st October, Nick Brook opened his third shop, on 1 Wadsley Lane in Sheffield and is delighted by the response so far.

"We've had a fantastic first week," said Nick. "The shop has drawn many admiring glances and positive comments from neighbours, passers-by and clients and we are looking forward to becoming an integral part of the local business community."

Nick opened his first shop in Huddersfield in 2006, followed by an office in Barnsley in 2015. Such was the demand for his services in Barnsley, that he relocated his office to a larger, more centrally located shop in the Yorkshire town's Church Street in 2017.

"The shop-front concept is clearly key to my – and TaxAssist's – success and I think it provides authenticity to our offering and makes us so much more visible to potential clients," explained Nick.

From starting out on his own, Nick now employs eight staff who look after the needs of over 500 clients.

"I am looking forward to working with Pat and my fantastic team of staff to continue the success that I've had so far in Barnsley and Huddersfield to North Sheffield and would like to encourage potential clients interested in our services, to pop in for a free consultation," added Nick.

TaxAssist Accountants provides a wide range of accountancy services including tax returns, annual accounts, payroll and bookkeeping and helps a diverse range of small businesses including start-ups, sole traders, limited companies and landlords who operate in many industries.
Revive! welcomes latest franchisee in West Yorkshire!
Revive! has welcomed new franchisee Ian Wetherell to the UK's largest network of accredited repairers.
Ian, 42, has set up Revive! Huddersfield and will be providing Revive!'s mobile smart repair service across the West Yorkshire area. He was previously European Technical Manager for Sherwin Williams Paints.
Commenting on the new addition, Revive! managing director Mark Llewellyn said: "As the demand for our service continues to grow we are looking to recruit more outstanding people to become Revive! franchisees and Ian fits the bill perfectly. Our selection procedure is rigorous as we want individuals with drive and ambition, who can not only do the job but want to build a business."
"Ian brings with him considerable paint industry experience and a high level of technical skill. We wish him every success in running Revive! Huddersfield and welcome him to our network."
Revive! Auto Innovations is a full member of the British Franchise Association and leads the way in smart repair, with the UK's largest network of accredited repairers. We are looking for business orientated people to join our existing team of franchisees running highly profitable multi-van businesses operating in the minor vehicle repair sector. Revive! franchise owners provide services on a mobile basis which allows them to keep overheads low, whilst offering a convenient service to customers, who include car dealerships, fleet and lease companies, insurance companies as well as the general public.
Learn more about franchise opportunities with Revive! Automotive Innovations here!
From Banking to Pet Food Delivery!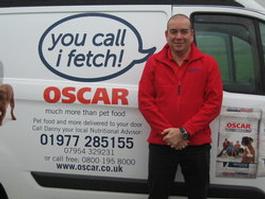 Name: Danny Ruby
Location: Wakefield
Franchise: Oscar Pet Foods
Date launched the franchise: April 2016
Tell us a bit about yourself and what you were doing prior to buying your Oscar Pet Foods franchise business?
Originally from London I moved to West Yorkshire in 1989 where I met my wife of 18 years Julie. We have 2 teenage sons James & Ben and 2 dogs Stan & Ollie (they really are like Laurel & Hardy!). Since leaving school I worked in the banking industry undertaking various roles.
Why did you go down the franchise route? What made you choose the pet food industry? And why Oscars franchise?
After over 24 years service for one of the main banks I was made redundant. This gave me time to re-evaluate my working life and provided the perfect opportunity to try a completely different route and undertake a new challenge. I've always liked the idea of being my own boss and franchising could provide me that but with the support of a franchise network. I wanted a low cost start up that I could run from home and as I've always loved animals the pet food franchises appealed to me.
Following extensive research, attending discovery days, talking to the various pet food franchises available and taking appropriate professional advice it was clear that with the quality of the products, customer service and their honesty and support Oscar stood out.
How did you raise the finance?
Mostly from my redundancy pay.
What training and support did you receive initially and ongoing?
Initially attended a 2 week in-house course with other new starters and then 5 days field training with an experienced franchisee. Support is constantly available from head office and the other franchisees who are always willing to offer help and advice where needed.
What is a typical day for you as an Oscar Pet Foods franchisee?
After walking my own dogs, it's back to load the van with that day's deliveries. Once back home the sales are recorded on the in-house system and its then time to check the diary to contact customers that will be running low on food to get a delivery booked in to ensure they do not run out and follow up new leads picked up from shows or canvassing.
In between the normal day to day tasks it's a case of building contacts with local businesses such as dog walkers, groomers and rescue homes to help build brand awareness and to help each others local business grow.
What challenges have you faced?
As I've started my franchise in a greenfield site and as Oscar only sell directly through the franchise network or via their website one of the main challenges has been building brand awareness of what a high quality, nutritious food Oscar Pet Food is.
There's also been the challenges of going from being employed to self-employed and learning to do my own accounts/VAT return etc but again there is plenty of support available from within the Oscar network.
Has becoming a franchisee changed your life, if so how?
Absolutely. I'm able to combine work with my love of animals and have flexibility to choose the hours I work. I'm also no longer stuck behind a desk and love getting out and about meeting potential new customers and talking about their pets.
What is the most invaluable piece of advice you could give someone looking to buy their first franchise?
Do your research and ensure you choose a franchise that will continue to offer the ongoing support you will need especially in the early stages when you are building your business. Don't be afraid to speak to existing franchisees with differing experience to get their views on the pros & cons of the particular franchise.
In your opinion, what makes a successful franchisee?
Knowledge and belief in the products you are selling and providing an outstanding customer service.
What are your plans for the future?
Immediate plans are to continue to build my customer numbers and raise brand awareness in my areas. In the long term it would be nice if the business got to a point where my wife could give up her full time job to enable it to be a true family business.
Would you do it again?
Simple. Yes!
To find out more about the Oscar Pet Foods franchise opportunity click here
Interview with Steven and Estelle Sykes, Ovenclean, Barnsley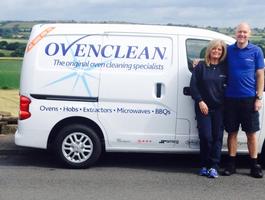 Name: Steven Sykes and Estelle Robertson
Location: Barnsley, South Yorkshire
Franchise: Ovenclean
Date launched the franchise: 1st June 2015
Tell us a bit about yourself and what you were doing prior to buying your Ovenclean franchise business?
Steven worked in international banking for 35 years and has both lived and worked in several countries around the globe, achieving Executive Director status before finally deciding to leave his post in 2015.
Estelle worked as a people manager in a sales & marketing environment for a high-street bank for many years, then moved in the last 10 years to become an Executive Assistant; she worked her way up the ranks and achieved a position supporting a Group Chairman and Group CEO of a leading healthcare company. She left to join the franchise full time in September 2015.
Why did you go down the franchise route? What made you choose oven cleaning industry? And why Ovenclean franchise?
The key reason for choosing a franchise was that of risk limitation. Ovenclean offered a proven business model, a way of operating that showed us evidence of a successful track record. We were looking for an opportunity to use our business expertise; we wanted to see if we could grow a business.
From a practical standpoint, we wanted a regular income but without the constrictions, demands and stresses of corporate life. All of these reasons played a role in the decision making process, but the primary one was that of a lower risk proposition.
Steven researched many franchise opportunities but narrowed down the search to oven cleaning, made particularly appealing when he found a local franchisee, with an existing business who wanted to sell.
We met with several oven cleaning franchise operations and also the owner of the local Ovenclean business - after lots of reflection, debating and further research, we decided Ovenclean were the company of choice, they felt right for us.
How did you raise the finance?
We were in the fortunate position of not having to raise finance to invest in the business but I know that Ovenclean in particular are keen to support new starters however, and with the various pricing options they offer there is plenty of scope for those who need a little extra help at the beginning of their venture.
What training and support did you receive initially and ongoing?
We're still learning in truth and I suspect that we will continue to do so, especially as and when new ovens emerge into the marketplace and new products come out that speed up or ease the process. I think it's also fair to say that we are forever evolving - that's probably the way we look at life too, so we firmly believe we will always be learning and picking up smarter, slicker ways of doing things.
The initial formal support however, consisted of 2 weeks intensive 'on-the-job' training; this was supervised by the franchise owner from whom we originally purchased the business. In that 2 weeks Steven learned how to clean ovens, saw the vast array of different door configurations, experienced the different ways to approach a clean depending on the state it was in, the make/model of oven, where it was cited in the home etc. The biggest learning lesson was that there was much much more involved in the process of cleaning an oven than one would ever have imagined!
The technical know-how was the focus of this on-the-job training, the customer service, sales & marketing, administration and book-keeping elements of running a business were already fortunately well-honed, given our previous working experience.
Ongoing support was, and is, received from Ovenclean HQ on request - the team are truly knowledgeable and extremely helpful; they are only ever a phone call away.
What challenges have you faced?
Lots and varied! We experienced a period of drought as any business start-up does, and there was a short time when the phone stopped ringing. We usually book between 2-3 weeks ahead, and we literally were booking jobs today for tomorrow. A very sobering and new experience for us, however our business hitherto had been regular, pretty busy, a constant roll of calls, e-mails and cleans. We identified that we had an issue immediately and got our thinking caps on – why? What could we do? Was something happening outside of our control? Did we need to look at a new revenue stream? What were we missing? Lots of questions, lots of soul-searching, lots of late nights and calls to HQ for help and to pick their brains too – was this usual, was anyone else in the franchise network experiencing a similar business dip?
Through our hard work, determination, and support from HQ we most certainly turned it around and believe it or not, ended the period in question on top. We had the best ever trading period since the business began largely due to prospecting for new business. We drew the conclusion that maybe the summer business dip was due to family holidays/school term breaks. Given this, we put thought into who else out there needed our services, someone who was not a single household but needed domestic cleans, fast. Our brainstorming resulted in 60 e-mails over the weekend to estate agents and student let companies, and after following them up over the next few days, a student let company explained they'd been let down badly by an oven cleaner and in fact, yes, they did need our help, and were we able to do between 40-60 cleans over the next 2 weeks? Bingo!
Has becoming an Ovenclean franchisee changed your life, if so how?
I'm not sure it's been a huge lifestyle change if I'm honest – we have always been highly committed to our work lives and as directors of our own franchise we still continue to be so.
The main difference owning a franchise has given us is the ability to control our own destiny – truly control it. If we want to be busy we can be, if we want to take a couple of days off, we can.
If we want to take the business in a certain direction we are incredibly swift, we don't need to take the idea through a huge chain of command, we simply discuss, agree and then…DO IT! That alone is incredibly empowering and is one thing that makes becoming a franchisee most certainly worthwhile.
What is the most invaluable piece of advice you could give someone looking to buy their first franchise?
Enter it with your eyes wide open knowing that you will get out of the business what you put in. If you follow the proven model that is laid out by Ovenclean, you will succeed. It's that simple.
BUT, know that if you deviate, if you have a 'can't be bothered' week and don't leaflet (the recommendation is c50 at every job), if you close off the business phone/e-mail account in favour of watching Coronation Street every night, if you don't get your telephone manner and 'patter' sorted when trying to convert leads, you will struggle.
It's not an easy option, but it's one of the most rewarding and satisfying things we have ever done. The business is there and the opportunity is waiting – if you are prepared to be dedicated and work hard.
In your opinion, what makes a successful franchisee?
We have been fortunate to mentor a handful of new franchisees, we've also shown potential franchisees what it's like; they've shadowed us for a day out on the road, in customers' homes. We can almost always tell who will take up the franchise and who will make it a real success.
The best ones have the softer skill-set (they're enthusiastic, keen to learn, physically fit, customer friendly, smart, personable) as well as the harder skill-set (business acumen, a basic commercial sense of what's right and do-able, organised, determined, methodical, task-focused). A combination of these attributes coupled with a 'can-do' approach is usually a good sign in a new franchisee. If they have an engineering slant and like taking things to pieces to see how they work, more the better – Steven is always being likened to an engineer when customers see him taking ranges and oven doors to pieces to clean, before re-assembly.
What are your plans for the future?
We both feel it's important to 'do our time' on the road and really experience what it's like month in, month out before we even consider scaling up and telling others what to do, but in time, we would definitely like to grow our business.
Our ambition is to be able to fill several diaries with cleans. We would recruit others to work with us (additional vans and oven cleaners), they would do the day-to-day work and we would take a step back from the more physical element of the job.
All in good time – we hope to embellish these plans through 2017 and beyond.
Would you do it again?
In a heartbeat!
To find out more about the Ovenclean franchise opportunity click here
Taking the leap from finance into senior care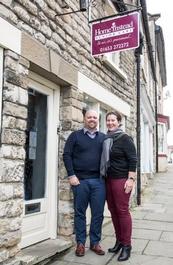 Name: Luke Norbury
Location: York
Franchise: Home Instead Senior Care
Date launched the franchise: March 2009
Tell us a bit about yourself and what you were doing prior to buying your Home Instead franchise business?
I had lived and worked in finance in London for most of my career – initially investment banking and then in commercial finance. After my wife and I had our first baby, I began to think about having more control over my time and my income. I had always wanted to run my own business and it was just a matter of time until I made the leap.
Why did you go down the franchise route? What made you choose the senior care franchise industry? And why Home Instead franchise?
I was making the decision at the time of the credit crunch, considering leaving a blue-chip employer and risking my own savings. Although I love dreaming up business ideas, when it came to it, I needed a proven concept. As well as looking for an industry with growth potential and "recession resistance",
I wanted to do something that I felt would be rewarding and have a sense of purpose. This led me to the care sector where there are several franchise options, but Home Instead Senior Care stood out as an organisation with an excellent, proven business model and just as importantly, an ethos that matched my own.
How did you raise the finance?
I funded the franchise purchase and start up with a combination of my own savings and a business loan. It was a straightforward process all in all.
What training and support did you receive initially and ongoing?
There was an initial "familiarisation" day and that was followed with a full week of training covering everything I needed to know to start and operate the business.
There is a lot to take in and it was an exciting time, but the follow up was just as important - like any other situation, it's when you actually leave the classroom and apply the learning in real life situations that you find you need to ask questions.
The Business Support team visited me regularly and were always at the end of the phone. Once I was more established the training continued and has been increasingly available to members of my team as the business has grown.
What challenges have you faced?
The flipside of the positives of running a business all about people is that it can be disappointing if someone lets you down or indeed if you let a client down. On the rare occasions this has happened, it's difficult not to take it too personally. I'm quite a creative person, so another challenge has been accepting that I don't need to reinvent the wheel.
I get plenty of opportunity to try out my own ideas in the business, but at the end of the day as a franchisee I am operating a business model that has been proven so sometimes I have to remind myself to make the most of the wealth of resources available to me!
Has becoming a franchisee changed your life, if so how?
My working life is very different now to 8 years ago. Ultimately I have the choice as to whether I am needed at the office or not. As it happens I work a fairly full week, but it makes a huge difference psychologically when that's your choice.
More recently as the business has reached targets we set, I have been able to review what I want to get out of the business and have chosen to spend a large part of the school holidays with my children, which has given me huge satisfaction. As a franchisee I am in control of my own destiny with the backup of a bigger network – it's the ideal balance for me.
What is the most invaluable piece of advice you could give someone looking to buy their first franchise?
Take the time to do in depth research about the franchise. Speak to as many existing franchisees as you can and understand how they feel about the business. As well as hearing their opinions you will build a picture of the organisation's culture which can make a massive difference to your success.
In your opinion, what makes a successful franchisee?
Someone who is a self-starter and motivated to succeed, but who recognises that the whole is greater than the sum of the parts – a good franchise network can offer huge value to its members.
What are your plans for the future?
I'm looking forward to continuing to work with my team to grow the business. The care sector is not without its challenges, but I'm confident that being part of a market-leading franchise network is going to help us turn challenges into opportunities.
Would you do it again?
Yes absolutely. There are things I would do differently along the way, but hindsight is a wonderful thing and in fact, learning from the mistakes I have made over the last 7 years puts me in a much stronger position now.
To find out more about the Home Instead Senor Care franchise opportunity click here
Interview with Clive Cowan, Huddersfield, Expense Reduction Analysts franchise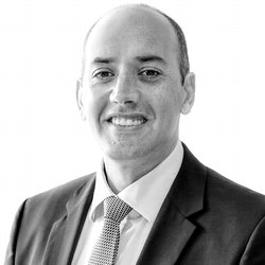 Name: Clive Cowan
Location: Huddersfield
Franchise: Expense Reduction Analysts
Date launched the franchise: Nov 2008
Tell us a bit about yourself and what you were doing prior to buying your Expense Reduction Analysts franchise business?
I was a Regional Sales Director for Monster the on-line recruitment company managing 3 sales teams and responsible for over 30 sales people.
Why did you go down the franchise route? What made you choose to look at franchises in the cost reduction industry? And why Expense Reduction Analysts franchise?
After leaving Monster I felt now was the right time to do something on my own. I'd always worked in big corporate businesses but I always had the desire to work for myself. I didn't have an idea for a business and buying an established business was expensive so I explored the franchise route.
I wanted a franchise that complemented my skill sets and sales into corporate businesses made the most sense. ERA offered what I was looking for.
How did you raise the finance?
Part self-funding, buy majority was via loan from Lloyds franchise team which I paid off within 18 months from joining ERA.
What training and support did you receive initially and ongoing?
The initial training was very good. You met a lot of the established franchisees and they were extremely helpful. ERA gave me all the tools to allow me to start the business.
What is a typical day for you as an Expense Reduction Analysts franchisee?
It's not too dissimilar to a normal day working in corporate life. Mon – Fri business hours but I decide where I go and who I see. I still have to set myself targets and goals but I don't have to answer to anyone. What I like is there are no conference calls justifying what I'm doing, I am completely judged on my own results.
What challenges have you faced?
Working for yourself is not easy but with ERA I have a team of people I work with every day so I don't feel alone. We have regional meetings, 4 national conferences and regular client meetings that I attend with other colleagues.
The biggest challenge is keeping everything moving forward. You can't take things easy or you see a direct drop in activity and revenue.
Has becoming an Expense Reduction Analysts franchisee changed your life, if so how?
I am much more relaxed that I was in corporate life. I have increased my income and I have more flexibility on how I use my time.
What is the most invaluable piece of advice you could give someone looking to buy their first franchise?
Listen to the experienced franchisees about how they made a success of their businesses. Work hard and maintain your activity or you will find it harder to keep a consistent level of business.
In your opinion, what makes a successful franchisee?
Hard work, flexibility and be prepared to listen to other franchisees around you.
What are your plans for the future?
I've been with ERA 8 years and the plans are to keep growing the business. I'm a long way from retiring so I've just got to keep going.
Would you do it again?
Yes I would. Like anything you do for 8 years it has its up's and down's but financially it's been a positive move and it has allowed me to be more flexible with my time. If I want to watch my boys play rugby on a Wednesday afternoon I only have to ask myself can I afford the time away from the business.
To find out more about the ERA franchise opportunity click here
Why first impressions count…Exclusive interview with Nick Brook, TaxAssist Accountants, Huddersfield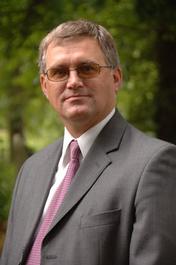 Name: Nick Brook
Location: Huddersfield and Barnsley
Franchise: TaxAssist Accountants
Date launched the franchise: August 2006
Tell us a bit about yourself and what you were doing prior to buying your TaxAssist Accountants franchise business?
I'd had 18 years' experience in business to business selling, primarily in the motor finance arena.
Why did you go down the franchise route? What made you choose an accountancy franchise? And why TaxAssist Accountants franchise?
I wanted to buy into an established business with a proven model. I'd always been in "white collar" work and therefore looked for a professional franchise associated with finance and banking. TaxAssist Accountants ticked all the boxes I required, and from the first phone call, were the most professional organisation I spoke to.
How did you raise the finance?
I had some of my own money to invest and supplemented this with a bank loan with my house as security.
What training and support did you receive initially and ongoing?
I attended an initial 6-week residential course, and ongoing training and support are provided by the TaxAssist Support Centre. This was particularly useful through the first year.
What is a typical day for you as a TaxAssist franchisee?
I'm not sure if any day is typical! I have 7 staff and two sites. I try and base myself at one office for the day and deal with matters as they arise. I don't prepare client accounts, however, I do check most of them. I conduct most of the client meetings, particularly new and potential clients. I also attend network meetings on a regular basis which take up about half a day a week.
What challenges have you faced?
As in any business, cash flow is the most important challenge, balancing income with expenses, particularly in the early days. Client acquisition has always been my main focus and it's important that this is continually kept up to ensure growth in the business. This was behind the move to open a second office in Barnsley. Dealing with staff is always interesting, however I have been blessed with some loyal, quality staff who endeavour to take pressure off me.
Has becoming a franchisee changed your life, if so how?
I have a lot more freedom in how I manage my life. I can take several holidays a year, mainly due to my staff and have a better work life balance.
What is the most invaluable piece of advice you could give someone looking to buy their first franchise?
Make sure the finances are in place to be able to live in the first year.
In your opinion, what makes a successful franchisee?
Somebody who sticks to the tried and tested business model and who is willing to take advice.
What are your plans for the future?
Continue steady growth in Huddersfield, move Barnsley to a shop front within 18 months.
Would you do it again?
Yes, without doubt!
To find out more about the TaxAssist franchise opportunity click here
Interview with Stuart Johnson, ActionCoach franchisee, North Yorkshire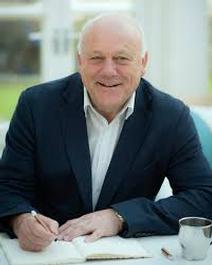 Name: Stuart Johnson
Location: Yorkshire
Franchise: ActionCOACH
Date launched the franchise: April 2007
Tell us a bit about yourself and what you were doing prior to buying a franchise business?
I worked for 20 years in corporate life, running divisions of multi-national companies including Philips Electronics and Mayne Nickless Group. I have run UK subsidiary companies in Portugal, France and Germany. I have also started and run four businesses of my own including my ActionCOACH franchise for the last 10 years.
Why did you go down the franchise route? What made you choose your industry? And why your franchise?
I have always been a people person, running teams of sales, marketing and service organisations. I thought it would be great to be able to help others and give them the help and support that I had enjoyed during my career to date. Having carried out a couple of months of due diligence, ActionCOACH were head and shoulders the best in the market. They had a great toolkit and a team of abundant coaches across the world.
How did you raise the finance?
From savings and partial borrowing.
What training and support did you receive initially and ongoing?
My initial training was 10 days in Las Vegas with 16 other coaches from Australia, Portugal, France, USA and UK. It was very intensive and the trainers were excellent.
What is a typical day for you as a franchisee?
I prepare my coaching materials, coach my clients at my premises or theirs, spend time marketing events, answering emails and, importantly, I allow time for learning new things.
What challenges have you faced?
Learning the necessary coaching skills to educate rather than just provide the solution. There is so much to learn and keep up-to-date on your own knowledge. In the early days, it was difficult to believe I could help others to the level that I have now managed to reach.
Has becoming a franchisee changed your life, if so how?
It is extremely rewarding to help business owners achieve their dreams and goals - to show them how to get their time back and spend it with their families and friends, rather than spending it at work.
What is the most invaluable piece of advice you could give someone looking to buy their first franchise?
Be clear about what it is that you want to do and why you want to do it. Talk to as many franchisees as you can and ask in-depth questions until you are satisfied. Put a conservative budget together making sure you have enough working capital and allow sufficient time to get paying clients – cash flow is everything.
In your opinion, what makes a successful franchisee?
Difficult question to answer!! Hard working, open minded, willing to learn and must enjoy being around people. They must have a clear vision for their future.
What are your plans for the future?
I have been coaching for 10 years, have a number of excellent clients, and thoroughly enjoy what I do. I will try to slow down a bit over the next couple of years, see more of my family and grandson, and play more golf!
Would you do it again?
Yes, without hesitation. It is the most rewarding and satisfying role and you meet so many great people along the way.
To find out more about the ActionCOACH franchise opportunity click here
Going places with a World Options franchise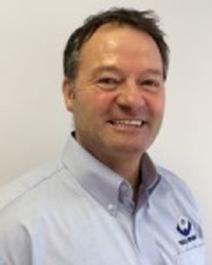 Franchisee: Philippe Lopez
Territory: Wakefield
Franchise: World Options

Philippe has held his World Options franchise for a year now, and with over 100 customers already, his business is still growing fast.

Frenchman Philippe originally came to England to learn the language, but after meeting his wife he stayed. His English is excellent, but much to the amusement of his customers, the one word that he still has problems with is unfortunately 'world'! His background is in the Events Management business, but the long hours eventually persuaded him to look for something else; something that would bring in a healthy income, involved customer interaction and would mean more time to spend with his family.

Having looked at a few franchises, Philippe chose World Options. He likes the almost family feel of the company and was won over at his first meeting with them. They didn't oversell the franchise, but Philippe knew straight away that he could make it work. World Options has been behind him the whole way, with help, advice and support; something that Philippe has been very grateful for.

His first year with World Options has been one of hard work, but Philippe can see a time very soon when his extensive customer base will almost run itself, giving him the family time he is looking forward to. That's the joy of World Options; the software tool Portal is so effective and ingenious that not only does it make his business simple to run, Philippe's customers love it too.

Philippe is one of those people who is not scared to knock on doors. He works hard knowing that his efforts alone will reap the benefits. He is a real 'people person' who loves to talk and goes that extra length for his customers. He has even driven packages to Manchester Airport himself when a pick-up failed, and once drove to what he refers to as 'the middle of nowhere' to deliver all-important supplies to a farmer. Losing money on the extras like this is not as important to Philippe as the customer care he considers essential to his franchise.

The UK Postal and Courier Activities industry is now worth over £25.5 billion. Philippe knows that World Options has a massive customer base to infiltrate, and with the Portal saving customers both time and money, he is very confident that his franchise will be extremely successful and give him the job satisfaction, performance buzz, a great income and the working hours he is looking for.
Returning to Recognition Express franchise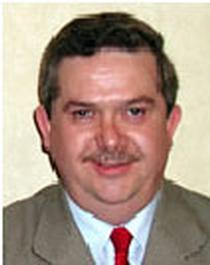 Name: Steve Sykes
Franchise Territory: West Yorkshire
Previous Job: Managing Director
Steve Sykes, 52, has returned to Recognition Express to take over the West Yorkshire franchise after leaving the network in 2008 to run a slimming franchise.
"I didn't ever want to leave Recognition Express, because I like the business and I get on very well with the franchisor, but somebody made me an offer I couldn't refuse! Being the franchisor, rather than the franchisee, was a very interesting and valuable experience, but I'm glad to be back where I belong."
Originally, Steve came to Recognition Express in 2002 when he set up the Crewe franchise. He was so successful that he bought a second territory, the Wirral, five years later.
Steve has been married to Karen for 30 years and they have three children; Stuart (26), James (22) and Jennifer (21).
What was your career prior to Recognition Express?
Born and bred in Cheshire, Steve started his career in retail management, with a management-training course at the Cooperative Wholesale Society. He then moved onto other high street retailers until realising that "there was a big world out there and I wanted to be part of it. I was bored of being in the same place day after day."
From retail Steve moved to the signage sector, where he stayed for 10 years, working in a B2B environment providing equipment and sign products to the leisure and hotel sector.
"I did quite a bit of travelling, saw the world and worked very long hours, but somebody else was benefitting from my hard work, and I always knew I wanted to work for myself one day."

Why franchising?
"I came across Recognition Express when I visited the National Franchising Exhibition at the NEC. I felt an affinity with the nature of the business having been involved in the signage sector. I like the idea of actually selling products rather than information and I liked the quality and range of goods on offer. I could see that there was a huge market place."
"From a practical viewpoint I was looking for a business I could operate from home as I didn't want to take on a huge overhead. Another unique selling point of Recognition Express is that it has manufacturing capability locally through its own in-house production facility, plus nationally and internationally. This means we have the flexibility and capacity to copy with any size of order."
How did you find your way back to being a Recognition Express Franchise Owner?
"I stayed in touch with the franchisor, Nigel Toplis, and he knew that I'd been made redundant. There was a re-sale opportunity, he approached me to see if I was interested, and I was."
"This time around the challenge is different. It's not a virgin territory and I've had to hit the ground running as it's a busy franchise. You can't hit 'pause' whilst you find your feet!"
What are the characteristics of running a B2B franchise?
"You need confidence to sit in front of people and promote your business. It's not all about price and is more about building client relationships. Most people prefer to know whom they are buying from and what they are buying. Reliability, meeting deadlines, is very important in this sector. You can't afford to let people down. Accuracy and attention to detail is key, because there are no grey areas. It's either right or it's wrong."
What are your future plans for the business?
"My ideal would be to develop this into a family business. My eldest son, Stuart, is interested in getting involved on the sales side and developing the territory."
"I've taken on a 30 year old, established business and my target is to cross-sell a wider range of products to existing customers as well as develop new business."
Finding fulfillment with Recognition Express franchise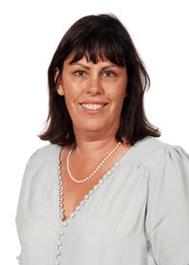 Name: Jan Chidley
Franchise Territory:
Hull & East Riding
Previous Job:
Full time mum
Jan Chidley, 45, was born in New Zealand and first came to England at the age of 21 for a working holiday.
Jan did a multitude of jobs, including banking, working as a nanny and a credit controller, before meeting her husband Chris and starting a family. Jan and Chris have twins, Sam and Sophie who are at University, and Holly who is almost 16. Having been a full-time mum providing stability for the children whilst they travelled the world with Chris's job, Jan decided in June 2008 that it was now her time and set up Recognition Express Hull and East Riding. Although Jan is the sole franchisee, husband Chris has been a big support along with the head office staff.
What attracted you to franchising?
"I had a business back in New Zealand with my father, growing apples. We sold it and I decided that I wanted to do something in the UK now that my family are nearly all grown up. I like the idea of doing something that is my own business but where I am supported.
"My husband, Chris, is the CEO of a large nationwide franchise, Driver Hire, and I could see the benefits of being a part of a franchise. There is a list of support needed when starting a new business, and on a day to day basis it is good to know you can pick up the phone and there will be help at the end of the line."
What was it about Recognition Express that attracted you?
"Nigel Toplis and the team are very supportive, there is a wide range of good quality products and hence a broad range of potential customers, and the business model is sound."
"My husband Chris was aware of Recognition Express and had met Nigel on several occasions. We both felt that Recognition Express was the right sort of business for me."
What advice would you give to other women thinking of starting their own business?
"It is hard work, with a lot of commitment required, but if you get it right it is extremely satisfying. It is all about meeting people on a regular basis, forming good relationships and being able to deliver the end product."
"Having my own business gives me flexibility around my home life, however it is important to remain focused on the business and to continue to put in the time required to keep things on the up."
"It is not a hobby."
Would you recommend franchising to other women?
"I would recommend franchising to other women. Whilst you have to do your homework before signing on the dotted line you should be buying into a proven business model. For busy women this can be an appealing option."
Starting a new venture with Tumble Tots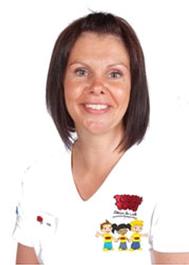 My husband Lee and I bought Tumble Tots because we wanted a new venture and as I'd previously worked with children at a Health Club, I wanted to do more. The challenge is great but very rewarding! My days go SO fast now and we see the best of every child. I get parents that come in complaining about their jobs, and think to myself 'this is work', it's really not like a job.
Being my own boss gives me the freedom to put my stamp on the business, I have a great team and we all work together really well. We do parties at Summer and Christmas which are always full, sponsored events, colouring competitions... the list goes on.
Chemex franchise service help business with health and safety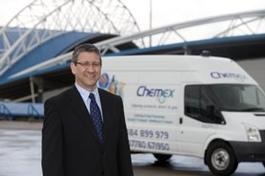 A new service is being launched by a Yorkshire businessman to prevent local businesses falling foul of ever tightening health and safety rules.
David Sidwell is providing consultancy, training and hygiene solutions to nursing homes, leisure centres, sports clubs, restaurants, pubs, and hotels in the Huddersfield and Halifax area. With more than 30 years experience in sales management, dealing with national supermarket chains and other companies that are household names, David knows the importance of customer service.
"The quality of the products is first-rate, they are market leaders – tried and tested," said David whose business is based in Knowl Road, Mirfield. After thoroughly researching the franchise market, David selected Chemex as a result of its reputation for products that weren't just highly-effective but recession-proof too. "We sell necessities not luxuries and therefore they are better suited to riding out the downturn," said David.
Proving that the franchise system works with Driver Hire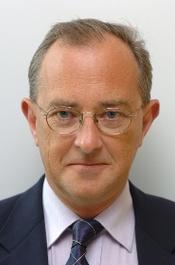 John Fraser purchased Driver Hire's Hull franchise from its previous owners in December 2006. An accountant by profession, the majority of John's career was spent managing farm estates on behalf of large organisations – including the Castle Howard estate in North Yorkshire, made famous in TV's 'Brideshead Revisited'. He made the decision to start out in business by himself and when the opportunity arose to become a Driver Hire franchisee, John grasped it with both hands.
Says John Warren, Driver Hire's Franchise Sales Director, " Although John took over an established territory it was one that had seen little growth for several years. He didn't waste any time in transforming it. His first step was to relocate the business into new and larger premise and he then began a concentrated sales and recruitment programme."
The results were outstanding – in John's first year at the helm, year-on-year sales grew by 68% and the Hull franchise won Driver Hire's Gold Award for sales revenue at their Annual Conference. Then in 2008 one of his drivers, Colin Ramsden, won the Recruitment & Employment Confederation's 'One in a Million' award, making him the UK's top temporary worker. This achievement speaks volumes about the quality of John's business and reflects well on the whole of the Driver Hire network.
"There's no doubt that franchising reduces the risk element of self employment," says John. "You're buying a business with a proven recipe for success and there's a network of other franchisees to talk to before you make the decision to buy and once you're running your franchise. Driver Hire provided all the support they promised. In fact I don't think I've fully utilised all of it."
Driver Hire's Franchise Re-sales Director, John Warren adds, "Self-motivation, energy and enthusiasm coupled with sound commercial judgment and the support provided by the franchisor have really paid dividends in Hull. I'm confident that the Hull franchise will continue to go from strength to strength."
Franchise Road show arrives in Leeds…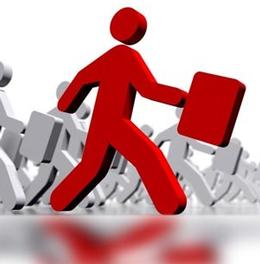 Leeds United FC's Conference & Exhibition Centre is the next stop in a popular UK franchise road show for the first time February 2009.
Those budding businessmen and women based Yorkshire and the North East will have the chance to meet 40 of Britain's most innovative and exciting franchise and business opportunities – and all of them with licenses available for Yorkshire & the North East.
Free seminars run throughout the day: examples include:
"mums mean business" – hosted by two mums from BBC TV's The Apprentice, Jen Celerier and Kristina Grimes
"white collar franchising" – impartial advice for making the jump from office desk to MD
"Post Credit Crunch" franchise finance advice – with Natwest Bank's Franchise team
"motor franchise theatre" – business ideas for mobile franchises
All the seminars include a Dragons' Den style event – allowing the franchises to pitch their idea to the audience, who can then fire questions in return.
But why are these companies all coming to Leeds? Mark Monument, of exhibition organisers Job Done, explains:
"Our exhibitors are a pro-active bunch. They don't expect visitors to trek down to Central London, Birmingham or Manchester. They see the value of making it easy for potential franchisees to meet with them.
All the visitors are people who live - and wish to run their business - in their own local area. Therefore, the franchises are more than happy to showcase the territories/licences they have available in that same local area"
"It's not all about making (or investing) fortunes. Most exhibitors are looking for dedicated individuals who want to carve out a pleasant full or part time living and lifestyle for themselves. It's a genuine and realistic career option from the pressures of economic downturns at work.
There's a bit of everything here for all career backgrounds – for "petrol heads", for skilled tradesmen, for white collar careers, for those interested in property investing, for those looking at retail outlets, or catering, or IT. And, for once, you don't have to travel in to Central London to see it all".
The Leeds event follows other successful road shows in Reading, Leicester and Norwich – and organisers hope this event to be the largest attended yet.
The show takes place on Friday 27th February 2009 from 12.30pm until 7.30pm. There is no entrance fee; there's plenty of free car parking and all the seminars and advisory sessions are without charge too. It seems you just need to be a free thinking, budding entrepreneur to benefit from it all.
Jumping at the chance to join Tumble Tots franchise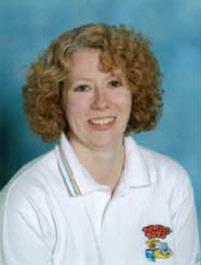 "I joined Tumble Tots in 1998 when my daughter had just started school and my son was 2. I had always wanted to run my own business, although I never knew what area I wanted to cover. After I had my own children I decided I could see myself working with children (something I had never previously considered), and when we saw an advert about Tumble Tots franchises we jumped at the chance.
I have never doubted my decision to take on a Tumble Tots franchise. I have the best of both worlds - my own business, with the back-up of a large organisation. The job is very fulfiling, different every single day, and fits brilliantly round the rest of my life. Watching the children benefit from the classes and develop is the best feeling. It's very hard work, but totally worth it!"
"when we saw an advert about Tumble Tots franchises we jumped at the chance".
From Mining to Cleaning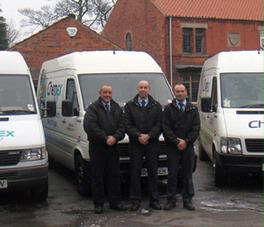 Two years ago, Chemex International franchisee John Heslop was a Mechanical Engineer for the mining industry in North Yorkshire. Today he runs a successful business in the cleaning & hygiene sector.
Continued uncertainty surrounding the future of mining first prompted John to look at franchising as a safe route to self-employment, "I decided that the Chemex franchise offered great potential," he explains. "I was impressed by the package – the training and ongoing support of franchisees, the high quality product range and the fact that cleaning and hygiene materials make every business in every industry a potential customer."
Chemex franchisees are based at home, but operate from liveried Mercedes Sprinter vans specially customised to become effective mobile showrooms full of stock. This enables franchisees to deliver products direct to their customers, and to demonstrate the range and efficacy of the products 'on the spot' to new or potential customers.
"Those first few days out proved to me that the products were excellent, and that it was indeed a non-seasonal, repeat order based business, where customers come to depend on you – not only for their cleaning & hygiene materials, but for the advice, support and training you can offer their businesses. It seemed to me that this was what made Chemex different. As far as I know, no other company is genuinely offering this level of service in this particular marketplace – and that convinced me Chemex was the franchise for me," he says.
John set himself clear targets when he took on the franchise, and reports that two years later he is well ahead of the game. "I was earning a very good salary as a Mechanical Engineer, and set out to be earning at the same level within two years. I'm fortunate in that my wife works so I've been able to invest back into my business rather than take every penny I earn out, but six or seven months after I started I had pretty well reached my two year target."
John has built a customer base of nearly 170 businesses, ranging from the very small to the substantial, and he is enjoying to the full in his new role self-employed businessman. "Building up your own business is certainly hard work," he concludes, "but I've been used to working long hours as a Mechanical Engineer, and it's good, rewarding work. I'm enjoying every minute of it!"