Barnstaple couple open their own Driving Miss Daisy franchise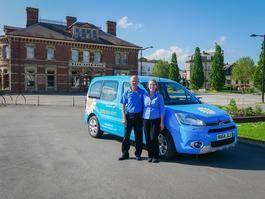 Name: Mark Jones and Sharon Hunt
Franchise: Driving Miss Daisy
Location: Barnstaple, North Devon
Date franchise launched: June 2018
Can you tell us a bit about yourself and what you were doing prior to buying your Driving Miss Daisy franchise business?
Mark - I worked as a Software Developer, Application Support Analyst and IT Manager prior to semi-retiring in April 2017. My partner, Sharon, worked as an Administrator for a local College for over 20 years and gave that up to be a Bookkeeper two years ago.
Why did you go down the franchise route? And why did you choose the care industry?
As we had never run a business before we wanted the reassurance of the experience and know how to rely on. We knew we could make use of all that advice and backing as well as the strong and growing brand. There was also all the ideas, processes and concepts to follow which were structured and relatively easy to follow and all we had to do was put the effort in and make it happen. We were also introduced to other franchisees who were successful and were only too willing to provide support and advice as well.
We were only too well aware of how many start-up businesses fail in their first year, so we wanted to be part of something that was already a success.
The reason we chose this industry was because we felt that we could give something back to the community and do something that is personally rewarding as well as providing us with an income.
The reason we chose Driving Miss Daisy® was because of the concept and strong brand and because it was becoming more successful. We are also treating this an investment as we hope to grow into something that will be truly a good proposition for someone else to take on when we come to retire.
How did you raise the finance? What training and support did you receive initially and ongoing?
We raised the finance through savings and cashing in a pension. We received three-day's training at Head Office in Portsmouth which included Franchise strategy, policy and concepts as well as first-aid training, safeguarding children and wheelchair accessibility training.
We are continually guided, monitored and mentored by senior staff, and we are also encouraged to make contact with other franchisees for support and advice, which we do. They are all very willing to pass on their experience and knowledge which is tremendous and makes it feel like we are part of our own little community.
We also have a Client Services team at the Head Office who support all our franchisees and take calls for us as well as informing clients of our services before passing them onto us.
How would you describe your day-to-day role as a Driving Miss Daisy franchisee? What challenges have you faced?
Chief Cook and Bottle Washer! Basically, anything that needs doing needs to be done by either myself or Sharon. This ranges from providing the actual services, i.e. driving and companionship, to pricing, marketing, administration, bookkeeping, booking jobs, leafletting, etc. Challenges are making people aware of our service, so marketing and networking.
We are not sales people so selling the brand was difficult to start with and putting yourself into uncomfortable situations just has to be done to get the message out there.
Has becoming a franchisee changed your life, if so how? What is the most invaluable piece of advice you could give someone looking to buy their first franchise?
Very much so, as now we only get out what we put in and it's all down to us. We try not to let it go too far but it does dominate our thinking nearly all the time, but you have to make time for yourselves to give you a balance in your life. It's nice to know that your decisions dictate your future and having that control is very satisfying as well as daunting at times! Our advice; only take up a franchise if you know exactly what you can lose, and you can cope with that. Don't risk everything!
In your opinion, what makes a successful franchisee?
We're not entitled to give an opinion on that yet as we are too early in our journey to be judged to be successful, but hopefully one day we will!
To find out more about Driving Miss Daisy click here
Read more on a Driving Miss Daisy Franchise