Snack in the Box franchise for sale in Manchester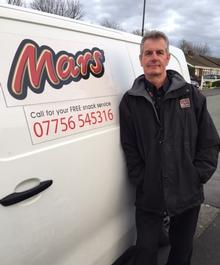 Name: John Robert Langshaw
Location: Manchester
Franchise: Snack in the Box
Date launched the franchise: May 2017
Tell us a bit about yourself and what you were doing prior to buying your Snack in the Box franchise?
Prior to buying my Snack in the Box franchise, I was working as a joiner. Increasingly despondent with the trade, I decided a career change was needed.
Why did you go down the franchise route initially? And why did you choose A Snack in the Box vending franchise?
I had previously worked for myself but not wanting to go it alone again, I decided to look at franchising as it ticked all the boxes for me.
After an extensive study into various franchises, I decided on Snack in the Box. They had been established for over 20 years and after making enquiries, I found that they were very supportive and genuine.
Why have you decided to sell your business?
I initially started the business with my partner's daughter which worked well. We built up the business and then she was offered a job that she couldn't refuse. Since then I have been working solo. As I am coming up to my 60th birthday, I feel I don't want to be working full time for much longer and so hence my decision to sell.
What's the key selling points of your business?
Established business model
Established client base which is to a high standard
Friendly clientele
Time saving routes already worked out
What support should the new franchisee expect to receive?
I received great initial support from the Snack in the Box team and still do if it is needed. There is always someone at the end of the phone to help you. They particularly helped me with advice on sales techniques.
What are the other benefits of buying a resale?
You are your own boss
You can work the hours that suit you
The harder you work, the bigger the monetary rewards
Building good rapport with your clients
Work to your own timetable
Flexibility
What is a typical day for you as a franchisee?
Leave home on a set route each day to delivery boxes to clients/replenish stock. On arriving home, I prepare the boxes for my next day's delivery and load the van. Each Friday afternoon I unload my pre-delivered stock order for the following week. Banking can be done on your preferred day to fit in with your deliveries.
Has becoming a franchisee changed your life, if so how?
After working in the building trade for so long I wish I had done this much earlier. It I a pleasant way to make a living.
What is the most invaluable piece of advice you could give someone looking to buy their first franchise?
Talk to other franchisees and make sure the franchise suits your lifestyle.
In your opinion, what makes a successful franchisee?
Being committed to the business
Not being afraid to introduce the business to clients
Having a friendly and warm personality
Find out more about this vending franchise for sale in Manchester
Case Study: Revive! Franchisee of the year 2017 – 40% Sales Growth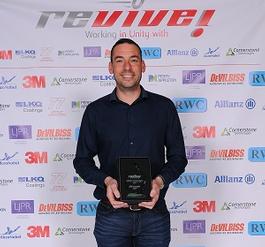 In the 2017 Mike Haselden achieved an impressive 40% rise in sales year on year making Revive! Chester the top performing territory in the Northern region.

He bought Revive! Chester 13 years ago after hearing about the opportunity from a friend who was already a Revive! franchisee and now employs four technicians and runs a fleet of five vans.

At the time Mike was working in sales for a tool hire company. He was ready for a new challenge and the chance to give his family a secure financial future.

He said: "Being my own boss fell in line with the great opportunity to gain a skill in repairing cars. I liked the idea of organising my own workload and diary as well as gaining the flexibility of working hours, but the lightbulb moment came for me a few years later when I realised that I could achieve even more by taking on more people and expand the business."

And as his business grew Mike was invited to join the Revive! High Achievers Group, a mentoring and training initiative run by Revive!'s head office support team to help Revive! franchisees grow and develop their expanding businesses.

"This has been great for me, as you get to see how the larger franchisees are running their business and learn how they got there, as well as giving you the extra push to keep moving forward," commented Mike.

"Owning my Revive! business means a lot to me as I get to provide for my family the way I want to, and the growth brings new challenges along the way."

Mike was presented with the 2017 Franchisee of the Year Award at the Revive! annual conference which gives franchisees the opportunity to get together each year to hear how Revive! is performing, see the latest products from suppliers and share best practice.

If you would like to find out more about the Revive! franchise and following in Mike's footsteps then you can request an obligation-free prospectus here!
Northern Lights on the Horizon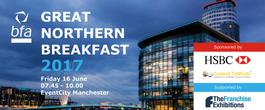 Franchising has seen strong growth in the North-West of England for several consecutive years, with hard-working franchisees, proven business models and supportive franchisors forming the backbone of this thriving industry. According to the bfa NatWest Franchise Survey 2015, in the North-West alone franchising contributed £1.6bn to the UK economy, a 23% increase over the preceding five years. This consistent upward progression outperformed wider economic trends within the same period of time, delivering an exceptional performance for the sector.
This success has been driven by 4,400 franchisee business owners, providing an estimated 62,000 jobs in the North-West. These franchisees utilise the support of their franchisor and their network of franchisee peers to maximise their businesses' potential for success.
This year, the bfa will be returning to EventCity in Manchester on Friday 16th June for their annual Great Northern Breakfast. Offering up bacon, eggs and business, the Breakfast is set to provide a valuable opportunity to network with professionals from the franchising industry, before the two-day British Franchise Exhibition opens its doors to the public.
After the refreshments, attendees will have the chance to hear from a panel of franchisors and franchisees about their journey in franchising so far. Last but not least, business correspondent Joe Lynam will present his keynote address. Joe regularly reports for the Today programme and Newsnight, and across multiple mainstream media networks. Before becoming a journalist Joe ran his own business, a chain of pubs and restaurants in Germany. As a result, and unusually for a business correspondent, he has first-hand experience of hiring, firing, growth, credit and everyday life in business.
In the week leading up to the Breakfast, the bfa will be using the power of the internet and social media to highlight real-life success stories from franchise brands in the North. This is part of a wider bfa initiative to put franchising on the map, and raise awareness of business format franchising as an accessible launch-pad into the world of business. Follow this campaign using #bfaGNB17.
Exclusive Interview with Tracy Vardy, multi-unit franchisee for Costa Coffee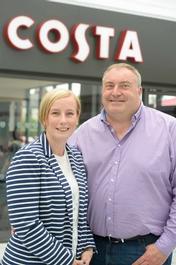 Name: Tracy Vardy, co-founder of Sim Trava
Location: Altrincham
Franchise: Costa Coffee & Pita Pit
Tell us a bit about yourself and what you were doing prior to buying a franchise business.
My background before starting Sim Trava is in the housing sector, mostly working with local authorities and a major housing association. I worked in that sector for more than eight years. It was a great foundation for developing staff management and team-building skills, which have been invaluable as a business owner.
Why did you go down the franchise route? What made you choose your industry? And why did you choose your franchise?
There are a lot of benefits to opening up a franchise rather than starting from the ground up, mostly that you are in charge of your own business but have an established brand behind you.
It wasn't something we decided on straight away though and we probably spent months trying to decide on the kind of business we would both want to build and be involved in. Because we'd never started a business before it was a really difficult decision, but when Whitbread announced in 2004 that it was opening the Costa Coffee brand to franchising we knew that was the business we wanted to build. It helped that we were both loyal Costa customers already.
How did you raise the finance?
The majority of our funding came from the bank. Because we'd spent so long thinking about what business to start we were well armed with a profitable, working business plan so we could demonstrate achievable goals and that made it much easier to secure the right funding that worked for our business.
Over the years, we've had a great relationship with the bank and they've been very supportive in helping us meet our ambitious and aggressive growth targets. We've recently completed a £3m re-finance deal to kick start our next phase of expansion.
What training and support did you receive initially and ongoing?
The initial support was around how to set up and operate the franchise, what things were expected and how to go about running a business. Whenever we needed support on anything it was always available.
How would you describe your role as a franchisee?
I imagine it's the same as any other person who owns and runs a business, which is to create a sustainable and profitable company that invests back into itself, looks after the people involved and adds something to the community they operate in.
We have always approached this as our business, it might have Costa's brand, but it's our business and it's our responsibility to grow it and make it sustainable.
What is a typical day for you as a franchisee?
I don't think there is a typical day as a franchisee, certainly no two days are the same. On the whole, my days are based around juggling and looking after my family and the business. Every day, has a new set of demands and needs so things tend to change throughout the day but I'm fortunate enough to have some flexibility and very often my family and the business blend and mix into making up my day.
What challenges have you faced?
Starting the business is probably the biggest challenge we've faced as neither me nor Simon had experience of running our own business before this. Even with a franchise, and having that established brand in place, there is still a lot of hard work needed to build your customer base and cement yourself in the community. We have invested a lot of time in this business to make it successful and sustainable.
Another big challenge has been making sure we meet our ambitious targets. Even when we were working out of our house, with one franchise, we had bigger plans and making sure we hit those targets has been very challenging, but rewarding.
After taking on two Pita Pit franchises more recently we've also got the challenge of balancing two different kinds of business and making sure every part of the Sim Trava umbrella is operating efficiently.
Has becoming a franchisee changed your life, if so how?
It has certainly changed our focus, but that could be said of anyone who takes the risk of starting a business. The pace is so much faster when you own a company and there are so many different aspects of the business - from sustaining what is already there, to keeping an eye on potential new opportunities, to avoiding pitfalls – so your life can become consumed by it. So, from a professional point, it absolutely has.
From a personal point though, we put so much of our own beliefs about family and how we want people to act – and that runs throughout the business – that it hasn't really changed that aspect. If anything, it's enhanced it because we want people to buy into the Sim Trava message and that starts with us.
What is the most invaluable piece of advice you could give someone looking to buy their first franchise?
When we started our business, we had three steps to increase our chances of success.
1. Secure the most appropriate funding – be confident when you approach investors and have a workable business plan in place, and don't just accept the first deal that falls at your feet, shop around and make sure you are making the right decision for your business.
2. Invest directly in your people – being a family business is a core principle we operate under at Sim Trava and we take pride in investing back in the team's development. This will also help you save money on staff turnover and improve your business' stability.
3. Create a sustainable business model – as with any business, be ambitious with your goals but be realistic, just because you have an established brand over the door doesn't guarantee success, you have to be prepared to put the work in and make sure you can reach the goals you set for yourself
What are your plans for the future?
We are currently going through an exciting period of growth for the business. Most recently we have opened three new stores in Fulwood and Buckshaw Village in Lancashire and Monton in Greater Manchester, creating 25 new jobs.
Added to this we have ambitious plans to open a number of other stories to take our total number to 34 by the end of the year and increase the business' turnover to £20m by 2018.
Would you do it again?
Absolutely.
We always had in the back of our minds that we wanted to start our own business, and while it's been a long and sometimes hard journey we've enjoyed every step of it. Looking back now from that first franchise, nearly 13 years on we're on track to have 34 stores and a £20m turnover at the end of next year.
That's not bad for a husband and wife team who started a business from the family kitchen.
Interview with Jayne McGarry, Oscar Pet Food, Bolton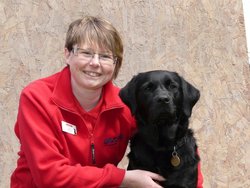 Name: Jayne McGarry
Location: Bolton
Franchise: Oscar Pet Food
Tell us a bit about yourself and what you were doing prior to buying your Oscar Pet Food franchise business?
I had been a franchisee with another service sector industry franchise.
What attracted you to franchising versus started starting up on your own or finding employment?
Having previous experience of franchising I was aware of the support and national coverage belonging to a franchise gives you. It doesn't involve 're-inventing the wheel'.
Why did you choose your particular franchise business? What research did you undertake?
I was looking for a franchise that was more local to the area in which I now live. I was also looking to 'downsize' the business in terms of staffing. It was also important to look at a business where costs are more controlled.
When researching the franchise I was able to do a comparison with the existing franchise I had connections with, this posed many questions to ask the franchisor, all of which were answered without hesitation. I also visited, as a mystery shopper, another franchisee at a local event. Researching the internet forums and the BFA sites helped.
How did you raise the finance for funding your Oscar franchise? Did you use any financial support (grants etc) specific to business startup?
Funding of the franchise was from a personal loan.
What training and support did you receive initially and ongoing from your franchisor?
The franchisor was very open to any questions being raised before the franchise agreement was signed. Accounts were freely shared. Initially I received 'in-house' training followed by a number of mentoring sessions, in my own territory.
Regular group meetings and Skype discussions are organised by the franchisor, to focus ideas and network with other franchisees. Access to an internal extranet system keeps you up-to-date with notices.
Access to any member of the franchisor's management team is freely available.
What is a typical day for you as a franchisee?
Normally the day would begin with administration, from preparing delivery schedules to updating customer information, dealing with queries. Ensuring deliveries are arranged in a cost effective manner. Daily reconciliation of monies received. Organising promotional activities and customer generation.
What challenges have you faced?
Customer generation. Understanding the complexity of the product specifications and then applying this to benefit the customer. Finding a suitable replacement for holiday periods.
Has becoming an Oscar franchisee changed your life, if so how?
A franchise can give you the opportunity to provide a living for yourself, in the knowledge that there is a support network available. It is possible to adjust your working hours/times to accommodate your own needs.
In your opinion, what makes a successful franchisee?
I believe that customer service is the key to being successful. Your customers need to trust and like you and the product you are representing.
You need to believe in the product you are selling.
Being focused on customer generation, service and retention is paramount.
Being adaptable.
What is the most invaluable piece of advice you could give other women looking to start their own business through franchising?
Don't be put off by gender stereotyping.
What are your plans for the future?
To grow the business to such a level that it is financially rewarding and then reap the benefits of those rewards.
Would you do it again?
With Oscar Pet Food – most certainly – wish I'd found it sooner.
To request more information about the Oscar Pet Food franchise opportunity, click on this link.
New Owners for Signs Express (Central Lancashire)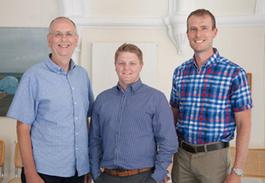 Signs Express would like to extend the warmest welcome to father and son team, Stephen and Ben Hall, as new owners of Signs Express (Central Lancashire). This centre, based in Preston, will service areas throughout Central Lancashire, including Blackpool, Blackburn and Preston.
Both Stephen and Ben are chartered accountants with plenty of experience advising businesses and organisations to make sound financial decisions, so they are well versed in managing a team and the processes involved in owning a business. This father and son team will be joined at the unit by Stephen's son-in-law, Dan Talbot making this truly a family enterprise.
Signs Express (Central Lancashire) was first established in 1997 and has over the years developed an excellent reputation in the region as well as a loyal customer base that the Hall's will be able to leverage upon in the future as well as creating new client relationships and pursuing new avenues of opportunity.
Craig Brown, MD of the Signs Express network commented on the new ownership: "We are pleased to welcome this family unit into our network and we feel that they are perfectly suited to making a success of this opportunity. I am sure that everybody in the Signs Express network wishes them the best in their future endeavours and we look forward to seeing the business grow and prosper under their capable management."
Based in exceptionally large and impressive premises, the previous owner, Alan Parkinson, was able to increase the centre's production capacity and incorporate additional facilities into its operations. The sign makers employed at the site have become experts, not only in general sign making, but also in specialist areas, such as the creation of tactile and Braille signs as well as large-format full-colour digital printing.
Revive!, the leading automotive repairer, comes to Bolton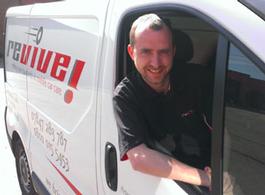 Revive!, the UK's leading provider of minor paint and bodywork repairs for vehicles, is opening for business in Bolton.

Former service engineer, Andy Hill (32) will own and manage the business which only uses repair technicians accredited by the Institute of the Motor Industry . After spending eight years working in the leisure industry, Andy wanted to learn a new trade a build a business.

Said Andy: "Since my little boy Thomas was born two years ago, I began investigating more stable career options where I could be my own boss. The core principles of Revive! and their emphasis on customer service is what attracted me to join this team."

Andy has high ambitions for his business, which provides quality, cost effective repairs at a time and place to suit customers, usually within a two-hour timeframe and costing less than the average insurance policy excess.

Continued Andy: "There are always going to be opportunities for a business like Revive! because people are always going to have scuffs and scrapes on their vehicles," he says. "My aim is to earn a reputation for offering the best mobile bodyshop service in the region. In time I hope to expand the business from 'one man in a van' to a fleet of vehicles servicing the wider area."

Revive! works with car dealerships, fleet and lease companies, insurance companies and the general public. All work carries a lifetime ownership guarantee.
Interview with Nigel and Bernie Woodhall of OSCARS franchise, Cheshire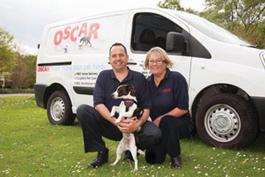 Franchisees: Nigel and Berni Woodhall
Territory: Wilmslow, Cheshire
Franchise: Oscar Pet Foods

Nigel and Bernie Woodhall from Cheshire had always intended to work together in their own business. But what type of business and when to make the change was a continued dilemma - until OSCAR came along.

'Due to the frustration of working in the modern day motor industry and the general 9 to 5 office routine of managing a call centre we had both reached the point of being totally fed up.

"OSCAR gave us both, as pet lovers, an exciting opportunity on how to mix business with pleasure." Berni says.

'Thanks to our Jack Russell, Mollie, we had connections with OSCAR since 2008 as she had grown up enjoying a pet food that is second to none, and through Lesley, our local Nutritional Advisor, we had the benefit of a pet care service that was very personal and supportive. It was Lesley who initiated the introduction to a business opportunity that gave us total control and the freedom of choice, but to also fulfil our passion for pets.

As Berni said, "We are active people, we love the great outdoors and the principle of the business, combined with Nigel's qualification as a dog trainer and Kennel Club examiner was ideal."

'We had no desire to consider any other business opportunities and everything with OSCAR fell into place. Overwhelmed by the professionalism of the OSCAR team they were thorough in guiding us through the process – step by step and no hard pressure.
The comprehensive training covered every aspect from start-up through to daily routines, giving us even more faith in their extensive range of quality products and services.

'As a start up business with OSCAR, we have had the added benefit of tele-sales. This has given us a great boost by providing quality appointments and that initial foot through the door to introduce the complete pet care service with ease.

'We are 100% focused and prepared to put ourselves on the line to make this business work for us and where the benefit of our dog training facility is an ideal platform to increase customer numbers. Training and change of diet has already resolved a barking issue for one very happy customer with two Jack Russell's.

'We are thoroughly enjoying our new business, pet people are nice to deal with, they are approachable and appreciative and all with beautiful pets. We are learning something new every day and OSCAR has taught us that work doesn't need to be a chore when we can we provide a service that makes people and pets happy – a win, win for everyone.'
Business Doctors expand HQ team in North West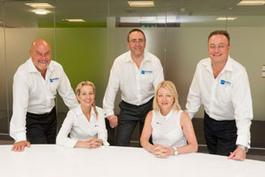 The North West based Business Doctors head office team is expanding as they welcome new recruit, Jo Kerrigan, to the position of Franchisee Account Manager.
With a background in Marketing and brand management, Jo is looking forward to her role liaising with the growing network of Business Doctors franchisees around the UK.
'I am really excited about joining the team,' said Jo. 'I have worked with Rod and Lynne in a previous life so I know I am joining a great group of people. I am also looking forward to working with the Business Doctors network as they help SME's grow and prosper,' she said.
'As we grow the franchisee network we need to maintain the high level of support our colleagues expect and demand,' commented Business Doctors founder Rod Davies. 'Jo is the perfect addition to our growing team at HQ and I am delighted to have her on board. Her expertise in marketing and enthusiasm are perfect for us.'
This follows the company's growth to 36 franchisees in the UK, the recent signing of a Master Franchise agreement in South Africa and the launch of a new, highly acclaimed business book entitled 'Breaking Big'.
'The foundations for growing the Business Doctors network, both in the UK and internationally, are now in place. We are set fair and I am very excited about the next few years,' concluded Davies.
Business Doctors' advice is geared to driving business growth, from strategies for sales and boosting profits to advice for effective people management, accessing finance and acquiring other businesses.
Success for Home Instead at the British Franchise Exhibition in Manchester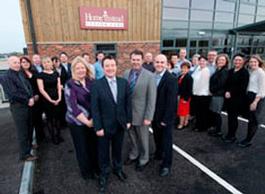 Home Instead Senior Care exhibited at the British Franchise Exhibition at EventCity, Manchester on 20th – 21st June 2014.

This was a fantastic opportunity to meet the Home Instead team and also James Little, one of Home Instead's successful franchisees. James, who bought his Kirklees franchise in 2011, was available to chat about his experience of franchising, his personal satisfaction in developing his business and how he is making a real difference to seniors in his local area.

James took part in the whichfranchise.com 'Real Franchise Stories' panel at 1:00pm on Saturday 21st June and told his full story at the 'Executives in franchising' seminars at 1:30pm – 2:00pm on Friday 20th June and 10:30am – 11:00am on Saturday 21st June.

James spoke about his journey as a franchisee with Home Instead and gave an insight into why he chose franchising, offering the benefit of his experience and any advice he had for someone looking to invest in a franchise.

Martin Jones, Chief Operating Office at Home Instead also spoke at the exhibition, taking part in a British Franchise Association (bfa) Prospective Franchisee seminar at 10:45am – 11:45am on Friday 20th June. The seminar provided an overview of franchising and what is involved in becoming a franchisee. It was aimed at those who are considering investing in a franchise and who want to assess whether it is right for them.

Martin was joined on the panel by Richard Holden, Lloyds Bank (bank); Pauline Cowie, Millbank Edge (solicitor); and Pip Wilkins, bfa (chair).

Home Instead Senior Care is an award winning management franchise specialising in the delivery of the highest quality non-medical care for older people, so they can remain in their own homes.

With over 150 offices across the UK, we offer an exciting opportunity to run your own successful business, while also making a difference in your local community at the same time.
Business Doctors sponsor Lymm Rugby Club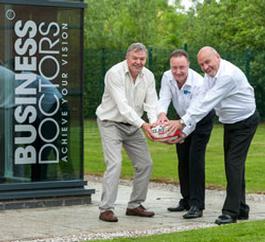 Lymm Rugby Club is proud to announce that the nationally organized Business Doctors, based in St Helens, have become the club's shirt sponsor for the 2014/15 season.
'Lymm Rugby Club is at the centre so many good things in Lymm and the rugby, at whatever age group, is great to watch.' 'We are delighted to align our business with such an ambitious, visionary rugby club,' said Rod Davies, Business Doctors partner.
Business Doctors, with the strapline 'We don't just coach - we get on the pitch!' is a business support network dedicated to helping small to medium sized businesses achieve their vision. This involves a network of experienced business people, passionate about sharing their skills and experiences. They provide "hands on" support to business owners enabling them to overcome their individual challenges and helping them to achieve their aspirations for growth.
This philosophy is shared by Lymm RFC, a club which embodies the development of an amateur, community oriented club with a professional volunteer attitude.
Lymm RFC has over 1,000 members including 400 youngsters playing weekly during the season over a large sway of Northern and Central England.
Further Sponsorship opportunities are available for companies or individuals wishing to expose their business to the membership and friends of Lymm RFC remembering that each child member at the club does, in most cases, have two parents and four grandparents, so one equals six in exposure terms.
Ovenclean franchisees: Two Men and a Hob!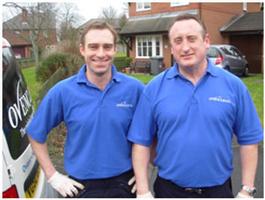 A two man team making a great impact on the nation's kitchens – apart from the Hairy Bikers! - is Ovenclean's dynamic duo, Jeff Deeming and Andy Bloore, who have been working together as successful Ovenclean franchisees for since 2003.
For thousands of happy customers in the North West, Jeff and Andy are certainly the best thing to happen in the domestic oven cleaning marketplace, which is why business is booming for the enterprising pair. "We've had our busiest couple of years ever despite the difficult financial climate," Jeff confirms. "Our thriving business is built on word-of-mouth recommendation and regular repeat business, but we have also benefited massively from the investment in brand building and marketing by the franchisor – just last week we had seventeen new enquiries passed to us by the team at Head Office!"
Currently, Andy and Jeff clean around thirty ovens a week – although that figure can more or less double in the weeks running up to Christmas, yet they finish work at 3.30pm most days enabling them to spend plenty of time with their respective families.
The pair first met in 1997, whilst working for an engineering company, where they became firm friends. Some years later they both felt in need of a change of direction and began to look for a suitable opportunity to set up in business together. Determined to make the right decision, they first agreed on franchising as the best route forward and then identified Ovenclean as the potential front runner. Still cautious, Andy and Jeff tracked Ovenclean over a period of six months or more, before finally arranging to visit the company's Head Office.
"We were really encouraged by the size of the market and impressed with the potential for growth - not to mention the environmentally friendly Ovenclean system, which was superb," recalls Jeff. "Most of all, we were impressed by the experience and commitment of the friendly management team. In fact, we had been due to visit another similar company, but once we'd spoken to Ovenclean, we cancelled. We knew we had found what we were looking for."
Jeff and Andy launched their new Ovenclean business in October 2003 and hit the ground running, distributing 10,000 leaflets across their territory in their first two weeks. "We knew that as this was the run up to Christmas, it was a great chance to get off to a strong start," Andy says. "We had tremendous response and were rushed off our feet. We had a truly exceptional Christmas that year, which laid strong foundations for the future success of our new business."
Since then the two men have tested various marketing tools, from local newspaper advertising to lamp post signs – even trying a sign written trailer; they still continually leaflet surrounding homes wherever they are cleaning ovens and invariably achieve strong response, but Jeff confirms that their most powerful sales tool by far remains word-of-mouth recommendation from their satisfied customers.
"We have a solid base of customers who use us regularly, but if you're going to grow your business, you have to keep attracting new customers," Jeff explains. "That's why in the last couple of years we've been widening our scope. As well as targeting new domestic customers, we've been securing contracts with local landlords who want us to clean ovens as tenants move in and out, also we work for three large private schools in the area, where the ovens are used regularly by over 2000 students in term time and need cleaning during the holidays."
Jeff continues: "The bigger your customer base, the more recommendations you get, so as time goes on it gets easier to grow your business, but Andy and I are ambitious and we never rest on our laurels – in fact, we offer incentives to customers to recommend us to their friends and family by offering them a discount on their next oven clean."
In the last twelve months, Ovenclean has been focusing strongly on supporting the local activity of franchisees with a renewed emphasis on marketing; building awareness of the brand – and the service - on a national basis. The new-look website, which was launched last summer, has proved a huge success, substantially increasing new customer enquiries to the Ovenclean national call centre, with leads passed to the network over the year to date doubled compared with the same period last year. Meanwhile, the latest campaign with JamieOliver.com, 'Good cooking starts with a clean oven', has further boosted both the visibility and the authority of the brand, as well as generating a fresh stream of interest from new customers.
"We pride ourselves on the strong training and support programme we provide to new franchisees," Ovenclean Marketing Director Anne Blee explains. "We ensure they have a great launch for their business and continue to benefit from our national marketing activities. Jeff and Andy are outstanding examples of what can be achieved when franchisor and franchisee work together to build a successful business!"
Although Jeff and Andy's business has continued to expand, unlike other Ovenclean franchisees in the same position, they currently have no plans to put more vans on the road. In fact, they maintain that however busy they get, they won't split their two man team.
"We work very efficiently together," Andy says. "One of us works inside the kitchen cleaning the carcass of the oven, while the other works outside on the racks and trays. We take turns. As a result we can process a lot of ovens quickly without compromising on quality."
According to Jeff, the unique Ovenclean system is so effective that they can clean many more ovens – and with less mess too - than they could with a more traditional oven cleaning process. Absolutely free of caustic chemicals and exclusive to franchisees, this market leading system sets Ovenclean apart from competitors.
"Our customers are happy because we leave their ovens and kitchens clean, fresh and fragrant, and we're happy because we're providing an excellent service, which is highly valued and very profitable!"
Jeff and Andy are happy to 'put something back' into the franchise that has served them so well too, supporting new franchisees with their initial training and that all-important launch, thereafter providing ongoing mentoring for their first few months in business.
"Ovenclean has been great for us – we love it!" Jeff concludes. "There's really good money to be made. Our business supports both Andy and I at an income level well above our previous salaries as engineers. We both get great job satisfaction from what we do and we work the hours we want.
Although we're certainly reaping the financial rewards of our decision to invest in an Ovenclean franchise, we both agree that the major benefit we've experienced is a vast improvement in our quality of life. We now each have independence and the flexibility that allows us to spend plenty of time with our families. We both take the same weeks off work for holidays each year, and we plan our diaries accordingly. Our working day starts reasonably early, but we generally finish at around 3.30pm in time to pick the children up from school. What more could you ask for from a business?"
Ovenclean provides specialist oven cleaning services to a large, virtually untapped marketplace. Franchisees operate from professionally liveried vans and so benefit from low overheads and high flexibility. The top quality, powerful, yet eco-friendly Ovenclean product range, exclusive to Franchisees, effectively cleans ovens and hobs, Agas, ranges and barbecues, restoring them to pristine condition within a matter of hours. The proven business model is easy to learn, simple to manage and delivers a high earning, flexible lifestyle.
Doctor Opens for Franchise Business in Stockport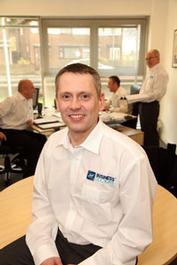 Successful businessman Steven Cleaver has opened a Business Doctors office in Stockport to help small and medium-sized businesses in the area to grow.
Business Doctors Stockport will provide expert, friendly, practical support and advice to small and medium-sized businesses, from strategies for sales and profit growth to people engagement and help with accessing funding and financial support.
With a successful career facilitating business change and growth in a variety of sectors, Steven is looking to bring his expertise to bear on local businesses.
He said: "Business Doctors offers a very logical package with proven success for small and medium sized businesses. Established in Merseyside in 2004 and with offices across the country, the success of Business Doctors in other areas shows that the founders, owners and directors of small and medium-sized businesses can benefit massively from guidance and understanding from experts who take a personal interest in the health of their business.
"I am very passionate about helping small and medium sized companies implement change by putting in place firm strategies and offering practical, down-to-earth, common sense advice, and I am looking forward to working with businesses in the area."
Photo: Business Doctor Steven Cleaver
Off to a flying start with WPA franchise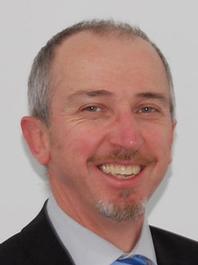 When Robert Westhorp set off for The British Franchise Exhibition in Manchester five years ago, he had no idea that he would meet a former supplier and eventually join the company.
Originally from the North East but now based in the Manchester area, Robert was frustrated after 30 years in textile manufacturing and supply chain management by future prospects for his career.
So, after many years managing contracts supplying clothing to companies such as Marks & Spencer, Robert headed for the exhibition looking with an open mind for a new career challenge.
Although he saw and considered opportunities in various industries including plumbing and car body repairs, healthcare insurance provider WPA particularly caught his eye because he had been a client of the company in a former role.
"Although I had not really expected to find work in financial services, once I started speaking with them I was impressed and wanted to know more."
After several further meetings building and testing a possible relationship, Robert eventually joined WPA, taking its territory in Great Manchester and North Cheshire.
It was the right decision from the start. Robert got off to a flying start, in fact, the best ever by a new WPA franchisee. Since then Robert has continued to build the momentum and has become an award-winning franchisee.
"The key is hard work and applying the proven business model successfully. I'd recommend franchising and WPA as a career, and a visit to the British Franchise Exhibition as a great way to find ideas, meet franchisors and discover which company or industry is the best fit for you."
You reap what you sow with Metro Rod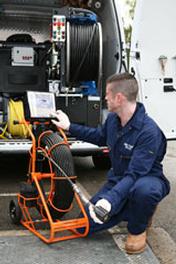 Mike and Matthew Yates
Metro Rod Bolton & Blackburn
Mike and Matthew had grown their family removals and haulage company from a one-man-and-a-van operation to a 12-strong vehicle fleet. But their livelihoods were threatened by a slump in the housing market and surge in fuel prices. To beat the recession, they started looking for a new sector that promised steady rewards, even through a period of economic uncertainty. They chose to invest in a Metro Rod franchise, and they've never looked back.
Metro Rod's access to existing contracts with blue chip names such as Sainsbury's and JD Wetherspoon meant the boys were up and running from day one. The strong existing client base and solid support from Metro Rod's head office made it easier to develop new accounts of their own, without the fluctuations they had experienced in the housing industry.
"Within three months of buying the business, we had to employ a second full-time engineer. With Metro Rod, you reap what you sow. When we put in the work, we get great rewards."
Business flourishes with Home Instead franchise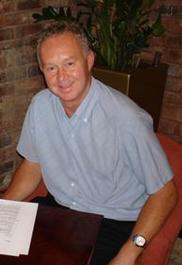 Franchisee: David Moore,
Franchise: Home Instead Senior Care
Territory: Stockport
David Moore acquired the Home Instead Senior Care Stockport franchise in October 2006. With a lot of hard work David has seen his business flourish and growth in the last couple of years has taken his turnover to an impressive £1.45 million.
As with many Home Instead Senior Care franchise owners, David Moore had carved out a successful career for himself prior to joining the Home Instead team.
David was previously Managing Director of a combat and workwear company that supplied the Ministry of Defence. His job took him around the world and, although this might sound fun and exciting, David found that he was spending more and more in airport lounges. What he really wanted (aged 48) was to be more in control of his own life and spend more time at home.
Through one of his golfing buddies David was introduced to Home Instead Senior Care. The more he heard about it, the more he liked the sound of it. David realised that the growth potential of the care sector was huge and having looked into the Home Instead Senior Care opportunity in more detail could see that what they were operating here in the UK was a proven solution.
Home Instead Senior Care ticked all the boxes for David – he could own his own business, tap into the considerable experience available across the Home Instead network, and the growth potential of the business was significant.
Commenting, David says: "It's been hard work – but extremely rewarding. When I came into this business it was because I could see what a great business opportunity Home Instead offered. I have to say now though that I have been on a huge learning curve in terms of acquiring knowledge about the care sector. Home Instead is all about delivering the highest levels of care and I am absolutely passionate about this a spect of the business. I am hugely proud of the work we do."
The Stockport franchise currently employs 85 care givers and 7 office staff and looks after 178 clients.
Signs Express franchise gives 11 Mini's the World Cup Treatment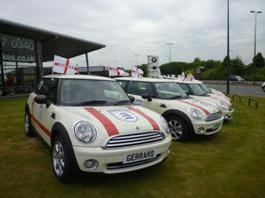 Williams BMW dealership in Manchester called on long standing signs and graphics supplier, Signs Express (Manchester) to provide eye-catching promotional graphics supporting England's World Cup campaign.
The cars were driven in convoy in Manchester and the surrounding areas visiting high footfall areas and places of interest as well as providing talking points for local radio stations.
The car graphics include the St George's cross along with a modified design of the iconic England coat of arms. Instead of the traditional depiction of 3 lions, silhouettes of Mini's and the iconic Mini logo were placed in the shield, personalising the graphics to the leading car dealership. Mock number plates in the names of the England squad were also temporarily fitted to the cars to follow on the football theme.
Vehicle graphics are a highly effective communication medium with research showing that over 3000 people will see a vehicle on a busy road every hour of the working day. There are a number of options available from simple car graphics to digitally printed photographs and even full van wraps.
Signs Express (Manchester) provides a wide variety of signs and graphics from its production centre based on Trafford Park in Manchester.
Established for 13 years, owner Lee Eaton said, "We have been delighted to complete the promotional window graphics for Williams BMW. We have worked with them for a number of years, providing large format window graphics, point of sale displays and vehicle graphics amongst other interior and exterior signs.
"World cup fever definitely took over during the tournament and it is great we were able to put our vehicle graphics skills to use for this promotional campaign. Our sign-making staff were very pleased to be involved in supporting England this way."
With a strong reputation for excellent customer service, Williams BMW cover areas in and around Manchester including Didsbury, Sale and Trafford.
Find life after redundancy with Petpals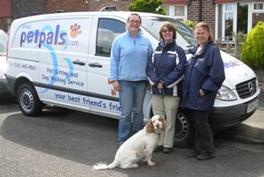 What I did before taking on a franchise business
I worked for a leading mail order company for 18 years, mostly as a business analysis manager. However in early 2002/03 I could see the writing on the wall with the traditional mail order business generally going down the pan, so I took voluntary redundancy.
I knew I didn't want to do the same thing that I have been doing previously and saw this as an opportunity to do something different. My financial adviser suggested I looked on the British Franchising Association website. That's where I found Petpals and, as I had always loved animals, I was thrilled to see there was a franchise opportunity to do with looking after animals.
I was fortunate, my redundancy package covered the cost of buying the Petpals franchise and the van.
I find the network of other franchisees extremely useful when it comes to asking people what they do in certain circumstances, as well as being able to bounce ideas off the other franchisees who are often in the same situation as yourself. The Petpals' Annual General Meeting is another excellent avenue for support. It gives us the opportunity to shape the business by voting on important decisions as well as sharing knowledge with other franchisees face to face.
To be successful you really do have to work 365 days a year to start with - there's no getting away from it. You need to work out a strategy to deal with it, like employing staff. You come out the other side and eventually end up with a fantastic team. There are peaks and troughs but when it boils down to it, I love it!
Advice for someone thinking of buying a franchise
Petpals is a full member of the British Franchising Association (BFA) and is therefore fully vetted and monitored, so it's worth checking that any other franchises under consideration are also members of the BFA. Franchises in general, and Petpals in particular, provide a network of support which can provide invaluable to people starting up in business.
Stockport has an interesting demographic mix which, while attracting a lot of competition from similar businesses, reflects a healthy market. I want to continue to provide a consistent, reliable service to existing clients as well as steadily expanding to offer friendly and professional pet services to even more pet lovers.
The appeal of a good success rate with Chemex franchising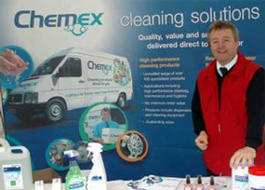 With his business generating an annual turnover of £400,000 and an extensive client base built on repeat business, seasoned Chemex franchisee Charles Williams' Cheshire-based business continues to beat the recession.
A former farmer, Charles joined the Chemex network in 1989 when profit margins in the agricultural industry nosedived and he was unable to maintain a comfortable lifestyle for his family. Eager to re-train and to continue working for himself, Charles decided to explore franchising.
"Franchising appealed because I knew it had a good success rate compared to standalone business owners," recalls Charles. "I also liked the fact that as a franchise owner I would have access to a tried and tested business model and an ongoing training and support package, which would help to make the transition from the farming industry to a new one smoother.

Business-to-business cleaning and hygiene supplies franchise Chemex caught my eye because its business model, which involves selling essential cleaning products to companies from different industry sectors, was relatively recession proof."

Every Chemex franchisee is put on a comprehensive initial training course where they are taught about the products, how to operate the franchise and different sales techniques. While the support is ongoing, franchisees can contact head office for advice or speak to their Franchise Support Manager.

Charles continues: "The support has been brilliant. Over the years I have needed it less, although it is nice to know that if you have a query there is someone on the other end of the phone to help you out. I try to keep in touch with my Franchise Support Manager on a regular basis to let him know how the business is doing.

"Since becoming a franchise owner my work/life balance has dramatically improved. As a farmer, I had too many responsibilities to even consider going away on holiday. Now my family and I try to go away at least twice a year for a break.

"Joining Chemex is the best decision I ever made. My salary is better, the work is varied and I really enjoy being out on the road, meeting new people and building relationships. Over the years my social life has improved dramatically – with some of my loyal customers becoming good friends of mine. I won't lie, running your own business is not easy especially since the credit crunch took hold of the UK. However, it can be very rewarding."

At the moment Charles has two vans on the road in his territory and one employee who delivers the products. In the near future, Charles hopes to purchase another van. Long term, his aim is to continue building up the business until he retires.
Tom Boardman takes the express lane with the help of Signs Express franchise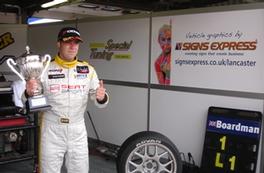 Signs Express (Lancaster) sponsors World Touring Car Championship driver Tom Boardman as he races into winning position at Brands Hatch.
Independent driver Tom Boardman called on the expertise of Signs Express to provide vehicle graphics for both his SEAT race car and his support truck for his entry in this year's competition. The British rounds at Brands Hatch saw Tom finish an impressive 3rd position in the first race and followed by a closely fought win in the second race.
Despite being up against some of the leading drivers, Tom has become the fifth winner in the championships so far. Tom said: "I am so pleased that Signs Express (Lancaster) was able to supply and fit the vehicle graphics for the whole of the championships. The team's expertise in design and print has perfectly transformed my car and race transporter. When I joined WTCC I expected it to be easier. It has been a tough season but we have been learning and finally everything is in place. I am so relieved I can fight with the leaders!"
Signs Express (Lancaster) owner Thomas Somers commented on the race: "Tom who lives locally to the centre contacted us to see what we could do in way of sponsorship graphics for the WTCC events. Vehicle graphics are a fast and effective promotional tool so we were only too happy to help. We've sponsored Tom all season but this was Tom's first WTCC Independents' Trophy win, so it was exciting to both be involved in sponsoring him and also to be at Brands Hatch watching him racing."
The championship tour which started in Mexico has now concluded for the summer but will resume in six week for rounds 17 and 18 being held on 6th September in Oschersleben, Germany. This will be followed by Italy on 20th September, Japan on 1st November and finishing in Macau, China on 22nd November.
As part of the UK and Ireland's leading signs and graphics company, Signs Express (Lancaster) provides a complete design, manufacture and installation service for all forms of signage including interior/exterior signs, vehicle graphics, exhibition and display products, window graphics and health and safety signage for businesses in Lancaster and surrounding areas. Customers include McDonald's, Mercedes-Benz, NHS Blood and Transplant (NHSBT) and Dyno Rod to name but a few.
From strength to strength with Home Instead franchise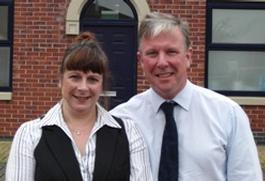 Chris and Sue Broadbent purchased the Home Instead Senior Care Chester franchise in January 2008. The Chester franchise was originally established in early 2007 and was Home Instead Senior Care's first UK territory.
In February 2007 the UK's first franchise office of Home Instead Senior Care was set up in Chester. This is already a well established, successful, and still growing business supporting 60 clients with care in their own homes.
When Chris and Sue purchased the Chester franchise Chris had 30 years in corporate sales (telecommunications) under his belt, and Sue had worked in healthcare as a qualified nurse. This gave them a great blend of experience for running their own franchise operation.
Chris was made redundant three years ago by which time he had had enough of 'corporate life'. The couple, who have four children, saw the redundancy as an opportunity to take control of their lives and steer it in the direction they wanted it to go. Commenting, Chris said: "Looking back now, being made redundant was a great thing! With my redundancy package I had options. It really made me think – I want to work for the next 10 -15 years, what do I want to do with the rest of my working life?"
Chris and Sue had heard about the new Home Instead Senior Care operation and liked what they heard. Sue said: "We both agreed that this was a really worthwhile thing to do. With my background in nursing and Chris' business experience I knew that we were well placed to make this a success and we haven't looked back."
With his background in sales Chris looks after the networking and marketing side of the business whilst Sue runs the office and looks after their CareGivers. They both enjoy keeping in touch with their clients and make regular care visits themselves.
They are never without support and Chris says: "We really feel like we are part of a network and there is always someone to call if we need advice. The franchises are split into bands depending on turnover and Sue and I meet with our peers on a monthly basis for training and to share best practice. The support we receive is second to none and although we are very much the masters of our own destiny, we never feel alone."
The Chester franchise currently delivers 3,000 hours of care per month making a real difference to their clients' lives.
I love being a Tumble Tots franchise owner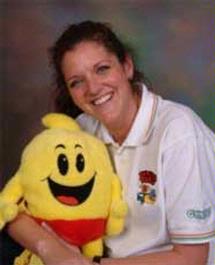 Nicky Miller, Tumble Tots Wilmslow and Macclesfield
"Before I became involved with Tumble Tots I was a full time mum with three children at home; two step daughters aged 19 and 15 and my little girl, who was 5 and starting full time school. I had already taken her to the Tumble Tots classes and wanted to be a part of that environment. The kind of place where children have fun and learn, where the staff have a genuine interest in the little ones and you have all the holiday's off to enjoy your family.
I started working for Tumble Tots as a leader in September of 2004 and loved every minute of my job, so when I found out that a local area had come up for sale I knew that this would be my vocation. 12 months after first joining Tumble Tots as a member of staff, I was now the owner of the Franchise for the Wilmslow and Macclesfield area.
So 2 years later, have I achieved my personal goal? Well I hadn't really set my self any; I just take each challenge as it comes and enjoy myself. I think to truly love your job is a great ambition and one which I can say I have fulfilled".
"I think to truly love your job is a great ambition and one which I can say I have fulfilled".
Pet-tastic Lancashire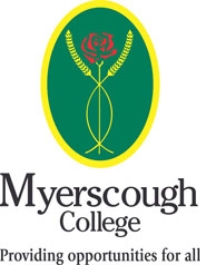 Two of Lancashire's biggest animal enthusiast organisations are partnering up to launch a series of initiatives aimed at getting those that work with our furry friends off to a flying start.
Lancashire based Oscar Pet Foods, the UK's leading pet food delivery company is working with Myerscough College, one of the largest in the field of animal care, to create and launch a qualification that its franchisees across the country can take online to improve their working and theoretical knowledge of pets. In return Oscar Pet Foods provides a bursary for well performing students at the college.
The home delivery pet food company puts animals, their behaviour and nutritional well-being first. Its Higher Walton-based franchise business, which has more than 100 vans on the road, has embraced a 'You Are What You Eat' philosophy in relation to pets. Oscar Pet Foods delivers specially formulated, nutritionally balanced diets, to reflect the needs of each individual pet, direct to the door.
Myerscough College specialises in a range of animal qualifications and research. With centres across the North West, and a dedicated Animal Academy at its main site in Preston, this well-established college offers courses from entry to degree level and supports research in the areas of animal care, equine studies, veterinary nursing and agriculture.
The new Oscar Pet Foods online qualification, being created exclusively with Myerscough, will test the company's franchisees' know-how in the areas of nutrition, behaviour, training and veterinary support, in order to enable them to offer a fully rounded service to their extensive customer base and qualify them as Nutritional Advisors.
The course is just the latest link between Oscar Pet Foods and Myerscough. The company established two bursaries for Myerscough students (in 2006 and is set to continue this in 2007), with awards given to the best performing students on Mammalian Nutrition and Breeding course – one for the Foundation Degree and one for the BSc programme.
Oscar Pet Foods has also welcomed several Myerscough graduates into the company, including Gemma Charlton who is currently working as a nutritional advisor with the OscarDirect side of the business, the company's customer centre that provides all UK residents with direct access to pet food supplies and advice, and Shelley Aspden who is the company's animal behaviourist consulting with franchisees and clients on all aspects of animal behaviour.
The college's Hydrotherapy Unit has also benefited from a truckload of Oscar Pet Food gluten-free treats, which were supplied to aid the attention of dogs being treated in the unit. Oscar Pet Foods Sales and Marketing Director Richard Dancy said: "Oscar Pet Foods is delighted to be working with Myerscough College. They are a valued partner and a well-respected voice of authority in the animal world. Their expertise is second to none, and will be of real benefit to our franchisees as they go about their everyday work."
Richard added: "It's really interesting to be working with Myerscough again as many of their graduates come to work for our company. We are committed to aiding the future of talented professionals who work with animals and hope that our support continues to benefit the college and its students, assisting the fantastic work that they do there."
Stuart Davidson of Myerscough College, said: "We have a long standing relationship with Oscar Pet Foods, so are pleased to be working with them again. The Oscar Pet Foods bursary and support of the Hydrotherapy unit have been invaluable and we are delighted to be helping the company take their own animal expertise to the next level. We hope the course and subsequent qualification will be of real use to its workforce and we will support them through their studies in any way that we can."
Give Blood Message Hits the Road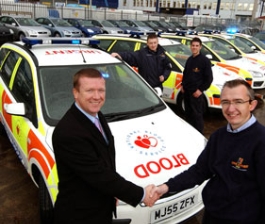 Signs and graphics specialists, Signs Express, has been awarded the exclusive contract for the supply of all vehicle graphics to The National Blood Service's extensive fleet of blood transporters, emergency response cars and promotional vehicles. Signs Express (Manchester) has recently completed 19 of their new emergency response Ford Focus estates through Ford Dealership Bramell Quicks, also based on Trafford Park in Manchester. John Lowden, National Fleet Controller for the Manchester depot of The National Blood Service was on hand to accept the newly livered vehicles.
In an extension to their already served 3 year contract, Signs Express provides a complete design, manufacture and fitting service for all of the vehicles – ensuring prominence of key messages and in the case of their emergency vehicles, a high visibility 'battenburg' design concept using reflective and fluorescent films.
Commenting Signs Express centre owner, Lee Eaton said, "It's a real honour to be the only suppliers of vehicle graphics to such a prominent and worthwhile organization. The cars we have recently completed have been challenging but the results look excellent, two of our signmakers Stephen Landy and Andrew Vinton have done a superb job".
Vehicle graphics are a highly effective communication medium, acting as a mobile advertisement for the organization and improving awareness of the importance of giving blood.
Signs Express (Manchester) is part of the UK & Ireland's largest sign company which has over 80 centres nationwide and is a member of the British Sign & Graphics Association. For further information log onto www.signsexpress.co.uk or call 0161 848 7878.
Heathcotes gets all wrapped up by Signs Express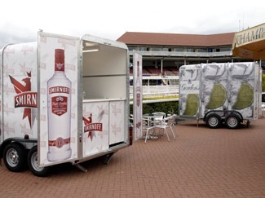 Heathcotes Outside catering has made some unusual additions to their serving trailers courtesy of vehicle graphic and signage specialists Signs Express (Central Lancashire) based in Preston. Six horse boxes have been fully wrapped with delicious mouth watering images of food and drink to create an attractive sight for customers visiting the event caterers.
The fully equipped horse boxes are part of Heathcotes Outside catering facilities at Chester Racecourse, but can be transported to other events. Each horse box displays eyecatching images of the products sold by each particular vendor – for example the summer favourite's Pimms, Gordon's Gin and strawberries.
Each design has been expertly produced and applied by Signs Express (Central Lancashire) in their custom designed vehicle application bay. The vehicle wraps completely cover the surfaces of the trailer, providing the appearance and finish of paintwork and can be fully removed after use, giving the option to change the graphics for promotional campaigns.
Alan Parkinson, of Signs Express said, "The horse boxes provide a interesting challenge for us compared to the cars, vans and commercial vehicles we normally undertake. We are pleased with the finished results and have received very positive feedback. We have also provided other signage for Heathcotes in their other catering areas at the racecourse including large format full colour printed image, exterior and interior signage, menu boards and window graphics."
Signs Express (Central Lancashire) has been established for 10 years. A move to new larger premises in October 2004 has allowed them to develop the business further and offer enhanced services to customers, incorporating a design studio as well as larger production areas and the latest in production equipment. Alan Parkinson of Signs Express said "We are commited to providing a quality product and service, the move to large premises has enabled us to increase our production capabilities, recruit additional members of staff and most importantly not only maintain but improve the level of service we provide to our customers".
Signs Express is the UK & Ireland's largest sign company with over 75 centres nationwide and a member of the British Sign & Graphics Association (BSGA). For further information log onto www.signsexpress.co.uk