Barking Mad was the most empowering move we've made in 25 years!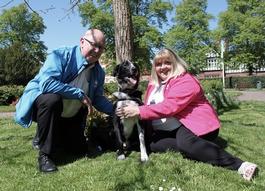 Husband and wife team Peter and Bianca Leaver, from Cheshire, joined Barking Mad in early 2018. Below, they kindly explained their decision-making process and experience as dog home boarding franchise owners:
"27 years working in education; training, nurturing and then launching brilliant young minds into their stratospheric careers, is a wonderful career to reflect upon. And then the time came, when the ever-increasing fight to do that fulfilling job, against a background of swathing government cuts in funding, constant political manipulation, unrelenting cycles of 'new initiatives' and coping with the unceasing brain-drain brought me to make my own decision. Should I go, before I broke too?
What to go for? A start-up of our own? with all the myriad risks that entailed but which promised tons of autonomy, something we were craving? We fancifully 'toyed with' ideas…. for almost 2 years. We came across a franchise for sale, with Barking Mad Dog Care, a company we'd used and were delighted with as customers, ourselves.
Buying a Barking Mad Franchise offered us exactly what we felt we needed: autonomy over our lives and our workload, high professionalism both in providing the service for dogs and in the support and guidance which is offered to the franchisees. We both immediately recognised this was our way forward.
One year in and we are so grateful. We'd left our careers, knowing we wanted to have full control over our lives and our work and can honestly say, we now have it. Stress levels have reduced healthily to the point where we now jealously guard our autonomy over workload. We manage our time and our challenges. Success is there to be made to happen and we are now well on our way. Work is ENJOYABLE once again.
Yes, there are challenges and this route is not for those who don't wish to work. You will deplete your savings as you get going but then your income potential is yours to define and to work for. In this business, your effort IS positively correlated with your income and with your success. Regrets? Unequivocally - NONE!
We are both healthier, happier, more positive and energised and much less stressed. For us, down-sizing to remove mortgage pressures was crucial and this, in combination with our year spent learning a new industry, whilst celebrating the relevance of our directly transferrable skills, has been recuperative. We love going to work again, for all the right reasons.
If you are craving fresh challenges, in an entirely new and self-determining business, which has all the professional support you could need for success behind you, think seriously about buying into this life-change; for your own sanity and well-being. It has been the most empowering move we've made, in 25 years."
Read more on a Barking Mad Franchise