Wilkins Chimney Sweep award-winning franchisee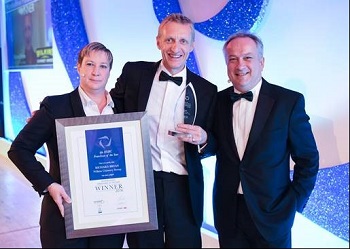 Name: Richard Bryan
Location: North Tyneside, Newcastle and surrounding areas
Franchise: Wilkins Chimney Sweep
Tell us about yourself
I live in Whitley Bay with my wife Michelle and two children. Graduating with a degree in housing studies, I worked in housing management for the public sector for nearly 30 years. My most current role was senior manager.
What made you go down the franchise route?
Fed up tied to a desk, I decided I wanted to do something different for myself. I had always fancied being my own boss, but not knowing what to do, buying into a tried and tested franchise business with additional support appealed to me. So, after nearly 30 years working in the public sector, I decided to take voluntary redundancy and follow my dream.
I am now loving the freedom I have to make decisions which impact directly on the success of MY business.
What made you buy a Wilkins Chimney Sweep franchise?
The Wilkins Chimney Sweep franchise 'ticked all the boxes' for my career change;
Running my own business
Working with my hands
Dealing directly with customers on a one to one basis
And I knew I wanted to do something different, which chimney sweeping is!
I sweep chimneys, log burners, solid fuel stoves, Agas, Rayburns and Jetmasters and remove nests and fit cages, caps and cowls to homes and pubs throughout North Tyneside, Newcastle and the surrounding areas.
What training and support did you receive?
I found the training to be very comprehensive and enjoyable. I found the 'hands on' nature of the training particularly beneficial as it clearly identified the potential pitfalls when working in the 'real world'.
Starting from scratch I have learnt how to professionally sweep a wide range of open fires and wood burners and how to install cages, caps and cowls to chimney pots.
I have also benefited from a week learning the business side of the job such as effective marketing, the IT systems and the accounting requirements.
What skills do you think you need to be a chimney sweep?
Have excellent customer care skills
Be proficient and professional in the practical aspects of sweeping a chimney
Be aware of the safety considerations involved in sweeping a chimney
Be physically fit
Have a sound 'business head'
What skills do you think you need to run a franchised business?
You need to be able to acknowledge the fact that the franchisor is the 'expert' in the chosen field and therefore be prepared to follow the franchise model even when it takes you out of your comfort zone.
Advice to those considering buying a franchise?
Research the business thoroughly. I spoke to not only the franchisor but also to other franchisees, asking them about the job, the training and crucially, the profitability and sustainability of the business model.
Biggest achievement to far
One of my biggest achievements with Wilkins Chimney Sweep so far was winning the bfa's Microbusiness Franchisee of the Year in 2016.