Established health insurance franchise for sale in Northamptonshire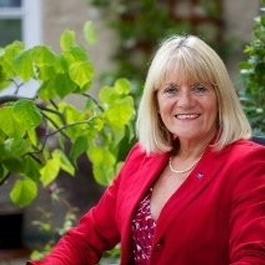 Name: Lynda Buntin Senior Healthcare Partner
Location: Northamptonshire (covering Kettering, Corby, Wellingborough and Peterborough)
Franchise: WPA Healthcare Practice Plc
Date launched the franchise: May 2009
Tell us a bit about yourself and what you were doing prior to buying your WPA franchise
Worked for 20 years as Company Secretary with a Nationwide wholesaler with a T/O around £4M. Position required handling of Administrative, Legal, HR and Marketing duties. Responsibility included placement of the Corporate Health Insurance and sourcing all insurance to meet the needs of the firm.
Why did you decide to go down the franchise route?
The appeal of a proven route to success with a large degree of support, backing and training. Working as part of a team of colleagues all endeavouring to run their own individual businesses with the security of the back up of the only specialist Health insurer.
Why did you choose the insurance industry? And ultimately a WPA franchise?
Some knowledge gained of the Private Medical Insurance (PMI) market during the previous role and as WPA was an unknown entity it sparked my interest. The strong ethical approach and long-established nature of WPA appealed. The fact they are little known presenting the best opportunity for growth.
Why have you decided to sell your business?
Part of the purpose of setting up a franchise was a ten-year plan to build a pension pot. Having succeeded in this aim I am looking forward to a well-earned retirement.
What's the key selling points of your business?
Working with the UK's only Specialist Health Insurer as the NHS is acknowledged to be under pressure the policies are a welcome alternative to the waiting lists of the current health system and appeal especially to the self-employed and owner managed businesses.
By providing expertise and advice on how to achieve affordable access to the best private medical treatment as well as offering a key employee benefit embracing everyday healthcare expenses the cover is an effective recruitment, reward and retention tool for companies of all sizes and provides competitive and sustainable plans for individuals, families and firms.
With policies from as little as £5 per person per month the choice is attractive and appealing and offers peace of mind that quick diagnosis and speedy treatment will be available in the event of illness.
What support should the new franchisee expect to receive?
A complete and extensive package from WPA includes full training in the product range and guidance on setting up the business. Ongoing licensing of the Healthcare Partners within the framework of the FCA guidelines.
Established mentoring from an experienced Healthcare Partner (fellow franchisee) as part of the WPA Two Year Mentoring Programme.
Fortnightly fee share of both new and retained business with a realisable income from day one.
All marketing literature supplied at no charge by WPA and the seller could be available during the first year to supply ongoing support to the incumbent if required.
What are the other benefits of buying a resale?
Immediate income from retained business via renewal fees and a loyal customer base with established contacts to supply introductions to new business.
Well organised systems and a pattern of working to achieve great results.
What is a typical day for you as a franchisee?
An example day would mostly be based out of the office for a start with a networking breakfast followed by appointments with either prospects/introducers or renewing clients.
In between appointments handling telephone and email enquiries in conjunction with the Account Manager. Handling documentation and completing application forms, producing quotes using the bespoke software and dealing with renewals and any required changes.
Conducting appointments to advise and sign up new business or discuss with existing clients their renewal terms.
Helping answer queries over claims processes and queries and signposting to head office.
Has becoming a franchisee changed your life, if so how?
It has completely propelled me from an average income earner through strategic growth year on year to a high-level income.
The role has rewarded me handsomely with pension investment providing the possibility of a comfortable retirement as well as providing personal growth and development and given me control over my work/life balance producing immense job satisfaction.
I also had the good fortune to meet and marry my husband after an introduction through his interest in a policy, a change I had not anticipated!
What is the most invaluable piece of advice you could give someone looking to buy their first franchise?
Discuss your aims and intentions with established franchise holders to gain insight into the reality of the business. Be prepared to be persistent and have confidence in your ability to succeed.
In your opinion, what makes a successful franchisee?
Determination, dedication and a desire to succeed. A strong work ethic coupled with integrity and honesty and true belief in the product.
Click here to find out more about Lynda's WPA franchise for sale
Why Optic-Kleer franchise stands out from the competition
Name: Mike Cruz Location: Lincolnshire Franchise: Optic-Kleer Date launched the franchise:
Can you tell us a bit about yourself and what you were doing prior to buying your Optic-Kleer franchise business? I have been running my Optic-Kleer franchise since 2012. I previously worked for another autoglass repair company.
Can you also tell us about the franchise you have bought? Optic-Kleer specialises in repairing windscreens. The way the Optic-Kleer franchise works is that we turn up at a supermarket and set up our equipment. Having a canopy, signs and a vehicle draws in the customers, so there is no cold calling or leaflet drops. You just wait for the customer to come to you. We also have the Optic-Kleer website, which lets customers know where we are working.
Why did you go down the franchise route? What made you choose the auto repair industry? And why did you choose an Optic-Kleer franchise? I knew of Optic-Kleer as I had been working for another windscreen repair company. Optic-Kleer was one of our competitors! When David approached me with an opportunity to start as a franchisee, I jumped at the chance to join a better company and become my own boss.
What training and support did you receive initially and ongoing? The training lasted 5 days. It covered not only how to carry out a professional repair but also how to run a successful business with all the support needed. I was taken through step by step from setting up my registered limited company to VAT registration.
One of the biggest advantages with Optic-Kleer, compared to the previous company I worked for, is the fantastic support I received initially and still receive now. Head Office is always on the end of phone, including the franchisor. David is very helpful and always has time for you. We have a fully staffed office who are there to support us, which is a minimal cost but very beneficial.
How would you describe your role as a franchisee? The way I run my franchise, it is quite varied. Not only do I see customers at supermarket car parks, I work for farmers and commercial sectors. I work on fleets of lorries, which makes the business different. I also do house calls, as well as going to a fixed site. I set up all my equipment in a supermarket car park and just wait for the customers to arrive. My day is very diverse, you can have two or three customers in one go or they can be more spread out. No day is ever the same.
What are the key USPs of an Optic-Kleer franchise? With Optic-Kleer we have very low overheads, which is great when you are self-employed. The management fees are also very low and the software we use to order our solutions is straightforward.
The stock we hold, consumables, canopy and signs, is minimal.
Do you feel satisfied in your work? Providing excellent customer service is essential in this industry. I like to be professional and treat people how I would like to be treated. You are representing Optic-Kleer as well as your own business. I feel very satisfied in my work as people are very nice and it is rewarding to be appreciated after completing a successful repair.
In your opinion, what makes a successful franchisee? I don't believe you really need any experience as Optic-Kleer will provide you with thorough training. However, I think it's useful to have good face-to-face communication skills. Self-motivation is also important as you are running your own business.
Are you excited about the future with Optic-Kleer? I have been with Optic-Kleer since early 2012 and it has gone very quickly. I am looking forward to the future and with all the new developments coming along digitally, I think it can only get better.
StumpBusters franchise for sale as owner set to retire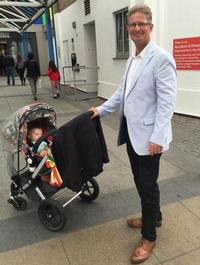 Name: Kevin Chilton & Jan Forsyth
Location: East Midlands
Franchise: StumpBusters
Date launched the franchise: 1st March 2007
Tell us a bit about yourself and what you were doing prior to buying your StumpBusters franchise?
I had been involved in various businesses and at the time of purchasing StumpBusters (East Midlands) I was running an estate agency franchise.
Why did you go down the franchise route? What made you choose a landscaping franchise, and why decide on the StumpBusters franchise?
We initially got into franchising as we liked the idea of support from within a franchise family.
As I mentioned, I was running an estate agency franchise but as it was a turbulent and stressful time for the housing market, an active outdoor franchise seemed to be the perfect answer. As it turned out, it was! We set up the business together and have never looked back.
When we looked at StumpBusters we found they were so very helpful. We talked to many of their franchisees prior to joining, and they all appeared to be happy and making money. It turned out to be one of the best decisions we have ever made!
Why have you decided to sell your business?
It's time to retire!!!
What are the key selling points of your business?
An excellent outdoor business enjoying an outstanding reputation that provides a healthy client base of returning customers. A business with an income from day1.
What support should the new franchisee expect to receive?
A wealth of on-going support both from the franchisor and franchisees within the StumpBuster family. There is always someone to talk to.
What are the other benefits of buying a resale?
If the business has been worked properly, an up and running profitable business from day 1 with a healthy client base.
What is a typical day for you as a StumpBuster franchisee?
Up early, drive to first job, which could be one of a number of smaller domestic jobs that day, or a full days work at the same location. This could be a day on a golf course, or a mixture of contract and domestic work.
Has becoming a franchisee changed your life, if so how?
It has certainly given financial stability, which was more than welcome. That and job satisfaction leaving many clients very happy with the work carried out.
What is the most invaluable piece of advice you could give someone looking to buy their first franchise?
Due diligence!! Look very closely at the franchisor and what he/she has to offer. Ensure the reward to work structure is in your favour. Some franchisors are clearly in it for themselves meaning, you do the hard work and they take the profits. StumpBusters is heavily weighted in your favour from day 1. I don't believe you will find a fairer franchisor!
In your opinion, what makes a successful franchisee?
1/ Professionalism – always be on time and take care with your clients, and,
2/ Protect the brand.
One should compliment the other in any case, but we have always cared for our clients in as much as we presented ourselves, worked and were as polite as we would have liked to experience ourselves if we were the clients. This has left many happy customers and has built us an enviable reputation.
Exclusive Interview: "Home Instead changed our lives and the lives of many"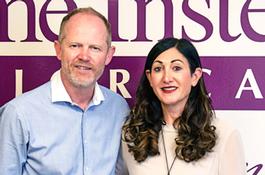 Name: Richard & Jo Aram
Location: East Notts. and Melton Mowbray
Franchise: Home Instead Senior Care
Tell us a bit about yourself and what you were doing prior to buying a franchise business?
My wife, Jo, and I are parents to 7 year old twins and have been married for 12 years. Jo runs a commercial property business and I used to be Cabin Crew on the World Wide Fleet for British Airways based at Heathrow.
Why did you go down the franchise route? And why did you choose the Home Instead franchise?
"Starting your own business from scratch can be daunting so the franchise route with a proven track record and a growing brand presence makes that "leap into the unknown" much easier to take."
Ultimately, we liked Home Instead's ethos and what the brand is trying to achieve.
How did you raise the finance?
Personal savings and the bank.
What training and support did you receive initially and ongoing?
Comprehensive Franchisee Owner training is provided at National office in Warrington with regular follow up training with fellow Franchisee Owners with whom you did the initial training. Thereafter you are assigned a Manager who provides advice and guidance as you grow the business.
What is a typical day for you as a Home Instead franchisee?
There is no such thing as a typical day as a home care provider! Each day brings different challenges and rewards as you help members of your community maintain their independence at home.
"The fact that you are doing something worthwhile in your community leads you to meet and work with some amazing people and organisations."
What challenges have you faced?
Jo and I are not from a sales background so in the beginning we were nervous about how we would be able to make people aware of the service we wanted to provide.
Once people understand and experience the difference Home Instead care can make that whole process becomes much easier.
Has becoming a Home Instead franchisee changed your life, if so how?
Being a Home Instead franchise owner means you can have a positive affect on peoples' lives and also means you are building a local business that benefits local people.
There is a huge amount of satisfaction to be derived from that.
What is the most invaluable piece of advice you could give someone looking to buy their first franchise?
My Grandad told me "If you take care of the business in the first year; it will start to look after itself in the second year and by the third year it will be looking after you". That is sound advice.
"I would also surround yourself with staff who "buy into" what you are trying to achieve and understand why Home Instead do make a difference."
What are your plans for the future?
Jo and I want to continue to grow the business and try to improve on the "outstanding" rating that CQC has awarded us!
Would you do it again?
Yes, there is a lot of hard work in the beginning but having the support from National Office definitely helps you become a successful Home Instead franchise owner.
To receive Home Instead's FREE franchise prospectus, click here.
EWIF Success in the Midlands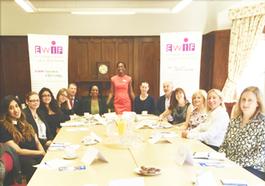 Encouraging Women into Franchising (EWIF) held their first Midlands Regional meeting this week and it was a huge success!

Fiona Boswell from Fraser Brown Solicitors hosted the meeting and was thrilled with the number of people who attended. The first Midlands guest speaker was Pam Featherstone from ActionCOACH who inspired attendees with a presentation on how to work ON your business and not IN it with lots of practical tips for the business women in attendance to take away and implement.

EWIF Regional Meetings are held across the UK, throughout the year, to give women from every walk of life the opportunity to attend and gather advice, information and network with like-minded business owners. The Midlands meetings mean that EWIF now has an even wider remit and business women in the area have a forum of support that they can call on when facing challenges with their businesses.

"I was so pleased that we had such a good turn out to the first meeting in the Midlands. There's been a huge gap in the Midlands for EWIF so it's great to be able to provide their services for even more local business women. I hope that the meetings will become more and more popular as we continue and that the business women who attend are inspired and supported by the meetings. The Midlands is such a diverse region with so many business women and I think it's important for them to have such a great organisation to turn to," explains Fiona.

EWIF's primary focus is to support women who are looking for a route into the franchise industry. Our remit is threefold; to encourage women to consider buying a franchise, to encourage business women to franchise their existing operations and to help franchisors attract more women to their networks. We are a not-for-profit organisation run entirely by volunteers, providing advice and guidance to anyone looking at trying to break into the franchise industry.

"It's great to see so many in attendance at our first Midlands regional meeting. I hope that it spells success for the future in the region. I couldn't think of anyone better to be hosting the meetings than Fiona. Her passion and knowledge for the franchise industry and the EWIF cause really shines through and she works tirelessly to create opportunities for more women and to support them in their new business ventures whether they're franchisees or franchisors," explains Clive Sawyer, CEO of EWIF.
Interview with Chris McGee, Oscar Pet Foods, Mansfield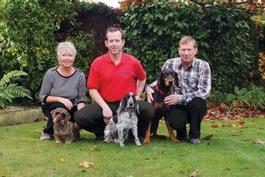 Name: Chris McGee
Location: Mansfield, North Nottinghamshire
Franchise you bought: Oscar Pet Foods
Tell us a bit about yourself and what you were doing prior to buying a franchise business?
I'm married with 2 children. We have a short haired German Pointer – Willow, 2 years old and a ginger tom cat - Betty blue, 1 year old.
I previously worked in sales for electrical retail; holding sales manager and store manager positions.
Why did you initially decide to go down the franchise route? And what made you choose a franchise resale over starting a new franchise business?
I've always wanted to work for myself and prior to me starting my franchise, my parents owned a successful Oscar franchise for approx10 years albeit in a different territory. I decided on a resale as I wanted to buy a business that was profitable from the off.
How does the decision making process for buying a resale differ from buying a new franchise?
I believe it depends if you have funds in the bank to be able to set up from scratch with no income for a period of time or whether you prefer a readymade business.
What made you decide on the franchise you bought?
As mentioned earlier, my parents ran a successful Oscar business previously.
What have been the main benefits to you buying a resale business?
Existing customer base that recognise the brand already thus word of mouth travels quicker to new customers.
Where there any challenges you had to overcome?
No not really, just balancing the time available to develop my Oscar business and other part time work.
Was it easier to raise finance because you were looking at a resale opportunity?
Not applicable.
What training and support did you receive initially and ongoing from your franchisor?
Initially we received a full weeks training on all aspects of the Oscar franchise and also a field trainer came out in the initial weeks.
What is a typical day for you as a franchisee?
As a franchisee you find you are working all the time although this can be decided by yourself as to when and where. I tend to do calls text etc on a Mon /Tues evening and all my deliveries are done on a Thursday, this allows me time to do other work.
Has becoming a franchisee changed your life, if so how?
I wouldn't say changed my life as such but I definitely feel better than when I was employed, the main thing is I can be more flexible and do things I want, when I want.
What is the most invaluable piece of advice you could give someone looking to buy their first franchise? And would you recommend a franchise resale?
Know what you are buying and speak to as many franchisees as possible to get a good understanding of what the business entails.
Yes I would recommend a resale.
What are your plans for the future?
To continue to develop my Oscar franchise.
Would you do it again?
Yes, I would do it again.
Be profitable with a Platinum Property Partners franchise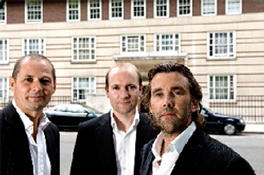 The property investment sector has had a turbulent couple of years and many landlords and investors have been forced out of the market by a lack of cashflow and capital. Leading the field of those still flourishing is the Platinum Property Partners property investment franchise, founded in mid-2007, which has recruited 45 high net worth Franchise Partners to date, with more waiting to join. By following PPP's proven business models and with the support of their expert team of over 33 professional advisors, Franchise Partners are expanding their portfolios and increasing profits through the recession.

The beauty of property as a wealth creation vehicle is not only are you investing in tangible assets which will appreciate over time, but you can also refurbish and let the properties out in such a way that the rental income covers the mortgage, utility bills and maintenance costs, and also gives a significant positive cashflow. PPP's Franchise Partners are seeing average returns of £1,000+ pre-tax profit per month, per property, even allowing for void periods.

This kind of investing starts with the principle that an investment property is simply a money-making box. How much profit you make in the short and long term depends on what you do with the box: what & how you buy, how you divide up the space inside and how you tenant and manage that space. Anyone can buy a property and wait for its value to go up in line with the market; the skill is in 'beating' the market and bettering those returns.

One Leicester-based Franchise Partner bought a property in Spring 2008 for £225,000. He spent £60,000 refurbishing it to the PPP model, and it now delivers over £4,000 a month in rental income, with over £2,500 pre-tax profit. The property has recently been re-valued at £335,000 - that's an increase in asset value of £110,000 during a national market slump!

Maximising profit and establishing a good stream of passive income from property is a simple concept to understand, but not an easy strategy to implement. However, for smart property investors who surround themselves with the right experts and professionals, 2010 is going to be another superb year!

Delighting in the challenge of franchising with Chemex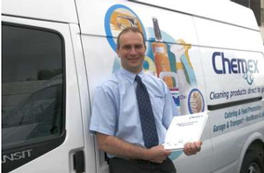 After a successful career in farm management, John Bennett has just made a complete, mid-life switch.

John, 41, has invested in a franchise with Chemex International covering South Nottinghamshire, including Nottingham city centre, Southwell, Grantham, Long Eaton, Bingham and Radcliffe-on-Trent.
Chemex is Europe's leading supplier of cleaning and hygiene products and provides businesses with cleaning products and free advice and training on health & safety and hygiene matters.

"I graduated from Nottingham University with a degree in agriculture and worked for 16 years in agricultural farm management. I ended up managing a large, intensive arable, vegetable and root crop farm in North Nottinghamshire," said John who lives at Oxton.
"But I needed a new challenge and was delighted when the opportunity to build a business with Chemex came along."

Franchising appealed to John because he had dealt with franchised businesses in the organic produce industry and knew how it worked.

Now he is franchising for Chemex, not only selling a wide range of cleaning and hygiene products but also offering advice and training for the healthcare, catering and hospitality industries.

John, who is a former captain of Nottingham & Union Rowing Club and Henley Royal Regatta oarsman is now putting his back into building a successful business supplying cleaning and hygiene products.

As a competitive rower, who trained daily, rowing on the River Trent and reached the quarter-finals at Henley, John said: "With my competitive nature and business experience a Chemex franchise provides an opportunity to build a substantial business".

"We supply a wide range of businesses, including care homes, restaurants, pubs, hotels, offices, schools and colleges - hygiene is major issue in all these businesses.

"Where we differ, though, is we also offer training and advice on use of our cleaning products, as well as safety and hygiene control programmes."
Franchise Roadshow returns to Leicester…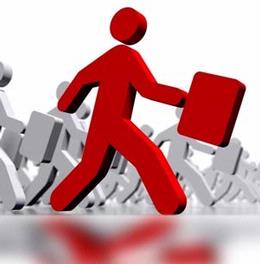 Leicester Racecourse welcomes a major
UK
franchise roadshow for the second year running in June.
The exhibition is the type of thing budding businessmen and women based in the
Nottingham
,
Derby
,
Leicester
and
Peterborough
areas would normally have to visit
Birmingham
or
London
to see.
However, this year, the event has attracted 40 of
Britain
's most innovative and exciting franchise and business opportunities – and all of them are looking for people who want to run a business in the
East Midlands
region.
Free seminars run throughout the day: examples include "mums mean business", "asian business investor forum" and a "motor franchise theatre". All the seminars include a Dragons' Den style forum – allowing the franchises to pitch their idea to the audience, who can then fire questions in return.
But why are these companies all coming to
Leicester
?
Mark
Monument
, of exhibition organisers Job Done, explains:
"Our exhibitors are a pro-active bunch. They see the value of making it easy for potential franchisees to meet with them. All the visitors are simply people who live - and wish to run their business - in their own local area. Therefore, the franchises are more than happy to showcase the territories/licences they have available in that same local area"
"It's not all about making (or investing) fortunes. Most exhibitors are looking for dedicated individuals who want to carve out a pleasant living and lifestyle for themselves.
There's a bit of everything here for everyone – for "petrol heads", for tradesmen, for white collar careers, for those interested in property investing, for those looking at retail outlets, or catering, or care homes. And, for once, you don't have to travel to the NEC or
London
to see it all".
In summary, the organisers claim that there is a proven, road-tested, ready made business waiting "on a plate" for all manner of career backgrounds and aspirations - and that each of the exhibitors offer a licence local to the
East Midlands
.
The show takes place on Saturday 7th June in the main Conference Centre at Leicester Racecourse. There is no entrance fee; there's plenty of free car parking and all the seminars and advisory sessions are without charge too. It seems you just need to be a free thinking, budding entrepreneur to benefit from it all.
Supporting all the way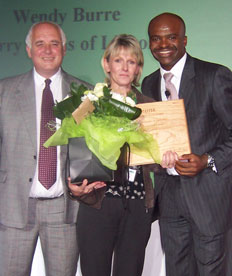 Wendy Burre
Merry Maids
Lincoln
As part of the worldwide ServiceMaster group, the Merry Maids franchise provides franchisee Wendy Burre with exactly the kind of support she was looking for.
In moving back to the UK from South Africa, Wendy had to decide which direction her career would take, and with two young children to look after, she needed something that would give her a good level of support and guidance. In discovering that franchising would be able to realise her ambitions, Wendy set about the task of finding the right opportunity for her.
"We spent over a year researching, attending exhibitions and doing our groundwork. In fact, we looked at all kinds of opportunities but it was Merry Maids that really stood out to me," enthuses Wendy. "When we met the franchisors they had an extremely personable approach. I was encouraged to speak to other franchisees and this gave me a greater sense that this was an opportunity that would work for me."
The Merry Maids concept was born in the USA over 20 years ago and puts its experience to the test by providing services to around 30,000 customers daily. Established in the UK since 1991, Merry Maids has become one of the country's most respected and successful domestic cleaning franchises in a rapidly growing industry.
With over 100 franchises in the UK alone, Merry Maid provide their franchisees with a real head start in the domestic cleaning market: "We received a great deal of training," states Wendy. "Merry Maids taught me about all the aspects of setting up and running my own business."
Wendy reports that she still receives the quality support that was so important to her when she launched her business in 2000. "Merry Maid looked after us very closely during our launch and were always there to help." Wendy reflects. "Six years on and they are still more than willing to help should we need them. There is a very strong network between the franchisees and the franchisor that I would consider one of the best in the business.
Although we¹re independent there is always close contact between the franchisees, no one is competing and we are all there for each other."
In building her business, Wendy has noticed the benefit of repeat custom and word-of-mouth referrals that Merry Maids generates. Within two years of launching, Wendy's business had grown to the stage that she had a team of employees and had moved to commercial premises: "I've always been one to push myself and my operating territory now covers the whole of Lincolnshire," reveals Wendy. I'm always looking forward to how far I can take the business. There's huge potential in the franchise.
As an investment that Wendy says has more than paid off, since staring her business she reveals that her lifestyle has got better and better: "Were financially secure and I do a job that I enjoy and have enthusiasm for. I'd say that where I am now is exactly where I¹ve always wanted to be."
AWARD FOR X-PRESS "BRAND BUILDER OF THE YEAR"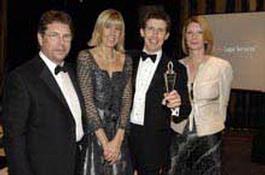 Kevin Preston has been named "Brand Builder of the Year" by X-Press Legal Services, chosen from their network of 40 outlets across the UK.
Kevin, who lives in Birstall, Leicestershire, is used to driving businesses forward, having enjoyed a career in the financial services sector where he was responsible for many different aspects of financial planning and management.
He applied the same energy and commitment to his new franchise when he set up his office in early January 2007, making a fantastic start that was well ahead of plan by achieving a profit in the first month's trading. A year later his wife Jane is also involved and Kevin is recruiting people to join the business.
Announcing the award at X-Press's 2008 national conference, managing director, Lynne Lister, said: "I am delighted to be able to make this award to Kevin, who is a very dynamic and determined person. There have been many changes in the property sector in the last year and Kevin has met them all with verve and enthusiasm."
Before becoming a franchisee Kevin was a self-employed consultant and was sent wherever his skills were needed most, which meant most weeks he was away from home.
"I really didn't like being away all week and I missed my family," Kevin said. "I felt that my life was quite transitory. I began to want to create something more permanent and which had a true and lasting value," he added.
Kevin researched a range of options for new businesses.
He knew he wanted to work for himself but aimed to find something that could also utilise his wife's administrative abilities so that they could build a substantial business together.
He did not necessarily want to be a franchisee, although he understood the many considerable advantages of franchising over stand-alone start-ups. Kevin commented: "Knowing how businesses work is an advantage when you're thinking about buying a franchise, so my previous experience and understanding of corporate structure proved invaluable.
"I liked the fact that franchising allows you to be your own boss but also offers unstinting support. Even after training, there is always someone to offer help and advice when you have a problem or meet a situation you haven't encountered before. Support is especially important when you first set up a business in something you've never done before."
Kevin first met X-Press at a franchise exhibition in Birmingham. He says: "The franchise really appealed to me because it matched all my requirements and I liked the people too, which is very important. I was impressed that X-Press has nationwide coverage which I knew would be a great selling point when pitching to new clients."
Kevin commented: "Apparently, I am the fastest start-up the network's ever had. I am very single-minded so I love the challenge of new sales – I just keep going out and knocking on doors."
X-Press Potential
Andy Hunt already knew about franchising when he discovered X-Press, having been a franchisee with a High Street IT consumables business for four years.
Andy says: "I was one of the first franchisees in the UK in this field and I built up a successful business. I had offers from several people wanting to buy my outlet until one day someone made an offer I couldn't refuse. I decided I would sell it because, although I was making money, I couldn't settle to being in a shop all the time. I like to be out and about, I don't like being in one place all the time.
"Some of our customers were franchisees in other types of business, including some working in property search who wanted to sell their franchise. They asked if I would be interested and although I didn't know much about it, I was keen to find out more because property search is a business that you can run from home."
Andy seriously considered the proposition but felt it would be prudent, before making any commitment, to see what else was on offer. He visited the Birmingham franchise show, where he met X-Press Legal Services for the first time.
Andy commented: "I wanted to stay in franchising because I know how successful it can be. I was very interested in X-Press for many reasons. It was a franchise offering an affordable route into a market place that otherwise would have been outside my budget and experience.
"When I enquired, I found that an area close to my home was still available, which made it even more attractive. I felt that being involved with X-Press at a relatively early stage in their development was just too good an opportunity to miss." Andy decided he would like to go ahead, so he carried out market research in his area and also spoke to existing franchisees in the X-Press network to learn about their experiences, all of which convinced him to join X-Press.
Andy commented: "I liked the variety that the franchise offers, with a balance between being out visiting councils and meeting clients and being in the office. I was also really keen on being based from a home office, at least initially. My wife Linda has now been able to give up her job in a health club where she used to work anti-social hours. Now we work together in our own business."
He continued: "X-Press is in a market that Linda and I were keen to be involved in. We both saw the huge potential for growth in the property sector and are delighted that we chose this franchise."
Changing her Working Life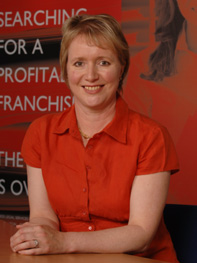 X-Press Legal Services' Ltd is a specialist franchise that provides property searches and reports, working on behalf of solicitors and other conveyancing professionals. The searches and reports are a vital part of the property buying process in the UK.
After a career in corporate law, Sally Neiger was pleased to find a franchise in the legal sector when she felt the time had come to change her working life.
Sally had held senior positions as an in-house lawyer, working in industry for large organisations that included the National Coal Board, Northern Foods, Fisons plc and Fisher Scientific.
Latterly, for ten years, she was the in-house legal resource providing advice to colleagues on all aspects of the law, especially the constant amendments to legislation that affect trading and employment issues.
Following a restructuring of the management team at her last employer, Sally considered her options. She comments: "I had enjoyed some flexibility in my last role working part-time and didn't want to start again in a rigid 9-5 environment. The legal world has become very specialised since I first qualified and to get a good job in a practice would have involved significant retraining.
"The idea of having my own business and being my own boss was attractive but I didn't have the confidence to start a business from scratch. Franchising seemed to offer many benefits such as independence and autonomy but with the support of the franchisor and its established systems."
She continued: "When I worked for Northern Foods, I was involved in the franchising of their doorstep milk delivery business, so I have been familiar with the concept for many years.
"I looked at the bfa website and was very excited when I read X-Press's profile. It seemed a perfect fit for me as I can use my legal skills and familiarity with the legal world to my advantage. There are plenty of new challenges in running a business, so I am pleased to have confidence in my ability and knowledge of the subject matter."
Although Sally looked at various types of franchise and visited a franchise exhibition in London to see what else might appeal, she concluded that the legal bias of X-Press was a real advantage to her.
She first met X-Press at the Olympia show and immediately felt very comfortable. Now set up in a serviced office not far from her home, Sally says she is enjoying learning about areas of business she had never dealt with before, such as marketing and managing accounts. She says: "It is very challenging and exciting. I find the work interesting and stimulating and I'm looking forward to building a significant business in my area."
Taxing Issues solved with TaxAssist franchise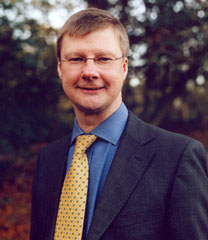 Phil Marriott
Loughborough
February 2011
I joined TaxAssist Accountants in December 2002 having purchased an existing fee bank from a franchisee who was returning to a former employer. My experiences gained in banking, insurance and finance, coupled with the knowledge gained in setting up and running a group of limited companies with some fellow directors, gave me some preparation for running an accountancy / business advisory practice…but I wanted the comfort of a "hand held" approach and some solid back-up support.
The obvious integrity, willingness and openness of all the team at TaxAssist Accountants struck me right from the outset, such that the decision was much easier to make – a clear sign that things were right then, and which has continued to prove to be right time and again since. Looking back, the first year was an exceptionally demanding one and much of the cash flow was reinvested to develop the potential of my practice. I had originally planned to move into shop front style premises some time after three years. After just two years the ideal shop front became available and I needed to make the commercial decision and investment much sooner, eventually moving in March 2005. Despite my reservations over the cost and disruption the overriding outcome was excellent. My net fee income, client growth, profitability and cash flow all benefited dramatically, improving month on month. New business enquiries were and continue to be plentiful with word of mouth being the best source and referrals from local professional sources (banks and solicitors) second. There is little other marketing I have undertaken, and the brand building activity of the Support Centre sends welcome leads my way. I now have six members of staff.
In December 2007 I acquired the freehold of a former bank in my neighbouring home town. It opened as my main office in March 2008. It is at least three times the size of the previous shop front, and provides substantial scope for further growth. The quality and average fee size of new business enquiries has improved. The fact I have been confident enough to buy, and that my bank have been so keen to support me, is continuing testament to the strength of the business model.
I have always increased fees annually but recently became aware that a number of clients had fallen out of step with the target fee range. Despite the economic outlook I therefore embarked on a client fee review programme. My average fee increase for clients retained on direct debit ended up in excess of 10%, excluding the impact of the VAT hike. Only one client refused to accept the increase. I believe this proves the power of the brand and underlines the continuing success of our franchisor in securing awards.
The TaxAssist brand is excellent and allows me to portray a "big" practice feel but with a "smaller" practice price structure – a real winner with the clients! Ongoing training is excellent and I have to say that TaxAssist Accountants seem to have their support structure with franchisees just right – there when you need them but leaving you to run and develop your business when you don't!
I have no doubts I made the right decision and can confidently recommend TaxAssist Accountants.