Exclusive Interview: "Home Instead changed our lives and the lives of many"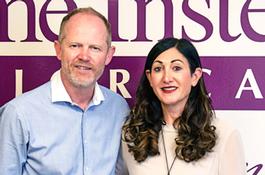 Name: Richard & Jo Aram
Location: East Notts. and Melton Mowbray
Franchise: Home Instead Senior Care
Tell us a bit about yourself and what you were doing prior to buying a franchise business?
My wife, Jo, and I are parents to 7 year old twins and have been married for 12 years. Jo runs a commercial property business and I used to be Cabin Crew on the World Wide Fleet for British Airways based at Heathrow.
Why did you go down the franchise route? And why did you choose the Home Instead franchise?
"Starting your own business from scratch can be daunting so the franchise route with a proven track record and a growing brand presence makes that "leap into the unknown" much easier to take."
Ultimately, we liked Home Instead's ethos and what the brand is trying to achieve.
How did you raise the finance?
Personal savings and the bank.
What training and support did you receive initially and ongoing?
Comprehensive Franchisee Owner training is provided at National office in Warrington with regular follow up training with fellow Franchisee Owners with whom you did the initial training. Thereafter you are assigned a Manager who provides advice and guidance as you grow the business.
What is a typical day for you as a Home Instead franchisee?
There is no such thing as a typical day as a home care provider! Each day brings different challenges and rewards as you help members of your community maintain their independence at home.
"The fact that you are doing something worthwhile in your community leads you to meet and work with some amazing people and organisations."
What challenges have you faced?
Jo and I are not from a sales background so in the beginning we were nervous about how we would be able to make people aware of the service we wanted to provide.
Once people understand and experience the difference Home Instead care can make that whole process becomes much easier.
Has becoming a Home Instead franchisee changed your life, if so how?
Being a Home Instead franchise owner means you can have a positive affect on peoples' lives and also means you are building a local business that benefits local people.
There is a huge amount of satisfaction to be derived from that.
What is the most invaluable piece of advice you could give someone looking to buy their first franchise?
My Grandad told me "If you take care of the business in the first year; it will start to look after itself in the second year and by the third year it will be looking after you". That is sound advice.
"I would also surround yourself with staff who "buy into" what you are trying to achieve and understand why Home Instead do make a difference."
What are your plans for the future?
Jo and I want to continue to grow the business and try to improve on the "outstanding" rating that CQC has awarded us!
Would you do it again?
Yes, there is a lot of hard work in the beginning but having the support from National Office definitely helps you become a successful Home Instead franchise owner.
To receive Home Instead's FREE franchise prospectus, click here.
Read more on a Home Instead Senior Care Franchise