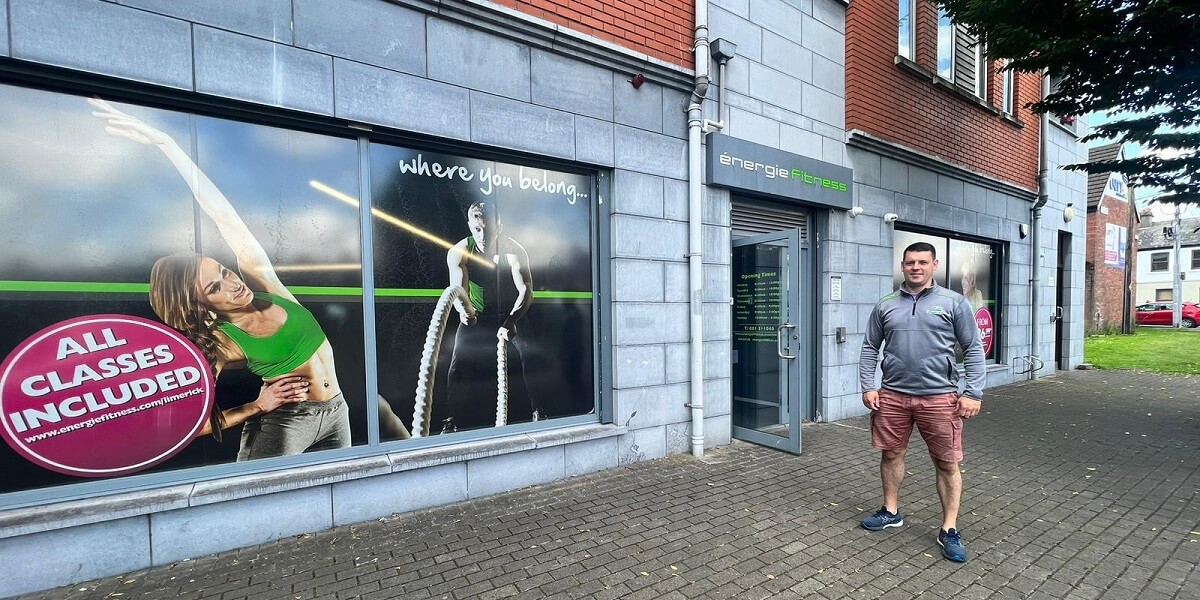 Trevor O'Sullivan's career took him all over the globe, from working in Australia, Canada, Norway, and Kazakhstan. Returning to Ireland with a young family, Trevor sought a business opportunity that would give him the flexibility and work life balance he wanted, and in énergie Fitness he found the perfect fit.
Tell us a bit about your background, what has been your primary career / business focus prior to joining énergie Fitness?
Before joining énergie Fitness as a franchisee, I had never had my own business. I worked abroad in the oil and gas industry. My background was actually in electrical instrumentation. Back in 2011, I received an opportunity to go to Kazakhstan. A friend of mine who worked out there wanted me to start commissioning plans. So, I basically hopped on a plane, headed to Kazakhstan and began working over there. My career has also meant I've worked in Canada, Norway, Australia and a few more places.
It was in Kazakhstan where I met my wife in February 2012, so it kind of suited me to work abroad for several years. When my wife became pregnant in 2017, we decided to come back home to Ireland. At this point, I wanted a change in my career and my life. I had put in a lot of work over the years whilst working abroad and working for someone else.
Having said all of that working abroad was a great experience and I wouldn't take it back. I loved every bit of it. In Kazakhstan, I was working on one of the biggest gas projects in the world at the time. One of the things I appreciated the most was meeting people from so many different cultures. Working away kept me focussed at an important time in my life and it has helped to shape me into the person I am today.
How did you hear about énergie Fitness?
Upon returning to Ireland, I was looking at different business opportunities, particularly in hospitality, such as bars and restaurants. Whilst carrying out this research I began to see information on gym franchise opportunities.
Why did you decide to go into business with a franchise in the health and fitness industry?
I had always had an interest in health and fitness; this came through playing sports and going to the gym. So, I thought to myself; "how difficult can it be to run a gym?". With twins on the way, the flexibility and work-life balance of running a gym appealed. Since opening my own énergie Fitness gym in Limerick, I have been able to put a manager in place and things are going well.
Why did you choose énergie Fitness specifically?
I felt like énergie communicated really well with me throughout the whole process. They answered all of my questions really well. I had positive meetings and spoke with other franchisees who also provided positive feedback. All of this helped to shape my decision.
In terms of the consumer offer, what do you think sets énergie Fitness apart in the marketplace?
Without doubt the value that is on offer. For the price of our gym, we offer a great service. I like the way énergie are very focussed on the Kickstart and Take the Stage programmes (Kickstart is the programme that helps induct new members when they join the gym and Take the Stage is the staff training programme in delivering customer service the énergie way). We work really hard on bringing this ethos into our gym, especially with the staff we hire. We always get very good compliments, along the lines of: "Your staff are top class". We actually hire people on their personality, obviously they must have the right qualifications, but we really go for personality as well. This is important as we really want to deliver service the énergie way.
I think we offer really strong value for money, we have a very good gym, with great equipment, service and the price is very good.
How do you structure the running of your énergie Fitness business? E.g., are you an owner - operator or have the business under management?
Initially I was very hands-on in the business at the start to get the gym up and running. It was always my plan to get the gym up and running and then step back from it. I've been very fortunate as the person who is currently my Club Manager was actually a fitness instructor when he first joined us. He's been managing the gym for me over the last few years. He's been really good to be honest, he's very trustworthy and we have a lot of communication, he's done a great job.
We had a meeting following the pandemic, where he asked if he could take on more of the running of the business, as I was very hands-on at the time. Since then, the time I've needed to be at the gym has reduced greatly. I guess this goes to show that the systems are in place within énergie to allow team members to upskill and progress. This is of course a great benefit to franchisees.
My Club Manager and I have daily chats, the targets are all set for the month, quarter, and year ahead. When I call into the gym, the team know the standards I want in the gym in terms of the cleanliness etc. Each time I've called in, all of these things have been met. I've been very happy with the way things have been going.
What would you highlight as the key successes that you have experienced in your franchising journey so far?
I feel like the journey itself and the continuous improvement of the business has definitely been the highlight so far. We can talk about the turnover and membership growth which has been really strong, but both myself and my team have learned a lot along the way. My knowledge of the industry and the business has grown over time. My team have also grown personally and professionally too, my manager has really grown into his role and knows exactly what's needed. The majority of my team have been with me since the start, and we have grown together.
The gym is a much better gym now than it was on the day it first opened, and I think that is a huge positive overall.
I also just want to say that I think énergie are improving as a franchisor all the time too. They are always listening to franchisees and working on improving things for the network.
What are your plans for the future?
I'm actively in the process of sourcing a site for my second gym, but this will depend on the location as this will be a major factor in my decision. I like the idea of opening further gyms because of the flexibility in terms of my work/life balance. At this stage in my life, with young children, I wouldn't want too much change to my free time.
What words of wisdom do you have for anyone who is looking to go into business with a franchise?
I would say do your own research, definitely look at the background to the franchise and talk to existing franchises as they are the ones who are in the business from day to day.