Directory of UK BFA approved franchise solicitors
The biggest mistake that prospective franchisees can make when buying a franchise is to not seek legal advice. The lack of legal advice is cited as one of the major reasons for franchisees failing. Cutting corners when it comes to using a lawyer when buying a franchise can be extremely costly in the long run. We cannot stress enough how important it is that all prospective franchisees take legal advice and that you only use a lawyer who specialises in franchising. Below is a list of all lawyers who are members of the British Franchise Association.
Featured Solicitor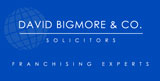 David Bigmore & Co deals with a full range of franchise legal issues including preparing and reviewing franchise agreements, buying and selling franchisors' and franchisees' companies and businesses, dealing with franchise disputes and handling franchising commercial property matters.
Office locations:
London and Chester - covers all of the UK.
Office locations:

London and Chester - covers all of the UK.

Office locations:

Glasgow

Office locations:

London and Brighton - covers all of UK
---

Aquabridge

Office locations:

Essex & Suffolk

Ashfords

Office locations:

Bristol

Ashtons Legal

Office locations:

Norwich

BHP Law

Office locations:

Darlington, County Durham

Bird & Bird

Office locations:

London

Birketts

Office locations:

Cambridge & Ipswich

Blake Morgan

Office locations:

Eastleigh, Southampton

Boddy Matthews

Office locations:

Reigate, Surrey

Brodies

Office locations:

Edinburgh

Brook Street Des Roches

Office locations:

Abingdon, Oxfordshire

Clarke Wilmott

Office locations:

Southampton

CMS Cameron McKenna Nabarro Olswang

Office locations:

London

Cubism Law

Office locations:

London

Darwin Gray

Office locations:

Cardiff

DLA Piper

Office locations:

London, Sheffield, Birmingham, Leeds, Liverpool, Manchester and Edinburgh

DWF

Office locations:

Leeds

EMW

Office locations:

Milton Keynes

Fieldfisher

Office locations:

London

Fraser Brown

Office locations:

Nottingham

Gateley

Office locations:

Manchester

Geldards

Office locations:

Nottingham

Goldstein Legal

Office locations:

Windsor

Hamilton Pratt

Office locations:

Warwick

Higgs & Sons

Office locations:

Brierley Hill, West Midlands

Hill Dickinson

Office locations:

London

Hutchinson Thomas Solicitors

Office locations:

Neath & Swansea

Knights Professional Services

Office locations:

Chester, Cheltenham, Newcastle-under-Lyme, Derby, Oxford, Hale & Colchester

Komerse

Office locations:

Dudley

Leathes Prior

Office locations:

Norwich

Miller Rosenfalck

Office locations:

London

Mundays

Office locations:

Cobham, Surrey

Myerson

Office locations:

Cheshire

Nelsons

Office locations:

Leicester

Nina Moran Watson Solicitors

Office locations:

Tendring, Essex

Owen White

Office locations:

Slough, Berkshire

Paris Smith

Office locations:

Southampton

Parker Bullen

Office locations:

Andover

Rawlison Butler

Office locations:

Crawley, West Sussex

Sherrards

Office locations:

London

Shoosmiths

Office locations:

Birmingham

Stevens & Bolton

Office locations:

Guildford, Surrey

TLT Solicitors

Office locations:

Bristol, London, Manchester. Edinburgh, Glasgow and Belfast

Tollers

Office locations:

Northampton

Warner Goodman Commercial

Office locations:

Southampton

Wragge Lawrence Graham & Co

Office locations:

Birmingham

Wright Johnston & MacKenzie

Office locations:

Glasgow