---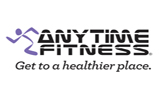 Anytime Fitness (franchise for sale in East Midlands)
Location(s): East Midlands
Selling price:£209,995

Anytime Fitness franchise for sale in East Midlands

Anytime Fitness East Midlands was opened as a new franchise in 2014. It has been steadily growing members, with the business now having in excess of 800 members. The club is situated in a prime visible roadside location on a busy retail park with free unrestricted parking directly outside the gym. The footfall to the retail park is approximately 40,000 per week, enabling excellent opportunity for passing trade.

The property is 4,400 square feet and is a large open planned premise giving it a spacious feel. The club is fitted out to a very high standard and the equipment is excellently maintained and cleaned daily. There is a studio incorporated within the gym which offers bespoke virtual classes, which is an excellent use of the 24-hour membership and a great selling point.

There is huge potential for growth with this business as there are many marketing avenues that have yet to be explored including more targeted marketing in the city. The new owner/s are in a prime position to drive memberships forward and expand on the growing membership base that the current owner has developed.

Anytime Fitness East Midlands is available to offers in the region of £209,995

About Anytime Fitness
Anytime Fitness is an internationally known brand with ten years' experience in the Fitness industry. In that time it has become the largest health chain with over 2,700 Centres open in 15 countries and continues to grow at a rapid rate. In the UK there are well over 100 Centres open and 2017 is expected to see this number rise dramatically. Anytime Fitness was awarded second place in the Entrepreneur magazine Franchise 500 list and number one in the Fitness category for the fourth year in a row. It is a business that is not standing still.

Anytime Fitness are FULL members of the BFA.

A full prospectus of sale is available following the signing of a non-disclosure agreement. Please do not contact the franchisee directly about the sale of this business as the staff may not be aware that the business is for sale.