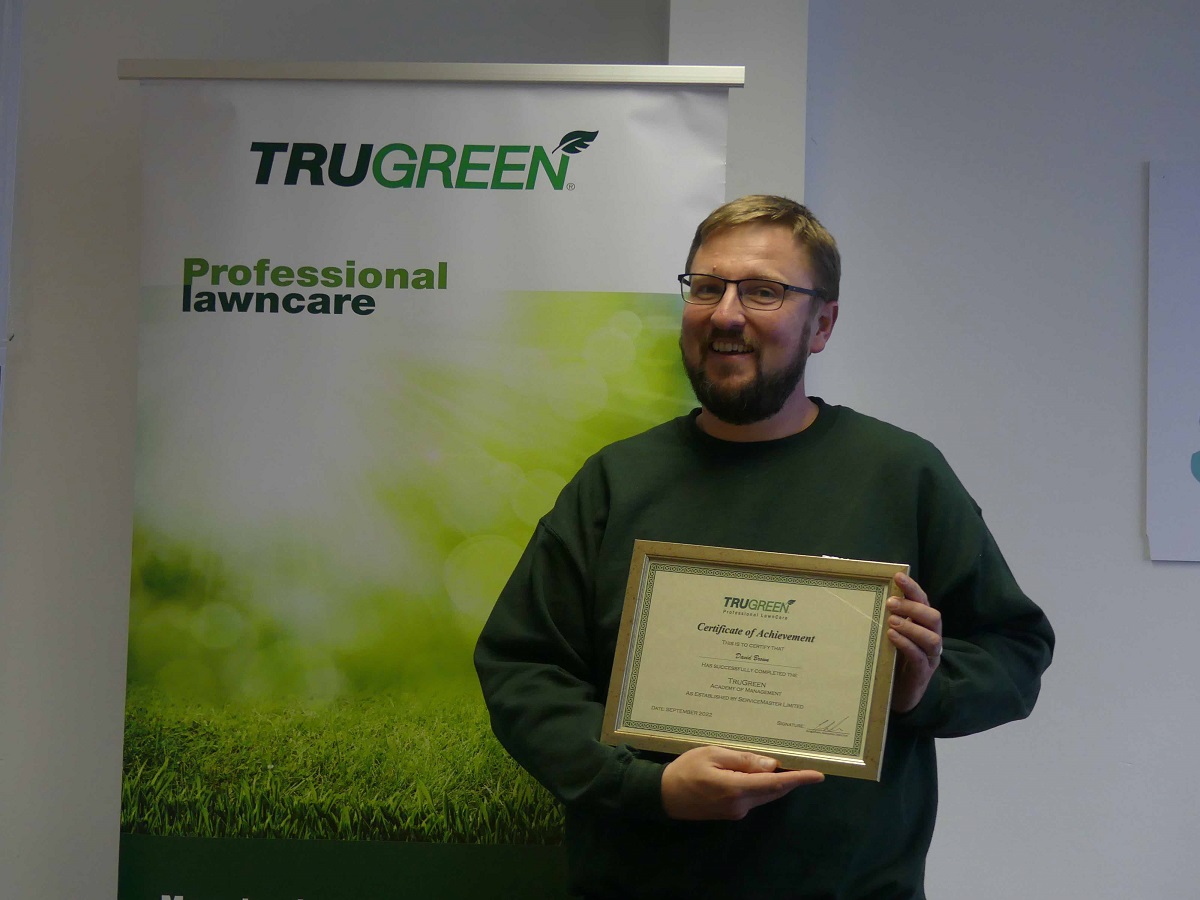 Written by Tom Page: Digital Content Writer, ServiceMaster Ltd.

We sat down with David Brown, the new owner of TruGreen North Leeds and Harrogate to chat about his life and new business.

David Brown has taken an unconventional route into the lawn care industry. With 13 years as a secondary school science teacher behind him, it may not seem the obvious choice to call it quits on a decade-spanning vocation and do something entirely new. But when I sat down with David on his first day as the owner of TruGreen North Leeds, there could be no doubt whether or not he had made the right call.

My first question broached the root of this topic: What is the reason behind this big career decision? David tells me that he has spent the last 13 years teaching physics A-Level and combined sciences to secondary school children, living and working in Yorkshire, around where he grew up, with his wife and three young children. The only time David has ever lived away from Yorkshire is when he studied at university in Manchester. But once his studies were over, David says he didn't have much to keep him there and he felt a little worn down by the flat lands of the cityscape and wanted to get back to the land he knew. And it is a similar call to nature that has driven David toward his new business. "I've always enjoyed working outside and working in the garden," he tells me. "I've got an allotment, I've got a greenhouse. I enjoy growing things. I've always enjoyed growing things," he says.

The events of the past few years have given many the time to reflect on their lives, with the limbo of lockdowns causing many to reignite passions from their past. For David, plant life and gardening still provoke a spark of childlike wonder, and he says this is something that he found he wanted to make a part of his daily life. "I don't know if this is just me," he says, "but I still get excited when you grow things from seed, it still seems like something quite magical that you can take something and it just becomes a thing. And that's not gone away." He tells me that he then found this at odds with the career he found himself in, leading to a revaluation of his path. "The older I got, I thought, I don't really want to spend the rest of my working life indoors," he says.

But this is easier said than done. David, like many others with vocational careers, has found it difficult to branch out on his own. "I had been looking for a route out of teaching for quite a while, and it's a difficult thing to do because you get pigeonholed as a teacher, he says. "I would apply for other jobs and not even get considered for an interview for quite a lot of them." Meanwhile, "You'd apply for another teaching job, and it's like they're biting your hand off because there aren't any science teachers and physics teachers."

Beginning to feel penned in, David knew something had to give, "I just thought, well, the only thing I could do is do something by myself. I'm 38 now, no one's going to come and help me out. I'm going to have to do it myself."

So, David decided to make the leap to starting his own business, supported by the TruGreen franchise network. He says he wasn't initially looking into franchising as an option but came across TruGreen whilst researching potential competitors when he was still planning on going out on his own. "Speaking to my family, and speaking to my wife, they kind of said the same thing," David says. Which was, "Okay, it's an investment, it's expensive, but the payoff is you you're going to have help because you're not just going to do it by yourself - people are going to be there to support you."

He says this caused him to re-evaluate his approach when he got in touch with Emma Chappell from the ServiceMaster Brands franchise sales team and TruGreen Brand Leader Steve Welch, who introduced him to the TruGreen brand and guided him through the processes of running a TruGreen business. Feeling this support first-hand, David says this helped him feel reassured that he was on the right track, "I needed to apply for a government start-up loan to cover the lion's share of the franchise start-up costs," he says. "And Steve and Emma Chappell were fantastic in helping me through that and [guided] me through it step by step, taking me through everything from beginning to end and then it was easy to deal with what would otherwise have been a genuinely traumatic experience. I'm used to spreadsheets, but trying to come up with information without any guidance for anyone else would have been a Herculean task. So, for them to just come along and go, 'Oh yeah, that's just that, that's fine,' saved me hours and hours and hours of time. And [with] the data that they've got about customers and customer spend and historic cash flow from previous franchises so you can see real data, you can see real information about what other people have managed to achieve. And that's reassuring because it gives you an idea of what to expect So, I can now gauge whether I'm being successful or unsuccessful, whether something is working or not. Whereas if I was just on my own, I'm flying by the seat of my pants. I don't know if I'm doing well or I'm not doing well."

I asked David how this decision was made, particularly with the UK amid a cost of living crisis.

"It just seemed like the right time to take that big jump before the kids got too old and I didn't have the energy to do it anymore," he says. "When is a good time? When is a bad time? I don't know. I don't think anyone knows. I think if people knew the answer to that, no one would start a business [he laughs]. You've got to do it at some point."

He goes on to add, "I mean, there's always people that want things done to their houses and there are always people that are looking for this sort of service. There are a lot of people doing it already in my area, and I'm not seeing people dropping off or cutting back at the moment. I'm not seeing foreclosures on huge detached houses around Roundhay. There will still be people that have money to spare even throughout whatever is coming."

[But] you've [also] got Steve, who is like a living encyclopaedia of lawn care," he says. "You're going to get the guidance and expertise to know what that you're doing is right. This is a model that's worked in the United States, it's worked in the south of England, and it will work wherever you are as well. I'm confident that if I follow the model and follow other people who have succeeded, then I'll succeed as well."

So, it is spurred on by the support of an internationally-renowned franchise, a wealth of experience from a national network, and a love for the outdoors, David has made the jump into starting a business that he loves. With TruGreen, the life of David's dreams can become a reality, and so can yours.

If you like the sound of a career spent in the great outdoors helping people in your local community achieve their dream lawn, get in touch with the ServiceMaster franchise sales team by calling 0116 275 9000 to enquire about available territories near you today.