Last Updated: 09-March-2018
Buy into an established business - ready to go from Day One!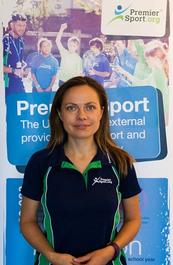 Name: Alla Bennett
Location: Guildford
Franchise: Premier Sport
Date launched the franchise: January 2015
Tell us a bit about yourself and what you were doing prior to buying your franchise?
I was working as a digital marketer for an agency but I was always very entrepreneurial and interested in sport.
Why did you go down the franchise route initially? And why did you choose your franchise?
I knew I wanted to set up my own business but it seemed daunting at first.
I decided that could I fast track the business by going with a franchise. In addition it provided me extra motivation and opportunity to work alongside like-minded professionals.
Why have you decided to sell your business?
As the business grew I felt it needed fresh blood and at the same time I got some interesting opportunities back in marketing so it felt the right time to move on.
What's the key selling points of your business?
It has a great team in place who are highly qualified with excellent work ethics and very motivated to grow. The industry is growing and children's inactivity is always on the government agenda. So there is a lot of support for physical activity form the government which provides funding to school specifically for PE and sports. The geographical area is also growing with more people moving outside of London to Surrey. We have great relationships with the school in the area and have been growing in double digits year on year.
What support should the new franchisee expect to receive?
There is a lot of support and expertise available from the Head Office. Marketing, Finance, Recruitment, IT…This is all available for a franchisee. There is also a massive internal expertise in the network in sales, training and staff retention. The important thing you are not alone and there is always someone who can help you with guidance and advice.
What are the other benefits of buying a resale?
You are buying an established business with contracts, staff, processes, best practices. It takes a lot of initial effort to build all this so you are in a perfect position to hit the ground running and take the business to the new heights.
What is a typical day for you as a franchisee?
It depends on the time of year. I dedicate at least 2 hours daily on strategic planning and sales or maintaining the relationships with the schools. Recruitment, staff retention programmes, assessment and staff support is another key area. As a marketer I enjoy working on marketing initiatives, new ideas and implementing new projects. Right now we are working on a Sports Relief relay.
Has becoming a franchisee changed your life, if so how?
It definitely has. I now know I can get into a new industry and get the business going. I also had a chance to work with people from completely different backgrounds and it also changed me as a person. I think you confidence grows as you grow your business but at the same time you realize how much you still have to learn.
What is the most invaluable piece of advice you could give someone looking to buy their first franchise?
Do you research, do your maths and do not be afraid to start your business.
In your opinion, what makes a successful franchisee?
People who are relentless, who see opportunities where others may feel out of luck. Very hard working and ready to learn from every person or situation.