Last Updated: 24-August-2017
Franchisee returns to his caring roots with territory resale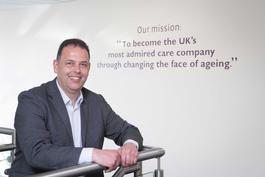 Mike Keig's background is sales management, working in engineering and manufacturing for over 20 years. So, when he decided to look for a new challenge, home care wasn't a sector he was considering.
But after meeting a current franchisee looking to realise their investment and sell their territory, Mike realised that the Home Instead Senior Care model, alongside the support and training offered, was everything he was looking for.
Mike, 46, said: "I've worked my way up through the career ranks, and my wife and I have had experience of a start-up, but I've never had the chance to take a business to its next level.
"It was important for me that what we bought was not only established and successful, but that it offered real potential for growth."
Although investing in the care sector wasn't part of the plan, it's brought Mike full circle in his life. "My mum ran a care home in Tavistock, Devon", he said. "I lived there until I went to college, so I grew up surrounded by older people. It gave me a good grounding and it does feel nice to now be working with those older generations."
Mike admits that he was also looking for something more than just a successful business, "I wanted to do something that felt worthwhile and to use my experience to help an organisation that was about more than just profit. I'd been looking at getting involved with a charity or third sector organisation but couldn't find a way to make it work.
"18 months of networking to find the right opportunity led to me being introduced to the founding franchisee. We spoke about the territory resale available with Home Instead and it's a cliché but it ticked all of the boxes. Weston-Super-Mare was a territory where the numbers stacked up, there's great potential for growth in the network, and it provided the opportunity to do something more worthwhile in life."
Mike's career started in High Wycombe, when he joined materials testing company, Instron, as Technical Support. Over 20 years, he worked his way up through sales and general management, before becoming European Sales Manager.
After time at Macfarlene Packaging and then launching a cost management services company with his wife, Mike decided he wanted his next move to be the purchase of an already successful company.
He said: "I'd actually already found a business opportunity. It was a much bigger business and I was buying it with partners, but it fell through late in the process.
"What that meant though was that when the opportunity with Home Instead came along, I already knew about the steps I had to go through. Buying a franchise meant I saved a lot of costs and the guides and procedures made it very easy – it was about as plain sailing as you can get."
After finding out about the opportunity in Autumn 2016, terms had been agreed by Christmas and Mike completed his purchase of the Weston-Super-Mare office on 1 April this year. With 80 clients and 40 CAREGivers, Mike's first priority has been getting to know his team and his clients, whilst learning about the systems, procedures and responsibilities involved in providing exemplary homecare as part of a multi-award winning homecare franchise network.
As well as support in terms of care quality and standards, Mike has also found the training available from National Office across all areas invaluable in his franchise journey to date.
Mike said: "Being new into the care industry and the Home Instead network, I've been undertaking as much training as I can. Not only has it been of an incredibly high standard, it's been delivered in a way that I could implement the learnings to my business immediately. From the procedures we followed during the process, to the visits we've received to our franchise, the support has been phenomenal."
He added: "Being part of a brand that has received the recognition that Home Instead has, means I know that I'm part of an ethical and caring company that's getting things right, and that's really important to me."
Mike's clear on what his business ambitions are and he's looking to double turnover over the next five years, taking it from £500,000 to £1million.
He has already seen that demand is outstripping resource and has spent the last few weeks out in his community meeting people with the aim of recruiting more CAREGivers to deliver Home Instead's quality care and companionship.
Commenting on the business opportunity the senior homecare market presents, Mike said: "There aren't many businesses you can go to where there are more clients than you can deal with. I want to spend the summer getting traction and then expect to see solid business growth by the autumn.
"I've bought a wonderful business. There's a huge market for people who just need love and care in their own homes. I've only been in the business two months and I can already see how rewarding it is to be able to offer that."
Home Instead Senior Care franchisees all recognised the fact that investing in a franchise in the senior care market represented a wise investment. The combination of an ageing population plus growing recognition that home based care is often the best and most cost-effective way to look after our seniors, means the demand for homecare services for older people is growing at an unprecedented rate.
Find out more about Home Instead resales
Last Updated: 09-March-2018
Buy into an established business - ready to go from Day One!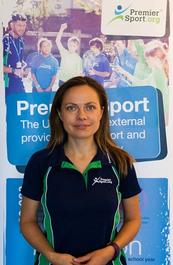 Name: Alla Bennett
Location: Guildford
Franchise: Premier Sport
Date launched the franchise: January 2015
Tell us a bit about yourself and what you were doing prior to buying your franchise?
I was working as a digital marketer for an agency but I was always very entrepreneurial and interested in sport.
Why did you go down the franchise route initially? And why did you choose your franchise?
I knew I wanted to set up my own business but it seemed daunting at first.
I decided that could I fast track the business by going with a franchise. In addition it provided me extra motivation and opportunity to work alongside like-minded professionals.
Why have you decided to sell your business?
As the business grew I felt it needed fresh blood and at the same time I got some interesting opportunities back in marketing so it felt the right time to move on.
What's the key selling points of your business?
It has a great team in place who are highly qualified with excellent work ethics and very motivated to grow. The industry is growing and children's inactivity is always on the government agenda. So there is a lot of support for physical activity form the government which provides funding to school specifically for PE and sports. The geographical area is also growing with more people moving outside of London to Surrey. We have great relationships with the school in the area and have been growing in double digits year on year.
What support should the new franchisee expect to receive?
There is a lot of support and expertise available from the Head Office. Marketing, Finance, Recruitment, IT…This is all available for a franchisee. There is also a massive internal expertise in the network in sales, training and staff retention. The important thing you are not alone and there is always someone who can help you with guidance and advice.
What are the other benefits of buying a resale?
You are buying an established business with contracts, staff, processes, best practices. It takes a lot of initial effort to build all this so you are in a perfect position to hit the ground running and take the business to the new heights.
What is a typical day for you as a franchisee?
It depends on the time of year. I dedicate at least 2 hours daily on strategic planning and sales or maintaining the relationships with the schools. Recruitment, staff retention programmes, assessment and staff support is another key area. As a marketer I enjoy working on marketing initiatives, new ideas and implementing new projects. Right now we are working on a Sports Relief relay.
Has becoming a franchisee changed your life, if so how?
It definitely has. I now know I can get into a new industry and get the business going. I also had a chance to work with people from completely different backgrounds and it also changed me as a person. I think you confidence grows as you grow your business but at the same time you realize how much you still have to learn.
What is the most invaluable piece of advice you could give someone looking to buy their first franchise?
Do you research, do your maths and do not be afraid to start your business.
In your opinion, what makes a successful franchisee?
People who are relentless, who see opportunities where others may feel out of luck. Very hard working and ready to learn from every person or situation.