Take control of your future with an award-winning business opportunity
If you are tired of working for someone else, why not use your drive, ambition and skill set to run your own accountancy practice.
This combined with our brand name, training and support will allow you to build a profitable business and saleable asset for your future.
Whilst you are running your business and taking an income, you are also building a valuable asset for when you decide to exit the franchise.
Want to know more? Request our FREE franchise prospectus here.

Is TaxAssist right for you?
All franchisees will be based in welcoming, conveniently located offices or shops specifically designed to appeal to the buoyant small business target market.
TaxAssist is looking for franchisees who are technically proficient, with a personable manner as the ability to network, meet and sign up clients, as well as manage a team of staff will be key. Full training & support will of course be provided.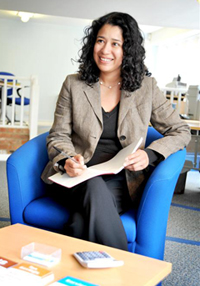 "Owning a franchise in a successful network with a good franchisor gives you great support. If I had decided to just be my own boss I would have needed to buy things like technical support, systems, training as well as marketing support – so why not have them all under one roof as part of a franchise. The key thing is that being part of a successful franchise has meant that my business has grown much, much quicker than it would have done otherwise. If you ask me if I'd do it again, I'd say in a heartbeat! I wish I could have done it sooner!".
Richard Brookes – Cambridge TaxAssist Accountants Franchisee
TaxAssist Accountants: An established and respected brand
With a network of over 200 franchises, servicing over 65,000 clients, with a fee bank of over £43 million, TaxAssist Accountants is 21st in the Accountancy Age top 50 UK firms, the only accountancy franchise to be recognised in the league table.
TaxAssist Accountants is a full member of the British Franchise Association and fully abides by their code of ethics.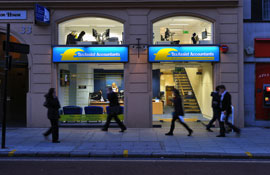 With the benefit of our highly professional and dedicated Support Centre team in Norwich and by following our thoroughly tried and tested business model, our franchisees are able to grow their business far quicker and more substantially than without us. We have continued to see double digit growth in and out of recession where the accountancy industry has often stagnated or declined.
What do I get for my investment?
We work closely with each individual throughout the business planning stage to establish the level of investment required for you in your area.
Remember, this investment will cover your working capital requirements, in addition to your own personal requirements, and whilst you are building your fee bank, you are also building a valuable asset for when you decide to exit the franchise.
As part of your franchise package, you also receive:
Award winning initial and ongoing training & CPD
Business development & marketing support
Technical Helpline
Exclusive territory
Lead generation service
Blueprint for effectively running your business
IT and software package
And much more!
Earning Potential
Business development will depend on your own ambition, but franchisees should aim to build up turnover and profits consistently, aiming after 5 years, for a turnover of £300,000 plus.
After 5 years some franchisees are happy to maintain this level, comfortable with the income generated from the business, whilst other franchisees continue to drive their business forward, by continuing to be proactive with networking and marketing strategies, pushing past the £500,000 turnover level. This level of success can be achieved and in some cases is exceeded.
Looking to find out more?
Our Discovery Day allows you to learn more about our business model and the support that we provide to our network.
The Discovery Day runs from 10am finishing at approximately 3pm. You will meet the key staff at the Support Centre including our Executive Directors.
On the day we cover:
Our market
Network performance
Our training and support package
Business development and marketing support
Bank funding
Technical support & software
Business Planning
Finishing with a 1-2-1 meeting to discuss the franchise personally with you
The discovery day is not a sales day. They are free to attend and by attending you are under no obligation. You are welcome to, and we would encourage you, to bring along a partner or colleague to accompany you on the discovery day.
Next steps...