Share in their success with their new offering for 2016
OSCAR is celebrating their overwhelming success in 2015 with a fantastic offer for start-up businesses in 2016.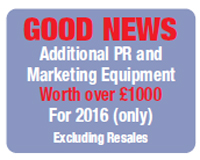 OSCAR recognise that gaining new customers can be a very anxious time for any business, and have put together an exciting, carefully designed package of additional marketing support worth over £1,000 to help build local awareness in the early months of business development.
Everything on offer will be instrumental in raising the OSCAR profile throughout the area and at local shows and events; ensuring that those delivering the personal service and extremely high quality range of products have more confidence whilst embarking on their new career path.
We are searching for enthusiastic individuals who share our love of animals and our thirst for success. If this is you, read on to see if OSCAR could be a good fit for you!

About OSCAR
OSCAR is one of the UK's leading suppliers of pet food and accessories direct to the door. OSCAR has built up a highly reputed brand due to their top notch nutritional and behavioural advice complete with veterinary support from their dedicated experts.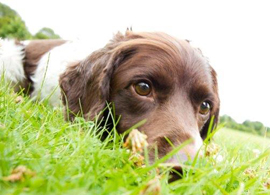 OSCAR never compromises on quality and with clear and concise honest labels, customers instantly see that their ingredients are the best! Their range of quality pet food combines all the nutritional benefits for pet's good health and wellbeing.
Franchise owners also offer clients a selection of treats, toys, accessories and healthcare products - providing an additional revenue stream!
With around 70 million pets in the UK, according to the Pet Food Manufacturers' Association, OSCAR continues to thrive in this lucrative market thanks to their leading products, top quality service, and happy clients.
Our Franchise Opportunity
As experts in the industry OSCAR understands that customers should be at the heart of the business; their regular, loyal customer base proves that this philosophy has helped establish a successful business.
OSCAR provides franchise owners with a thoroughly tried-and-tested business model and over two decades of experience in the franchise industry - resulting in a network of nearly 100 franchises. Franchisees benefit from a unique brand, exclusive territory and the success of a personal service for clients seeing the majority of their clients stay loyal to their products and services
Jill & Steve Tubbs – Franchisee in Gloucestershire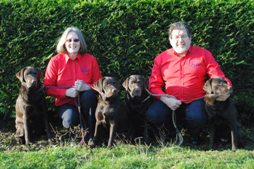 "With a belief in our product and passion for what we can offer our customers, our success comes from making sure that every customer is special. It is important for us to listen and respond to their needs at any time. Giving a little extra ensures that our customers stay loyal, which is extremely valuable to us and our business."
How much is an OSCAR franchise?
The franchise fee is £14,995 plus VAT
*Banks can lend 50-70% of the cost depending upon your financial history.

What do you get for your investment
OSCAR franchisees are never alone in their franchise journey as they are given in-depth training, as well as ongoing training and support for all areas of business. Starting a new business comes with an element of apprehension and it's important to OSCAR to instil the confidence that you need to give you the best possible start.
The OSCAR launch package has been carefully designed to tick all the boxes that are required in your first year of trading, putting your business on the right track from the outset:
Comprehensive in-house and field training
PR and marketing workshop
Customer acquisition
Ongoing support
Exclusive territory
Marketing material and equipment
Micro-chipping course
A formal nutrition qualification that is recognised by the Office of Qualifications and Examinations Regulation Ofqual.
Initial starter stock
Bespoke customer management system

Additional for start up businesses in 2016:
During the first year, start-up/greenfield businesses will not only be given quarterly, seasonal themed promotional materials consisting of posters, leaflets and point of sale, but also show equipment ranging from banners, tiered tables and product baskets to leaflet dispensers.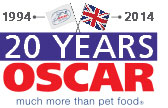 And, as per the OSCAR motto, much, much more: the inclusion of an integral van racking system to display products professionally rounds off a financially rewarding opportunity.
Training and Support:
With customer care first and foremost, the OSCAR comprehensive training package takes you through every aspect of running your business. Backup and support from head office is readily available but for the customer the products speak for themselves.
Chris McGee - North Nottinghamshire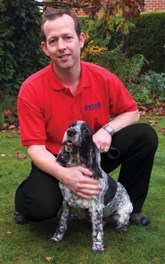 "My first telephone contact with the team at OSCAR was totally supportive. To have someone readily on the phone providing me with advice at each stage of my business development has been extremely reassuring. The franchise system provides me with a working structure but it also allows me the flexibility to plan my workload to suit my own personal needs.
"Joining OSCAR is varied and rewarding and being able to show my customers that I care about their pets - alongside the benefits of my product, its value for money and very personal service provides me and my customers with total satisfaction."

For OSCAR's free and non-obligatory prospectus, please complete the short form below: