Last Updated: 15-May-2017
Exclusive Interview: "Reaping the rewards of being your own boss with Oscar Pet Foods"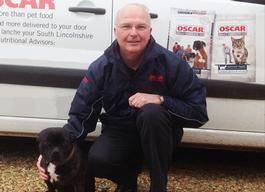 Name: Blanche & Colin Robinson
Location: South Lincolnshire
Franchise: Oscar Pet Foods
Date launched the franchise: 01/02/16
Tell us a bit about yourself and what you were doing prior to buying a franchise business?
We were both in horticulture; myself in wholesale and production and Colin was in Sales with production experience
Why did you go down the franchise route? What made you choose your industry? And why your franchise with Oscar?
We chose to go down the franchise route because there would be help and support. We had looked for a long time for dog food tthat would suit our dogs needs and we found Oscars and were very impressed with them. At the time we were looking for a new challenge so thought they would be ideal because of our love of animals.
How did you raise the finance?
We were able to invest in an Oscar's franchise thanks to savings
What training and support did you receive initially and ongoing?
We received two weeks training in Preston, but we also have good telephone back up as well as one to one support when needed.
We also receive lots of practical advice from other franchisees which we meet regional meetings. We are currently doing a COAPE course in pet nutrition which is part of our on- going support.
What is a typical day for you as an Oscar Pet Foods franchisee?
"There isn't a typical day, which is one of the things we like, as you could be delivering, doing taste trials or just being out and about meeting potential customers. It is wonderfully varied so it is entirely up to yourself how you structure your working week."
What challenges have you faced?
We haven't faced many challenges due to the help and support we have received. At a push, it would probably be the computer system but even that is very user friendly.
Has becoming a franchisee changed your life, if so how?
Yes, our lives have changed but for the better. We always loved animals but now we get to meet some lovely pets and their owners on a daily basis. Knowing you are providing a good quality food is rewarding and being able to plan your own time is a bonus.
What is the most invaluable piece of advice you could give someone looking to buy their first franchise?
"Make sure it is something that you are interested in as that makes all the difference. Also, look at the franchises that are on offer, in whatever it is, and do your homework to get the right franchise for you getting a good support network is vital."
In your opinion, what makes a successful franchisee?
Believing in your product and lots of determination.
What are your plans for the future?
To expand the business and enjoy doing it.
Would you do it again?
Yes, absolutely!
To find out more about Oscar Pet Foods, why not immediately download their FREE & non-obligatory franchise prospectus here.
Visit Oscar Pet Foods Franchise page