Take control over your work/life balance with a Pitman resale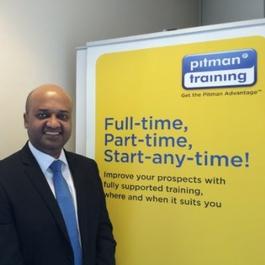 Name: Hassan Shami
Location: Cambridge
Franchise: Pitman Training
Date launched the franchise: 2014
Tell us a bit about yourself and what you were doing prior to buying your Pitman franchise?
I have worked in the Learning and Skills sector for all of my career, with my most recent position prior to the Pitman franchise being a Skills Policy Adviser in the London Borough of Newham. Prior to that, I worked for the Learning and Skills Council as a Partnership Director.
Why did you decide to go down the franchise route?
I wanted to own a business I'd be passionate about and have some control over my work/life balance.
Why did you choose the training industry you are in? And ultimately a Pitman franchise?
I am passionate about the sector and the role that education and training plays in empowering people. Pitman Cambridge was available at the right time and the right location for me at that time.
Why have you decided to sell your business?
I am relocating with my partner.
What's the key selling points of your business?
You really do make a difference in people's lives
The central Cambridge location is excellent, and the centre itself is spacious and very welcoming
Cambridgeshire has an ever-growing population with education and training as a key feature
You have complete independence within the franchisor's parameters and you can deploy your resources and innovate as you wish
It is an exciting business where you are dealing face-2-face with people and having a direct impact in their employment and lives
What support should the new franchisee expect to receive?
There will be a 5 day handover period
Induction and training from the franchisor (Pitman Training Group)
Induction (first weeks of operation) from the area Franchise Development Manager
Ongoing support and regular visits from the area Franchise Development Manager
Marketing and CRM systems and support
Website
Support from dedicated Customer Support and Marketing teams at Pitman Training Head Quarters
What are the other benefits of buying a resale?
Established client base, with repeat business
A database of private and corporate prospects (over 2k)
Established location
Established systems and processes
Excellent staff establishment
What is a typical day for you as a Pitman franchisee?
Brief early morning meeting with centre Administrator and Course Adviser to establish priorities for the day.
Catch up with emails and any over-night enquiries
Morning Sales appointments
Social Media actions
Lunch / Centre Walkabout / catch-up with students
Afternoon Sales appointments
Finance / Procurement catch-up
Catch-up with emails and admin
Early evening appointments (if any) or sales calls (as required)
Has becoming a franchisee changed your life, if so how?
Yes. Better work/life balance!
What is the most invaluable piece of advice you could give someone looking to buy their first franchise?
Focus on what your customers' need – ask them!
Talk to existing franchisees in whatever sector. The issues we (SMEs) face are the same, but go with a sector you know you'll enjoy!
In your opinion, what makes a successful franchisee?
Focus on what your customers' need
The small things matter
Count every penny
Always be one step ahead
Don't be afraid to ask
For more information on this resale opportunity click here
Read more on a Pitman Training Franchise