Papa John's Plymouth Store Enjoys Record Sales
Leading pizza franchise, Papa John's has named its Plymouth store as the record holder, for the highest 'pizza sales during one week' in 2017. The Mutley Plain outlet is run by franchisees Jo and Austin Boland, who joined Papa John's in 2013. The husband and wife team employ around 60 local staff in Mutley Plain plus their new Papa John's in St Budeaux, also located in Plymouth.

Jo Boland explains: "We had been building up to a record week and the return of students to the region late last Spring pushed our pizza sales to the highest level ever! One challenge we faced is that our Mutley Plain store is one of the smallest Papa John's in the UK. Our staff were pretty cosy serving up all the pizzas and so the lack of space was a big driver in opening our second outlet in St Budeaux, at the end of last year.

"We have been busy with promotional activity including digital brand awareness, traditional leafleting and we even support a local football team!" confirms Jo. "We are now pleased to report both outlets are doing brilliantly and we look forward to growing sales further in the future."

Jo and Austin Boland's achievement was recognised with a special award at Papa John's recent Company franchise conference, held in Milton Keynes. For the first time, Papa John's entire UK network; including store managers, key staff as well as franchise owners and suppliers, came together to celebrate successes and highlight outstanding team and individual achievements throughout the year at the 'Champions of Better' themed event.
Papa John's is actively recruiting for more enthusiastic franchisees hungry to join the team.
As one of the largest pizza companies in the world, Papa John's has opportunities for franchisees throughout the UK. Help is provided with location selection and full turn-key opening of stores. As a franchise, the Company supplies all the assistance needed to get your successful Papa John's up and running.
Successful changeover for TaxAssist Accountants Cheltenham and Gloucester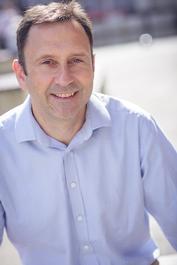 Having successfully established TaxAssist Accountants in Gloucester 11 years ago and expanding into Cheltenham last year, Chris Hutchings has sold his business to Rob Little.

Rob has taken over the shops on Bristol Road in Gloucester, and Hewlett Road in Cheltenham, and will continue to look after the specialist needs of small businesses in the local community.

Rob completed his accountancy training with a four-partner firm near Bristol in the early 1990s, before spending two years auditing with Coopers and Lybrand in New Zealand. Rob then moved into industry and has spent most of the past 20 years working in financial roles in the hospitality industry.

Rob commented: "Building my own business and working in the small business community has always been my plan and now just felt like the right time to work closely with this thriving sector. Not only was I born in Gloucester and grew up just down the road, my early professional career was very much focussed on small owner-managed businesses."

"Having visited the TaxAssist Accountants Support Centre, Chris in his two shops and speaking to his staff, I quickly realised this was an opportunity I couldn't miss. I'm really enjoying meeting the clients, working with the existing team and I'm looking forward to growing the practice further."

Chris said: "I've really enjoyed my time with TaxAssist and the additional technical and business development training and support have helped me to grow a substantial practice which I'm proud to have built up.

"TaxAssist has expertly guided me through every step of the resale process from providing an initial course on exit planning to assistance in finding a buyer. I could not be happier with the end result".

Sarah Robertson, Group Business Development Director at TaxAssist Accountants, said: "It has been a pleasure to work with Chris and his wife Jill over the years and I'm pleased we were able to assist in finding someone of Rob's calibre to purchase his practice. We are all looking forward to working with Rob to keep building upon the success of the practice.

"Resale opportunities continue to be a popular avenue for potential franchisees wanting to join TaxAssist, as they are keen to buy into an established business with an income stream, experienced staff, as well as the additional support offered by being a part of a successful franchise network."

This franchise resale is TaxAssist Accountants' fourth in the last 12 months, highlighting that after more than 20 years of continuous growth, franchisees are starting to retire, or realise the asset they have grown.
Signs Express Snaps Up New Franchisee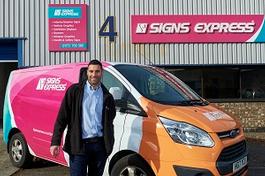 Signs Express, the UK's leading signs and graphics franchise, is celebrating 25 years of franchising this year and has just welcomed their newest franchisee, Ben Walker on board.

The brand-new Bristol centre opened in October and is already off to a flying start.

"It's been a busy month, getting my premises perfect for the launch of the business and I am so excited to get out in the community I love and start making connections."

Ben has a wealth of experience across many industries from diagnostic sales to most recently running his own Snap-On-Tools franchise, which is already serving him well as the 66th centre within the nationwide Signs Express network.

Managing Director of the Signs Express group, Craig Brown, stated, "Ben is a very hands-on franchisee and is so enthusiastic that we have the utmost confidence in him. His unit looks fabulous and with his background as a previous franchisee at another company makes him the perfect leader for our new branch in Bristol."

Ben moved to Bristol ten years ago and has a strong affinity to the county, which he is excited to begin operating in. Based on Avonbank Industrial Estate, Signs Express (Bristol) is a newly furbished unit with industry-leading technology, such as the HP Latex 365 wide-format printer that offers faultless print results and the versatility to print on more substrates than ever before.

Ben Walker has also benefitted from the unique offering Signs Express have for all brand-new centres by investing £30k into the business. But reinvesting their entire franchise fee and adding further investment, Signs Express help new franchisees hit the ground running from day one!

If you are looking to be a part of a diverse and profitable industry, be sure to make an enquiry to find out more.
After starting a family and not wanting to travel for work, a Barrett & Coe franchise was perfect!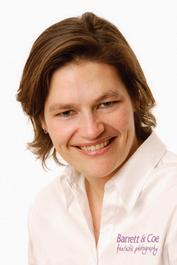 Franchisee: Marisa Taylor
Location: Bath, Somerset
Company: Barrett & Coe
Franchise started: 2008
Number of staff: 2
Previous career: IT/Engineering
After completing both the Wedding course and Portrait course, Marisa initially worked from home doing mostly baby photography using the leads from Emma's Diary. She then opened a small studio in 2009 and now works part-time while being a mum to three children.
"I realised after my first son was born that I didn't want to travel for my work and that going part-time meant a step down on the corporate career ladder. I had previously had a career in manufacturing and engineering, IT in the banking industry and consultancy in support services.
I wanted to find something that would fit in with family life. I had always enjoyed taking photographs and interacting with people so started to investigate photography courses and everything seemed
to fall into place!
Following both the Portrait and the Wedding course I took up the franchise for Bath & Somerset area in August 2007 knowing that I wanted to "get going" straight away. My intention has always been to run a photography business part-time (three days a week) so that I can spend the rest of my time with my family. This meant that from the start I have spent the majority of my time taking photos of babies (nine days old upwards!) and meeting new mothers… having small children myself immediately shows them that I understand what having a baby is like, and they do appreciate that.
During late 2007 and 2008 I worked predominantly from home and took photographs on location or at the customer's house – you certainly get an insight into people's lives by visiting them at home! In July 2009, I opened a small studio in Midsomer Norton, near Bath.
I can honestly say I don't have a bad day as each one is different and there are so many fantastic people (adults and children!) out there to meet. I love the balance of running my own business, and being part of Barrett & Coe and being able to learn from the best.
I love the reactions of my customers and being able to give them lovely photographs of their family."
"I wanted a simple to operate, task orientated franchise and the Agency Express model provided that"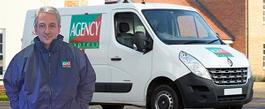 Steve Macqueen became an Agency Express franchisee in January 2017. After spending a number of years in sales for the food and catering industry, Steve was ready for a change of direction and set his sights on owning a business.

Steve began his journey at the 2016 National Franchise Exhibition in Birmingham, where he approached Agency Express looking for his ideal business. After spending time researching the industry and carefully considering his option's, Steve decided that the Agency Express franchise opportunity met all his requirements.

I wanted a simple to operate, task orientated franchise and the Agency Express model provided that. However, it was the ongoing back up from head office that really appealed to me, specifically the ongoing support with accounts and credit control.

After successfully completing a comprehensive five day training course at head office, Steve he was assisted in the launch of his new business. This included a three day programme of visits to estate agencies in his local area enabling him to make first contact with potential customers. Steve excelled in this area and thrived on meeting people and forging new relationships.

The Agency Express training process is very good. All aspects are covered thoroughly. There was a lot take in but the backup from head office and other franchisees is fantastic, so I felt supported every step of the way.

Less than a year from inception Steve has established a solid base of customers and continues to grow his business. His patient approach in acquiring new business and high standards of service have played fundamental part in his success.

Building my business was slow to begin with but that has now started to come in nicely. The upside of gradually building the business is that I've had the chance to adapt the way I work whilst getting progressively busier. Now I really get a buzz when I sign a new customer.
I'm now achieving the lifestyle I've always dreamt of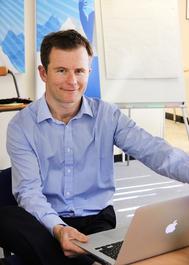 I spent 10 years in the corporate world before a lucky break took my career to Australia where I discovered my greatest passion to date – surfing. Intertwined with my job as a sales and marketing director, I spent two years travelling the east and south coasts surfing. I felt like I was 15 years old again, waking before dawn to surf before work!
On returning to the UK, I set up Sandler Training South West. I threw myself head-first into the business, working a 15-hour day trying to get off to a fast start – before I realised I had lost my work/life balance and it was affecting my performance.
The tipping point for me came when I visited the US to meet a couple of highly successful Sandler franchisees. I saw how a really efficient business consultancy operates and the infrastructure needed to make it work. I was able to take a lot of that back to my own business and as a result my revenue took off from £65k in year two, to £150k in year three, and has kept growing ever since.
I have spent the last five years trying to get the work/life balance right, while successfully growing my business. Richard Branson once said "Enjoyment at works starts and ends in the same place as everything else; in good health." Be clear on your business goals but also on your health and family goals…then develop the personal effectiveness to achieve them all.
Franchising has changed my life. Not only do I run a solid, profitable business, I love what I do and it facilitates a lifestyle that most can only dream about – living in a stunning location down in Cornwall, waking up to views of the ocean every day and indulging my passion for surfing.
And that is why I chose to take on a Sandler Training franchise, because I knew it could provide me with all of the above – and it has. It's hard to believe that only 6 years ago, I packed up my car in Clapham, London and drove to Cornwall with only enough money for a few nights in a surf lodge!
The support from the UK and globally is fantastic, and is instilled throughout Sandler Training. Everyone's willing to work for each other. Sandler provides you with the freedom, tools and support to run your own successful business. You can run the franchise how you want it to be run. You can work as much as you want, or as little, so the rewards are what you want them to be.
For me, I like to go that extra mile. I position myself as a coach, friend and a trusted advisor. I provide clients with unlimited one-to-one coaching and help them with family life, fitness and personal confidence. I even take my clients and their children out for surf lessons!
Support is key to a successful franchise business, and Sandler has it in abundance.
When it comes to the best aspects of being a Sandler franchisee, of course achieving a strong revenue stream is a fantastic reward, and improving my revenue is vital, but for me it's about more than financial success; growing my business means that I'm now helping more local businesses which in turn is increasing our contribution to the local economy.
Small business drives the Cornwall and Devon economy and these business owners are the people that I help and whose businesses are thriving. I am also a volunteer on the Young Enterprise scheme with a local school. It's great to be able to give something back into the community.
I enjoy my work but I also enjoy the outdoor life and pursuits that living in the south-west offers me, so I don't want to be working all hours and weekends. It's within my control to maintain a work/life balance that suits me.
Sandler has been the most rewarding thing I have ever done, both financially and personally.
Last year was an amazing year for me which resulted in a global award thanks to the performance of my business. In March 2016 I was presented with the Pinnacle Award at Sandler's international Client Summit in Orlando, the first UK franchisee to receive the coveted accolade.
It was thanks to some outstanding results at the end of 2015; I billed in excess of £270K, which annualises to over £800K, in a quarter that included the festive season and taking my family on a two-week Christmas holiday! I was so chuffed to have reached this level within my first 10 years.
My success has been built through a mix of local and global contracts, a number of which involved collaborations with other Sandler partners to implement the contracts I secured. One contract with a large multinational organisation involves many other UK franchisees delivering training in their areas, all to the same high standards that I deliver locally.
It's amazing what's possible in this business thanks to the incredible material we have at Sandler and the constant support from the network. I could never have imagined this level of business would be possible – and all from my rural base down in Devon.
The best part is that I pick up my toddler from nursery in the afternoon and we go and play in the park! I feel very lucky to have both the money and the lifestyle.
Find out more about a Sandler Training franchise
Exclusive Interview: "I built a business which I still love working in"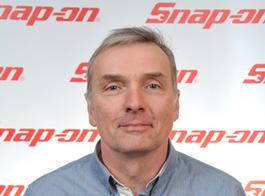 Name: Peter Eccles
Location: Somerset and Bridgewater
Franchise: Snap-on Tools

Tell us a bit about yourself and what you were doing prior to buying a franchise business?

I'm 57 years old, married with four children and even a couple of grandchildren! I'm a property investor, enjoy surfing every now and then and spending quality time with my family.

I started my franchise in 1998 after a 12 year career as area manager with Kwik Fit. In the back of my head, I always knew I wanted to be my own boss but wasn't sure how to achieve it! Snap-on approached me in September '97 and by January '98 I was on the road.

Why did you go down the franchise route? And why did you choose the Snap-on franchise?

The Area Manager's job at Kwik Fit entailed a 7-day week, working something in the region of with 12-14 hour days, which was the main reason for stepping away as wanted to be home more for my wife and children. I'd seen the Snap-on vans around and a Snap-on Area Manager came into Kwik Fit one day. We had a chat about the brand, about working for yourself, the perks of it.

"At the time the idea of having a franchise like Snap-on fitted into what I wanted and would have a great outcome for family life. It offered a greater return on the effort you put into the job and I could spend more time at home with my family."

I had an initial talk with Snap-on head office and went on several van rides with various franchisees. I just liked the brand, the brand made sense as did their working style so I went for it.

How did you raise the finance?

(Bearing in mind this was almost 20 years ago) I took out a personal loan repayable over 10 years which I paid back in less than 3.

What training and support did you receive initially and ongoing?

When I joined in 1997, I spent a week on the Snap-on training course at head office. These days new franchisees go to Dallas for a week! That was followed by 15 days with a field manager who came out with me on my van to all of my first visits in my territory. After that I had the confidence to get out there and do it myself which was obviously the plan but there was and still is always someone at the end of the phone to help you.

In terms of ongoing support these days we have regular regional meetings, a great support team at head office who are always on the phones if you need anything from IT support to finance to product queries. Then there's the annual national conference and tool fair and the franchisee advisory council so there's lots going on from a network perspective.

What is a typical day for you as a Snap-on franchisee?

My days are split between actually working in my own territory, on my own business and working with my current active 'second franchisee'. We meet every morning and at the end of every day to plan and review and basically make sure things are running smoothly. In terms of my business, there are some run-of-the-mill tasks that you have to do every day; things like stock control, invoicing, cleaning the van. But other than that, every day brings something new which is one of the things I love most about my business.

"I see different people every day and they all have their own requirements: that special product they just have to have, little problems that need help solving and advice that they look to me for – it's just really satisfying."

What challenges have you faced?

I don't know that I have had any really. Not anything that I would consider to be out of the ordinary anyway. Things aren't just handed to you whether you're a franchisee or not. Running your own business is hard work and requires an awful lot of determination, dedication and drive to succeed. Of course you have those days where you'd rather stay in bed, everyone does.

Remembering why you're doing it and all of the amazing things that your business can bring for you, that's what motivates you and gets you going when most people would pull the duvet back up over their heads! That's what makes being a franchise business owner special and essentially leads to success.

Has becoming a Snap-on franchisee changed your life, if so how?

I'd be lying if I said I wasn't motivated to make money… Course I am! My hard work has given me a better way of life. I've been able to invest in a property portfolio, enjoy great holidays and build a financially secure future for my family. How many people can say that these days?

What is the most invaluable piece of advice you could give someone looking to buy their first franchise?

"I would say the best advice would be to make sure you're prepared to give it all that you've got. You can't approach being a franchisee half-heartedly. You're responsible for your own success."

Yes the support, the guidance the systems and back-up is there but if you're not motivated to get out of bed in the morning your business isn't going to run itself.

The beauty of the second franchisee programme with Snap-on is that it kind of allows you to try it all out before completely going it alone. Work for a franchisee with promise to buy that area from them once the area is successful and you have the funds to do so.

What are your plans for the future?

My plans for the future are to keep doing this for as long as I can… because I love it! I love my business, my industry, the brand and my Snap-on family, customers included! I love the banter in the garages and really enjoy helping people out – it's very satisfying to solve people's problems and supply quality products.

I'm 57 now and want to go on for at least another ten years. I'm so passionate about the second franchisee programme and really want to focus on that. I've got two more candidates lined up and of course my sons are dying to get into the business too but they have to earn it just like everyone else!

Would you do it again?

Without a doubt – in fact I already have: five times over! So far I've bought five 'second' vans and had them running all over the South West areas. Each time my employed 'second franchisee' has been in a position to do so they've taken on the franchise themselves and become a franchisee in their own right. I love helping people into business ownership this way and plan to continue to do so for years to come!

To receive Snap-on's FREE franchise prospectus click here.
A fresh challenge in North Devon with Riverford Organic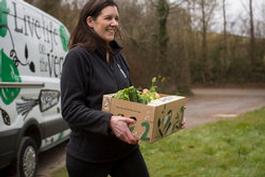 Name: Joanna Limb
Location: Devon
Franchise: Riverford North & West Devon
Tell us a bit about yourself and what you were doing prior to buying a Riverford Organic farmers franchise business?
I had been working as a legal marketing executive at a large law firm in London and lived in Brixton, South London with my husband Phil and two small girls, Hermione (5) and Darcy (2). I had come back to work after my maternity leave and was working on a part-time basis so I could spend more time with the girls.
Originally from Devon, I'd lived in London for the past 15 years and whilst I loved my time there, the children's arrival had changed our priorities.
We were looking for a fresh challenge in the South West, closer to my family and allowing us to live a more rural, outdoor, community focussed life.
What attracted you to franchising versus started starting up on your own or finding employment?
Phil's brother and his partner both run their own businesses and whilst they work incredibly hard, the job satisfaction they have, inspired us to look for a business opportunity of our own. We knew we didn't have the ideas, time or expertise to build a business from scratch and needed an income from the start so a franchise was the most viable option.
Why did you choose a Riverford franchise business? What research did you undertake?
We were customers of Riverford in London and have always loved the quality and flavour of the veg and the strong values the company stands for. As parents we are keenly aware of the influence our eating and buying habits have on our children and we want to teach them that what they eat and where it comes from matters. When we spotted that the North Devon territory was up for sale it felt like fate was stepping in.
Before sending off for the the application form we read everything we could find on franchising, and of course Riverford itself. The application and approval process took about 8 months from our initial enquiry to delivering our first veg box.
"Riverford provided a lot of support from the start and gave us a huge amount of information so we knew we were going in with our eyes open. Throughout the process there were opportunities for both sides to ask questions and check it was the right fit for both. We were also able to contact a number of the existing franchisees and ask plenty of questions."
We put together a very comprehensive 5 year business plan which meant we had a clear idea of where our customers were going to come from and what our profit potential was. This was then presented to the senior management team at the farm for their feedback and discussion before we presented to Riverford's board of directors for final approval.
It felt good investing in a company that has such a strong code of ethics and isn't all about making more money. It genuinely cares about its customers, suppliers, employees, franchisees and stands by its motto of Good Food, Good Farming and Good Business.
How did you raise the finance for funding your franchise? Did you use any financial support (grants etc) specific to business startup?
We had been saving hard in our previous careers so used that money, plus a little extra borrowed from family members. We were lucky enough to not need any additional support initially, although we have since been looking in to grants available to help grow the business and employ more staff.
What training and support did you receive initially from Riverford?
After approval from the board we spent a week at Riverford's head office farm in South Devon learning the systems we would use on a day-to-day basis and getting a much better understanding of every aspect of the business we would be representing – from how and where Riverford food is grown, to recycling policies, quality control, employment issues, new products etc etc. Every staff member we met had a real passion for Riverford and what it stood for – it was very inspiring.
We also spent a bit of time with the outgoing North Devon franchisees and of course the drivers, learning the ins and outs of delivering across our vast territory.
What is a typical day for you as a franchisee?
To be honest there is no typical day!
If Phil is driving, I will get up before the girls and try to do an hours work getting the rounds ready for the next day before the school run starts, and then it's a juggle between spending enough time on the children and the business. Each day there are particular tasks to action as well as dealing with any customer queries, orders and occasional complaints that come in. We need to make customer calls, plan marketing activity, attend to social media, update the accounts, pay the drivers… there always seems to be more tasks than time!
Balancing work and family life is important for all franchisees but more so for working parents, do you think a Riverford franchise gives a good work and family life balance? Has becoming a franchisee changed you and your family's life?
As long as you don't expect a 9-5 job then this is a great option. We're able to spend time with the girls during the day and be there for school pick-up and drop off. The compromise is working early mornings, evenings and weekends but running your own business definitely gives you the flexibility to do this.
Not commuting every day has saved us about 3 hours a day – time we can now spend with the children, or just being out and about enjoying life in Devon. The girls get to see us both working and we think it helps put them more in touch with the real world.
"Although still a challenging full time job, running a Riverford franchise allows us flexibility with the girls in a location we love and is something that we are passionate about. It fits our philosophy for food, farming and a more sustainable life. It has changed our lives for the better. Working in such beautiful surroundings, whether it's in the office at home looking down to the sea at Teignmouth, or out delivering across Devon, is a great pleasure."
We get to eat as a family every evening – something that was reserved for the weekend in London which has been great and slightly expanded the girls culinary horizons as they now eat what we eat – although we still get plenty of "yucks!" – toddlers are not the easiest to cook for.
What is the most invaluable piece of advice you could give other mums looking to get back into work and considering starting their own business through franchising?
Just go for it and make sure you have plenty of support in place! It's pretty scary starting out on your own, but what have you got to lose other than regrets for not trying something. Franchising is a great introduction to running your own business as the risks are less, a lot of the hard work setting up has been done for you and the brand has already been built and established. Just pick something you really feel passionate about and believe in because the hours are long but it's definitely worth it.
What are your plans for the future?
The priorities now are to continue to grow our sales, streamline the delivery pattern and its associated costs and really get to know our beautiful, but huge, patch of Devon. Changing our lives so drastically last year has made me realise that it's not as scary as we initially thought and the rewards have been worth the risks. I'm definitely more open to any other opportunities that may present themselves in the future.
Would you do it again?
Absolutely!
To request Riverford's FREE prospectus, click here and fill out the short form.
Interview with Pippa Crow, Monkleigh, Oscar Pet Foods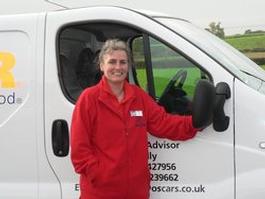 Name: Pippa Crow
Location: Monkleigh, North Devon
Franchise: Oscar Pet Foods
Tell us a bit about yourself and what you were doing prior to buying a franchise business?
I worked in the RHS Rosemoor for years, prior to that I worked in a solicitors' office.
What attracted you to franchising versus started starting up on your own or finding employment?
In one word, security. Knowing that you would have necessary support, back up and knowledge when needed.
Why did you choose Oscars? What research did you undertake?
I had been purchasing the food for 3 years then franchisee who delivered to me said he was moving back up to London so the franchise would be up for sale. I
How did you raise the finance for funding your franchise? Did you use any financial support (grants etc) specific to business startup?
Redundancy package. No grants required.
What training and support did you receive initially from your Franchisor?
A week's training and the support has never gone away.
What is a typical day for you as a franchisee?
I load my van the night before and once my children have all gone off to their respective schools I go off on my deliveries. My deliveries are usually finished so that I can be back home in time for my children to be coming home from school.
Balancing work and family life is important for all franchisees but more so for working parents, do you think franchising gives a good work and family life balance? Has becoming a franchisee changed you and your family's life?
Franchising for me does work to give a good work and family life balance. I am home to see them off to school and for when they come back. I am available if they are sick and during the school holidays. They enjoy coming with me to the various shows that I do and helping setting up/clearing away.
What is the most invaluable piece of advice you could give other mums looking to get back into work and considering starting their own business through franchising?
Research and, where possible, speak to franchisees of whatever business you are thinking of entering into
What are your plans for the future?
To try and further expand my customer base.
Would you do it again?
Definitely!
Exclusive interview with Jo Boland, Papa John's, Plymouth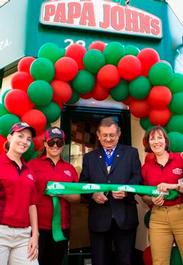 Name: Jo Boland
Location: Plymouth
Franchise: Papa John's
Tell us a bit about yourself and what you were doing prior to buying your Papa John's franchise?
Before joining Papa John's as a franchisee in 2013, I previously ran the shop as a branded Perfect Pizza outlet. Myself and my husband Austin have a young family and so were looking for more financial security so thought joining forces with a well-known brand would help our long-term future.
What attracted you to franchising versus started starting up on your own or finding employment?
As franchisees previously, we recognised the support being part of a franchise can offer. Papa John's is one of the largest pizza companies in the world and we were keen to become part of that success. The decision was a good one as following the store re-fit and launch, it was so busy people were queuing to the corner of the street to try out the pizzas! Because the Papa John's pizzas taste so great people were quickly coming back for more. The store was twice as busy as expected.
Why did you choose Papa John's? What research did you undertake?
We were already aware of Papa John's as a company. We also knew Gareth Davies who is now regional vice president for Western Europe for Papa John's, but who previously worked for the now disbanded Perfect Pizza and we trusted his recommendation.
In addition, the Papa John's concept of 'Better Ingredients, Better Pizza' means the company only uses 100% fresh dough and fresh ingredients which give a great natural flavour. The pizzas simply taste better than the competition so the decision was straight forward!
How did you raise the finance for funding your franchise? Did you use any financial support (grants etc) specific to business startup?
Through savings and a loan arranged through Papa John's.
What training and support did you receive initially and ongoing from your franchisor?
The marketing support and training provided by Papa John's was second to none. Although I have a background in the industry, the training, including computer training covered every angle. The head office staff were also really helpful. I needed to work with the Papa John's team to completely re-fit the store and they were always there to help and would answer any questions at the drop of a hat. During the official launch I had all the support I needed and Papa John's even sent a senior staff member from head office to help on the day.
Papa John's also supported us with some of the cost of our opening offers to guarantee the new venture was off to a great start. They are genuinely invested in our success and I would certainly recommend Papa John's to other potential franchisees.
What is a typical day for you as a Papa John's franchisee?
Austin is heavily involved in the franchise on a daily basis. From my point of view because of our two young children (aged four and six years) I work in the shop when I can. I also help with the paper work and phone calls. It is a varied role, for example we are currently planning our next direct mail campaign.
We are lucky to have found a good manager who takes care of a lot of the staff management but still it's a 24/7 operation. You may get a call if someone's called in sick or even at 3am if the alarm's gone off! However, the advantage is that we run a thriving franchise business which gives us the flexibility to take time off if we need it too.
What challenges have you faced?
Being a mum, life is always a balancing act! Before the children I used to work full-time in the pizza store, however, now, I'm sure like many mums, it can be hard to find enough hours in the day! However, I like to keep in-touch with 'what's going on' so spend as much time as I can in-store. I think the staff find it motivating that the owners of the business are as hands on as they can be.
Has becoming a franchisee changed your life, if so how?
Sure it's hard work but the franchise offers us flexibility also. It has defiantly changed our lives for the better. We know if we have any issues we can call head office for help. Even though Plymouth is a long way from Papa John's HQ in Surrey, someone will always be here to help if we need it. That kind of support is invaluable.
In your opinion, what makes a successful franchisee?
In our business you need to be a people person. We have lots of staff to look after and by getting involved, being hands-on in the business shows you care.
What is the most invaluable piece of advice you could give other women looking to start their own business through franchising?
I have some friends that have recently set up their own businesses and it is very tough. Franchising offers a support network, where help is on hand whenever you need it and you will, so take advantage of this.
What are your plans for the future?
We are enjoying developing our current store and seeing how far we can grow this. Since start up in 2013 we have seen a big increase in sales. In addition, the recent Papa John's TV advertising has been a great boost and this is the kind of investment you would never get if you started up alone.
Would you do it again?
Yes, definitely!
Click here to find out more about the Papa John's franchise opportunity
Husband and wife Belvoir team find success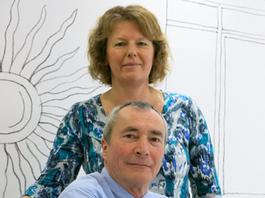 Franchisees: Bob and Annabel Leach
Territory: Falmouth
Franchise: Belvoir
Husband and wife team Bob and Annabel Leach of Belvoir Falmouth opened their new office at the end of January and they are now busy planning an official launch party.
The couple have worked together since 2001 when they took on a convenience store in North Devon. They ran this for five years before taking on the Post Office and convenience store in Helston, Cornwall, which they sold in 2011.
Prior to this Bob worked for 25 years in the transport and distribution industry. Annabel's career path includes experience in HR and account management. She has also worked for a leading building society where she dealt with mortgage management and finance.
Their decision to venture into property management was prompted by the desire for a new challenge that would utilise all their skills and experience and allow them to stay in Cornwall.
Bob and Annabel have four children aged between 21 and 9 and hope that this new venture will enable them to enjoy more family time.
Bob explains: "Our shops were open seven days a week from 7am to 10pm. We enjoy working in the service environment because of all the different people you meet and the satisfaction gained from giving good customer service. We are 100% committed to Belvoir Falmouth, but we are also looking forward to office hours giving more structure to our days and hopefully freeing up more time for us as a family.
"We are very excited about joining the Belvoir family. We know we can run an efficient business and understand the importance of great customer service. However, as newcomers it is reassuring to know that we are part of a network with a wealth of knowledge, expertise and experience at our disposal."
Commenting on the new launch, Dorian Gonsalves says: "It is not uncommon for a Belvoir office to be run by a husband and wife team, but they don't always have the benefit of Bob and Annabel's long history of working together. It is evident they have a strong working partnership, which means their attention will be fully focused on bringing their acquired skills to the new task in hand.
"I know this highly motivated couple will make a fantastic success of their business. It is a delight to welcome them to Belvoir and I look forward to them stamping their mark on the area's lettings industry post-haste!"
New Dream Doors showroom opens in Wootton Bassett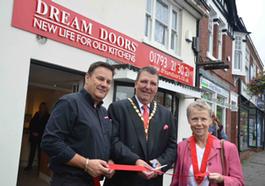 Dream Doors North Wiltshire franchisee, Ian Sturton, opened his showroom in Wootton Basset last week. The Royal town's deputy mayor, Councillor Ian Ferries, and his wife, Judy, were there to cut the ribbon, while celebrated town crier, Owen Collier, was on hand to ring in the news. Dream Doors' founder and managing director, Troy Tappenden – who formed the kitchen makeover company in Hampshire back in 1999 – was the first to congratulate Ian, handing over a bottle of champagne to celebrate his brand's latest showroom opening.

"This is another very proud moment for me," said Troy. "It's a fantastic showroom in a great location, and I know Ian will be one of our most successful franchisees. He knows what he's doing, has had a great start already and, with support from my team and his own staff, those sales will continue to flood in."

It's taken Ian, already an experienced retailer, seven busy months to finally get his showroom ready for launch. And, if he follows a typical Dream Doors franchisee's growth path, his turnover will increase fourfold from now on. "We've averaged sales of £25,000 a month since we started, and everything has worked out very well," he said. "We're well ahead of our business plan, with at least £60,000 of sales to come in. It's been great and, if I'm honest, it's been crazy at times as well!

"Luckily we found Darren who has come on board as an installation controller. He has huge experience in kitchens, whereas my background is in business and retail, so Darren makes sure we're delivering on all the promises we've made to our customers."

Like most Dream Doors franchisees, Ian had no previous kitchen industry experience. Award-winning training is delivered from the outset, including peer-to-peer mentoring from existing franchisees. And Ian's franchise manager, Bryn Jones, was quick to praise him for embracing all of the support at his disposal: "Ian took full advantage of our training programme, making himself available from the turn of the year. By the time he completed his week's induction course at head office in February, he'd already had five visits from myself and Andy Hart, our company sales trainer. He'd also spent three days with existing franchisees in Oxford, Thatcham and Woking.

"It's been a pleasure working with Ian and seeing his business grow," he added. "I'm happy to see another showroom open around here as, of course, that now means most of the consumer demand in the south is being satisfied."

Dream Doors is recruiting new franchisees nationwide, and there are also some existing and profitable franchise resales available in Bath, Essex, East Sussex and Kent. Franchisees don't need any practical expertise as sub-contracted teams or employed fitters handle the installations. The company will be on stand L60 at the National Franchise Exhibition this Friday and Saturday to meet interested parties.
On to a winner with Trophy Pet Foods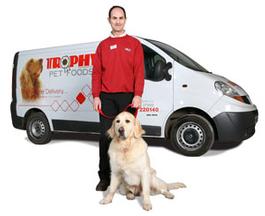 Franchisees: John and Karen Purnell
Territory: Warminster, Wiltshire
Franchise: Trophy Pet Foods



Hi guys, we are Karen and John from Warminster, Wilts. We couldn't be more pleased with our decision to choose Trophy. This is our first business venture and we know it is a winner. We have 300 + returning customers at the moment.

Karen has a full time job and works part time with Trophy. She uses her expertise in customer service and stock control to great effect. I do the delivery and sales side. I love meeting people and animals so my part is easy. What makes it easier is the food. It really does sell itself once you put a few basics into place. I honestly believe, having done what seems like a hundred taste tests and compared all the ingredients, that there is no better food on the market.

I come from an admin background and Karen is the general manager at an Importers. So you don't need any direct selling experience. A love of animals and a desire to see them thrive on the best food around is one of the main qualities you need. We are very big on customer service and have an ordering system that reflects this. We are always on hand to answer any customer questions about their pets during the week but we let the answer machine take messages for the weekend.

We believe in doing the hours that are required to keep the business moving forward. You will lose some of your spare time, as in any business, but you will find it is worth making the odd sacrifice. When we first started we seemed to work every weekend and every conversation seemed to be about Trophy and the best way to do things. Now, 5 years later, we feel the ground work has been done and it is now a question of improving on the numbers of customers. In our first two years we had a lot of customers from doing local shows and canvassing. More recently we have more and customers from referrals. This alone proves to us we are on the right track. What could be nicer than setting off in your van every day going to meet animal lovers and their pets and making money at the same time?

All the best from Karen and John and our two Trophy retrievers Max and Cody.
etyres franchise is perfect fit for former military man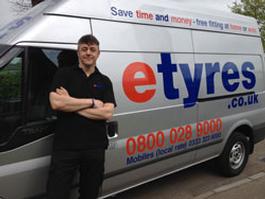 After 26 years in the Army, former serviceman Stephen Metham was looking for a career opportunity that would deliver exciting opportunities and strong financial returns.
After months of thorough research, 42-year-old Stephen decided his future lay with etyres, the UK's first mobile tyre fitting franchise, and is now looking forward to launching the etyres Salisbury branch in May.
Stephen admits that after weighing up all the facts, it was an easy decision to make. "I soon realised that etyres was the perfect opportunity for me," he explained. "It offers me the freedom to run my own business, working in an industry I am interested in and the chance to earn a good living.
"I left school at the age of 16 and joined the army a few months later," he continued. "After 26 years I was ready for a fresh challenge and so I started to think about new career opportunities.
"I had a few clear ideas about what the direction I wanted to go in. I knew I wanted to be my own boss, because I wasn't keen on starting a job where I was going to be told what to do by someone 20 years younger than me! My background means I am very focused, organised and capable.
"That is why franchising appealed to me. I am self-motivated and ambitious and I want to achieve financial security for my family, but I lack the business know-how and I can gain this by being part of a good franchise business.
"I also knew I wanted to work in the automotive industry, I have always loved tinkering with cars, have military driving experience and hold an HGV and motorbike license.
"A big attraction for me is that etyres is a very resilient business model, even during tough economic times. People will always need new tyres, they are not a luxury or something you can live with."
Stephen also recognised that etyres has a wide appeal for cost-conscious vehicle owners who are short on time and savvy with their cash. "etyres mobile fitting service makes it popular with motorists who want to avoid the hassle of driving to a tyre depot or garage and don't want to waste their time sitting in a draughty waiting room while their new tyres are fitted.
"And because our overheads are low, it means we are able to offer highly competitive prices for all the tyres we supply and fit – so our service offers customers a win-win situation."
An etyres franchise has proved to be a popular choice for former armed services personnel because many of the attributes they have can be transferred into running their own mobile tyre fitting branch, such as self- motivation, strong work ethic, punctuality and good communication skills.
Brothers team up for Driver Hire take over in Bournemouth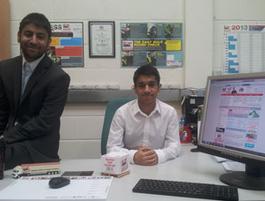 Transport and logistics specialist recruiter, Driver Hire Bournemouth, has new owners. The south coast franchise has been bought by brothers Arjindar and Balraj Dusanjh. They will be running the office with assistance from their father Jasbir and uncle Davinder.
Driver Hire has a network of almost 100 offices nationwide. It provides temporary and permanent drivers and other logistics staff to local and national organisations in both the public and private sector. If they're short of staff – perhaps because of illness, holidays or seasonal demand – Driver Hire will supply them with a suitable replacement.
Balraj, Jasbir and Davinder came across Driver Hire on a visit to the Franchise Exhibition. There they met Gee Bains, Driver Hire's London South East franchisee who extolled the value of a Driver Hire franchise. Following their own research, they decided to invest.
Arjindar who has previously worked for BT and is also a sports coach and football referee, will be using his sales' experience to develop the business. Brother Balraj, who has a diploma in business studies, will be looking after the back office. Working alongside them will be longstanding recruitment consultant, Ley Sheppard and Joan Eastwood who looks after payroll and finance.
"Driver Hire prides itself on delivering quality, guaranteed drivers, 24 hours a day, 365 days a year," says Arjindar. "We're looking forward to supplying them to a wide range of local and national businesses and organisations in the Bournemouth postcode area."
Opening the window of opportunity with shuttercraft franchise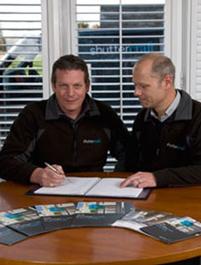 Matt Blewett, the shuttercraft franchisee for Gloucestershire, offers a regional service where he installs high quality window shutters and blinds. As part of the shuttercraft franchise network Matt benefits from the support of the largest distributor of shutters in the UK, whilst still being able to offer a bespoke local service, across the county.
When Matt had been operating for 9 months he had already beaten the shuttercraft yearly targets that the financials have been based on. All KPI's from average order value, number of sales, average sqm per sales and average fit charge have been exceeded.
Shuttercraft Gloucestershire retails only the highest quality products and work closely with the S:CRAFT brand of made-to-measure shutters and wood slat venetian blinds, to ensure a fully up-to-date range of products and colours is always available.
shuttercraft have signed Matt up to Checkatrade as part of the overall marketing plan and potential clients can now check the validated feedback from his existing customers.
Matt says: ""From the outset shuttercraft made me a welcomed member of the franchise team, giving me confidence in both product and operations and helping me to launch a professional service within my franchise territory of Gloucestershire.
My regional website shuttercraft-gloucestershire.co.uk was up and running virtually straight away and ranked no 1 on google for shutters in Gloucestershire within 8 weeks. I arrived at my induction training as Matt and left as shuttercraft Gloucestershire, with a fully sign written van, branded clothing, Blackberry and stationery as well as all the professional sales tools I could possibly need.
A year in I would never have believed that I would be achieving my yearly target in 12 months and the forecast £64K net earnings for year 2 should not be a problem. The team is working great! My family and I feel incredibly positive about the future. All that hard work is paying off and it's a great feeling."

About shuttercraft
As a shuttercraft franchise owner your role is to effectively manage the business on a day to day basis. This includes the sales promotion and business development; quoting for new work; surveying and installing the shuttercraft product range; building relationships with clients, to encourage repeat business; and growing the franchise, eventually recruiting and training new staff.
To succeed with shuttercraft you need an eye for detail and a passion for excellent service. You must be a people person with good empathy towards clients as well as having the inherent potential to become a quality craftsman. Additional skills such as training, sales or marketing would also be an asset but shuttercraft have all the expertise in house to provide franchisees with the support they need.
Setting up Rosemary Bookkeeping franchise saved me years of mistakes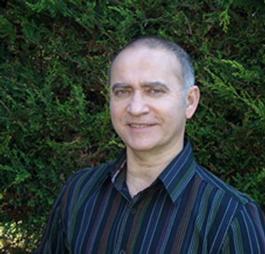 Before becoming a Rosemary franchise partner, Richard had worked in Casino Management in both the UK and overseas. "My previous job provided me with plenty of multi-cultural life experiences in a 'leisure' and people-orientated work environment. Setting up a franchise with Rosemary has allowed me to run my own business and has saved me the first three years of mistakes, stress and hopefully failure that being an independent may bring."
How Richard got involved with Rosemary Bookkeeping
"I first became involved with Rosemary in August 2011. Rosemary's friendly and positive approach attracted me to them initially along with the directors' experiences in a range of disciplines.
"Since joining Rosemary, my work/life balance has improved thanks to the support and guidance I have received from the team at Rosemary. My working hours are now more flexible and I am my own boss in a business with great growth prospects that has the potential to be developed into a valuable asset."
Richard's secrets to success...
"I intend to run my franchise with a huge emphasis on the Rosemary motto, 'an altogether friendly bookkeeping experience'. I will use my existing people skills to develop customer relationships and develop and manage my future bookkeeping team.
"I am aiming to develop my bookkeeping skills to even higher levels so that I can continue to expand my customer base by using all of the support and strategies available from the team at Rosemary."
What Joanna Dennis, Franchise Development Director of Rosemary Bookkeeping says:
"Richard has been able to harness his skillsets from his previous management roles and put them to good use within Rosemary. Richard's charismatic approach works well with businesses as he listens to their needs carefully."
About Rosemary Bookkeeping
Rosemary Bookkeeping is a British Franchise Association accredited franchise, based on a successful business which was established in 2002 and offers a unique bookkeeping system which is built around charging clients per transaction rather than per hour.
The Founding Partners have over 60 years of business and bookkeeping experience between them in the essential business disciplines of accounting, operations, sales and marketing.
According to the Federation of Small Businesses, over 4 million customers NEED this service. By law, all businesses in the UK are required to keep records of their transactions which later are used by an accountant to file for tax and often VAT. Managing these transactions through bookkeeping is often the biggest headache to the small business owner and a task that is left at the bottom of the pile.
There is a growing network of established Franchise Partners in the UK either running their franchise as a
management business with bookkeepers undertaking the work for them or working on client accounts themselves.
Loving the AutoValetDirect franchise challenge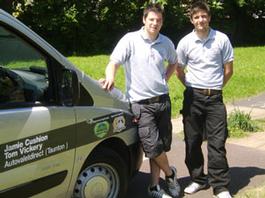 Name: Jamie Cushion
Location: Taunton, Somerset
Franchise: AutoValetDirect

Why I chose this franchise company
I chose AutoValetDirect as car valeting is something I have always been interested in. After researching different companies heavily on the Internet I found that AutoValetDirect had the best package available and were a very successful franchise. I had a meeting with Chris Johnson and liked everything that I heard and found that the company has lots to offer and an excellent business model.
What I did before becoming a franchise owner
Before becoming a franchisee for AutoValetDirect I was a store manager for Dominos Pizza
How I raised the finance
I had some money saved that i initially put into the business. I also raised the remaining finance through a EFG loan from the bank, it's worth shopping around to find good rates and also what type of loan options are available to you.
The training and support I receive from the franchisor
I have received very good practical training which involves working with another franchisee. It's a very good way of learning as its hands on, and you have constant help. It also allowed me to see the day to day running of the business. The franchisor and other franchisees that are readily available to give advice and help at anytime which gives great confidence.
The challenges I have faced
The main challenge I faced was being self employed and the running of my own business because this was something that I hadn't done before.
My advice to someone thinking of buying their first franchise
Make sure you heavily research the franchise and the competition in your area. Also be certain that this is something that you want to do.
My plans for the future
I plan to grow my business with a view of employing staff to create a multi-van franchise!
"Signs Express is a perfect example of all that is good about franchising"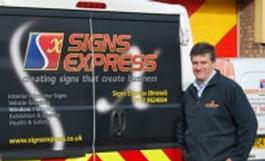 Originally opened in 2004, John has been centre owner since 2007 and now employs seven staff from his 2200 sq ft unit based on Avonbank Industrial Estate.

1. What did you do prior to becoming a Signs Express franchisee?
Product manager for Capita – I was responsible for the design and development of a large computer application sold to local government. This involved managing teams in Asia and India so I travelled a lot!
2. What made you decide to buy an existing franchise?
I bought into Bristol as an area. Bristol is the tenth largest local economy in Britain and yet the Bristol branch was no where near as successful as branches in much smaller towns – there was and still is loads of scope to grow here.
The brand also attracts regular national work which more than pays for the fees; only this morning I have been asked by a Belfast-based company to quote on a large re-branding in Bristol. They were upfront that they need great service at a reasonable price and were confident from past dealings that this is what they would get from Signs Express.
3. How has your own business progressed or expanded since you launched?
We enjoyed fairly quick success and were 250% bigger than when we bought into Bristol. The recession has slowed all that down, but I can really feel our reputation growing locally and I think 2012 will be another year of solid progress.
4. What has been your biggest order to date or who has been your biggest customer?
We have had two orders of over £50k each. We work for a brace of large household brands but are bound by confidentiality agreements to not say who!
5. Where would you like to see yourself in 10 years?
That's interesting because if you had asked me three years ago I would have said looking to retire. It's a long way out and things may change, but I will probably be a Signs Express franchisee albeit with one of my staff running the centre on a daily basis.
"Signs Express is a perfect example of all that is good about franchising: they are board members of the British Franchise Association (BFA) and look to take a supportive rather than dictatorial stance with their franchisees, which was important to me." - John Miller-Wilson, Franchisee, Signs Express (Bristol)
Gaining a better quality of life with Oscar Pet Foods franchise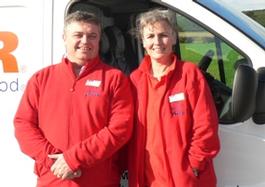 Franchisee: Pippa Crow
Territory: Bideford, North Devon
Franchise: Oscar Pet Foods
From London to Devon to OSCAR – and to my ideal way of life. I was a legal secretary for over twenty years spending the majority of this time in London. In search of a better quality of life a move to Devon, by the sea, was a dream come true. For a time I pursued the politics of the legal profession and at the first opportunity I found work at the Royal Horticultural Society - only to be made redundant. Redundancy forced me to rethink my future; to have a fulfilling and flexible job that allowed me more time to spend with my husband and two children meant working for myself.
Moving to Devon introduced my three Greyhounds and four cats to OSCAR - changing their food made all the difference both in looks and fitness - I was delighted. And when it came to my notice that an OSCAR resale franchise was available in my area I did not hesitate in making contact. Buying an existing business was a good start because certain elements were already in place but before making a final decision I researched the business opportunity fully, via the internet and locally.
Signs Express franchise recruits in the south west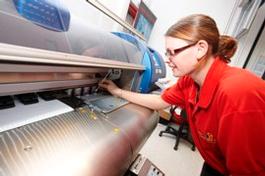 Franchise business opportunities act as much safer option when starting in business and this is especially the case when looking at buying an existing franchise business as a resale option.
Through buying an already established business, the new owner will gain a distinct advantage as the business is already up and running with an existing customer base. There are no headaches over finding a production unit to base the business, plus the centre is already fitted out with the required equipment and furniture; so no waiting around for suppliers and no need to waste time organising the layout, it's already been done. The staff are even already in place and fully trained, therefore cutting out the time recruiting in the area and providing the business owner with the knowledge of the centre as it currently stands. This means that as soon as the franchise owner is in, he can start trading and continue generating profit from day one.
There are huge benefits within the counties in the South West. For example jobs in Gloucestershire are highly sought after. Economically dominated by the service industries, and with a strong financial and business sector, this South West location is currently experiencing vibrant growth amongst its existing business community which increases scope for business in the future. The existing business, has an excellent reputation amongst its established customer base and receives a substantial amount of repeat business within the area.
With business opportunities in Dorset, or if you are looking to buy a business in Gloucestershire and businesses in Somerset all helping to bring the region through the recession.
With over 80 centres nationwide and 20 years of experience under its belt, Signs Express business opportunities are growing as more franchisees reach retirement. There are many business owners who joined Signs Express having worked for years in various industries and who were looking for security as they reach retirement age. This means that now, some years later, they have reached their potential and are set to retire and enjoy the money that they have earned through their own hard work over the years.
The key to starting in business and in particular buying an existing franchise in is its distribution channel. The franchise has built up an enviable customer base as a result of time and experience, meaning the customers would already be there and at the new business owner's disposal. The same goes for suppliers. Signs Express has its own preferred list of suppliers and in a resale situation these relationships have already been made with the centre and therefore any problems already ironed out.
As a management franchise, prospective franchisees require no industry experience as full training is provided. Your skills will be based on your own management and sales experience and your ability to lead a team. Ongoing support is available from sales and marketing, accounts, IT, HR, operations and technical as well as initial training to learn more about technical aspects and business techniques.
Signs Express franchise recruits in Swindon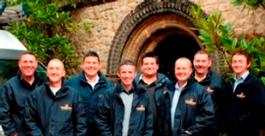 Swindon is abundant with business opportunities, but starting your own venture can be a turbulent and stressful time so before making any decisions it's important to thoroughly research all business options in the area.
Signs Express, as a franchise, is one such avenue where you can start a brand new business and be your own boss; but all with the safety of an already established brand, proven business model and with support along the way.
Franchising is showing a positive outlook and is proving a more sustainable option than starting in business alone. Despite the economic uncertainty of last year, franchising still managed to contribute £11.8 billion to the country's GDP which also showed an increase of £400 million from the previous year. The statistics which were reported in the annual NatWest BFA franchise survey, also highlighted potential for future growth with franchisors, on average, planning for an additional 8.8 franchisee outlets and a modest increase in the number of businesses looking themselves to franchise their own businesses.
As the UK and Ireland's largest signs franchise providing all types of signage working in the B2B sector means that there are no customer constraints; after all every business needs signs and graphics in some shape or form.
The Swindon and Wiltshire areas in particular are abundant with customer potential and money making opportunities. With particular emphasis on economic growth and development in retail, financial and business services, technology, public sector and leisure; the key customer base is already on your doorstep making it a flourishing centre of activity for local business opportunities.
Signs Express customers can therefore stretch from the public sector, local councils, professional clients such as solicitors and architects, retail and restaurant customers as well as a vast range of small mobile businesses through to industrial and commercial enterprises in many sectors and divisions.
Signs Express currently has 80 signage centres nationwide, however, there are still a number of greenfield businesses for sale which are ripe for the picking throughout the UK. The Swindon sign franchise opportunity is one particular location Signs Express is looking to recruit as there is currently little presence in the Swindon area; it therefore holds endless opportunities for you to start in franchising.
As part of an already established brand, the process of setting up a sign franchise in Swindon is made so much easier. As well as including working capital the overall fee to become part of the Signs Express franchise includes help finding premises; unit fit out with everything from printing machinery and computers through to desks and signage materials; help researching the local market along with providing business data; marketing literature and merchandise and help recruiting; as well as training in accounts, marketing and technical processes to get started.
With this there are much faster financial rewards. Through the help available a new Signs Express franchise looks to break even in the first year, receive dividends of £20,000 in year two and £40,000 in year three. In fact, well established franchisees are turning over £1m a year and some longstanding franchisees have recently been celebrating reaching £5m invoiced sales mark.
As a management signage franchise, prospective franchisees require no industry experience as full training is provided and sign making staff will be appointed to work in this case in the Swindon franchise production unit. Your skills will be based on your own management and sales experience and your ability to lead a team.
To Buy or Not to Buy - with Platinum Property Partner franchise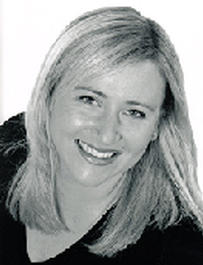 Sarah has worked as an estate agent, a home image consultant and a recruitment consultant, and since 2003 she has also been a television presenter – primarily on BBC1's 'To Buy Or Not To Buy' - and freelance property writer. She currently works freelance part-time within Platinum Property Partners and, as a Franchise Partner, has started to build a portfolio in Poole & Bourne mouth.

It was mid-2004 when Sarah first met Steve Bolton, and she spent some time looking into his methods and business proposition. It didn't take long for her to realise that there was definitely something different and special about Steve, his business partners and the people they were working with, and she started to work freelance for the company on copy writing, publicity and shows & events. In November 2007, having known Steve for three years and worked within the company on a part-time basis for nearly a year, Sarah joined the Franchise.

"I had a fair amount of experience in the property field, but nothing like the knowledge within PPP, particularly on the investment front – it's a completely different proposition to the residential and holiday home market. And because I like to work on a number of different projects, I simply don't have the time or inclination to worry about having to research every aspect of the property business, so the Franchise is the perfect solution and, for me, a very cost-effective way of ensuring I make the right investments and have access to the best people to advise me on an ongoing basis. Plus, I've made a lot of great new friends and some seriously inspiring mentors and colleagues."

Sarah was sale agreed on her first property the day after her initial mentoring, completed on that purchase in February 2008 and it was ready to rent as a 6-bedroom House in Multiple Occupation six weeks later. Thanks to a tracker mortgage, that property currently cashflows £1,400 a month. In November 2008 Sarah bought her second HMO – another 6-bedroom property – and that cashflows £660 a month. Those two cashflow figures are after the mortgages and all bills have been paid, allowances have been made for maintenance and voids, franchise management service fees have been paid, and include the cost of employing a property manager. The combined pre-tax profit of around £2,000 a month is therefore virtually passive income, as Sarah only has to spend around 2 hours a week on administering the business.

Albert Road, Poole

Purchase price £230,000

Rental income £2,686
(5 doubles, 1 single)

Mortgage repayment £1,139
(85% LTV, 6.89% int. only)
Other expenditure £881
(utilities, c. tax, insurance, TV, b'band,
cleaner, voids & maintenance allowance,
franchise MS fees, property management)
Total expenditure £2,020

Total monthly pre-tax profit £666
Total annual pre-tax profit £7,992


Sarah is working with her father as a passive investor, and has made the most of the other investment options offered by PPP. She has invested into a development project in Romania, which is anticipated to give around a 100% return within 3 years, and also entered into a passive loan arrangement with one of the PPP founders, which pays market-leading interest rates on a monthly basis.

For the next few months Sarah will be focusing on the purchase of her own home in Bournemouth and obtaining planning permission, with the help of PPP's contacts, to build in the garden of one of her HMOs. She also hopes to acquire at least one more investment before the end of the year.

Taking the plunge and investing in a ServiceMaster franchise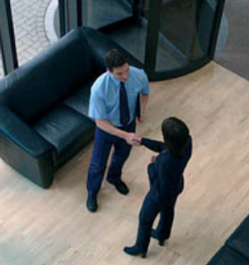 Alistair Grieves, ServiceMaster Contract Services, Exeter
I originally worked for a Contract Furnishing company in London, neither my wife nor myself wanted to continue working in London so we decided to move to what we considered was the best part of the UK for us, Devon.
As I was experienced in the tendering process, I thought I would use my strengths and look for a franchise, which best suited my abilities. It also enabled me and my family to move to the country and out of London.
What attracted me to contract services, or daily office cleaning was the idea of regular invoicing, whatever I billed I knew I should be billing the same amount the next month, it was a regular income.
As money was tight initially, moving into a new house and buying a new business it was important for us to be able to forecast our income and plan our future.
The best thing about being my own boss is you make decisions and are able to take responsibility for that. I also have the flexibility of working when I wish and taking time off when I wish.
The other nice thing about an established franchise company is there is plenty of advice, new ideas, and other business's to liaise with. It is nice to have other franchisees around you who are doing the same role but not in competition with you.
My wife works in business I find it very important to have a reliable financial colleague, she looks after the accounts side of the business, invoicing, credit control payroll etc.
I would never have had the flexibility or life style that I now enjoy without taking the plunge and investing in my own franchise.
Card Connection's Kent franchisees see trading up 27%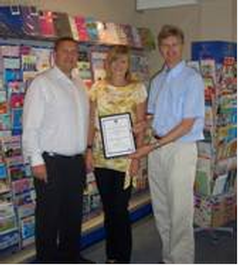 Leading greeting card publisher and franchisor, Card Connection, has today announced that its franchisees for the Canterbury/Dover region have seen trading up by 27% compared with sales figures for the same period last year.
"Jason Hook and partner Vanessa Culliford joined Card Connection two years ago," confirms Andrew Cutler, franchise and sales director for Card Connection. "In the past six months they have been focused on growing their business and have started to work with an additional 53 retail sites. This increases their portfolio of Card Connection retail customers to well over 200 stores and as a result, they have seen a significant uplift in sales figures."
Ex Kent policeman, Jason, puts the team's success down to: "Hard work and a focus on expanding the business through new retail customers. Our target is to get at least one new retailer to stock our Card Connection greeting cards each week and by calling on outlets, from farm shops to florists - in addition to larger retail stores, we are easily achieving this.
"Interestingly, we are not seeing the effects of the recession," he continues. "Our sales figures are well up on last year and we have been able to improve our profit margins by stocking more premium product. The future looks bright and within the next 12 months we are aiming to employ an additional merchandiser and buy a new van to manage the growth of the business."
Vanessa, an ex-shop keeper who spent the immediate years before purchasing the franchise working as a freelance events and sales manager states: "We always aim to provide excellent personalised customer service throughout our 235 customers. We are always on call and tailor our displays and diary to meet the needs of each shop; the customer always comes first. We have gained a great deal of extra space within existing outlets simply by being reliable and friendly."
Using a proven system, Card Connection franchisees place greeting card ranges in retail outlets on a 'consignment' basis. This means the stock and display equipment is installed on free loan to the retailer. This is one step beyond 'sale or return' as Card Connection customers never have to buy the stock in the first place, only paying for what they sell. The award winning merchandising service provided to retailers by local franchisees is second to none and has established the company's excellent reputation especially within the convenience sector.
Card Connection has limited vacancies for franchisees who are keen to run an expanding business. Successful candidates would ideally have some management experience as, once established, they would be expected to employ a small team, operate a warehouse and have several liveried vans on the road.
Because the franchise networks in the UK and Ireland are complete, the available opportunities now consist of acquiring an already-established territory from an existing franchisee. These vary in price according to their level of development, but start at £20,000 (+ stock) with earnings potential in excess of £50,000 per annum.
FASTSIGNS point to Bath Pigs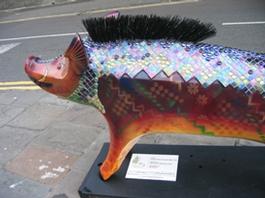 FASTSIGNS® has just completed its 'swine' of a job creating plaques, stickers and signs directing and informing people about one hundred pigs situated around the streets of Bath in aid of the City's ongoing King Bladud's Pigs fundraising project.
To celebrate the legend of King Bladud, businesses and local groups have individually sponsored each of the uniquely decorated life-size pig sculptures, which can be found in public spaces all over Bath and the surrounding area, and which will all be auctioned to raise money for a Bath to Bristol cycle route.
FASTSIGNS in Bath has been working alongside the Sustrans Two Tunnels Project, which aims to develop, with the proceeds from this fundraiser, a useful and exciting attraction out of the two disused railway tunnels situated between the cities, by turning them into cycle routes and footpaths.
FASTSIGNS created signs to promote the event, as well as 200 window stickers for the sponsors, clothing stickers to publicise the fundraiser and 100 plaques - one for each pig with its' name, the sponsor and the artist. There is a map for budding pig finders to help them discover Pigissimo, Bubbles, Lester Piggott (FASTSIGNS' pig) and their friends.
Alan Dun has sculptured these pigs which he modelled on the Tamworth pig, similar to the breed that used to roam around Bath 3000 years ago. Local and national artists and schools were then given the opportunity to get their hands on these sculptures and turn them into works of art.
"This project has been great fun, if not a little unusual, particularly when it came to painting our own pig!" commented Bryn Barber, owner of FASTSIGNS Bath. "We have really enjoyed being given the opportunity to work on this unique event, which has created a tremendous amount of interest amongst both visitors and the local community."

A dream start in business with Dream Doors franchise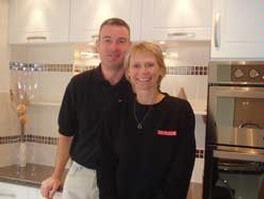 Approaching his 40th birthday, Andy Stewart knew that he no longer wanted to work for someone else so he and his wife, Shelley, decided to visit the British Franchise Exhibition in
Manchester
to look for an alternative.
A joiner by trade and having worked close to the kitchen industry throughout his career, Andy had considered Dream Doors franchise, the
UK
's number 1 franchised kitchen facelift company, but the Stewarts were edging toward a complete change of direction.
"Originally we dismissed it," Andy says. "Because it was in my trade, we thought it would be nice to try something different".
Since Dream Doors had a stand at the exhibition, the Stewarts decided to discuss the franchise with them and left impressed with the company's attitude and professionalism. This then led to a meeting at Dream Doors head offices in
Gos
po
rt
, further discussions with existing franchisees and finally, having secured the funding for the business, the Stewarts bought the
Dorchester
po
stcode.
The Dream Doors concept involves swapping existing kitchen doors and drawers with made to measure replacements, transforming a kitchen in as little as one day. This can also lead on to new work-surfaces, sinks and appliances through which a new-look kitchen can be achieved with little stress and upheaval for the customer and for a significantly lower investment.
Franchisees do not need any kitchen experience as Dream Doors will assist in recruiting an installation team. The training and sup
po
rt of the franchisor is critical when investing in a franchise, and in a technical industry with a sales and retail focus, Dream Doors have a lot of knowledge to impart.
"They've been there every step of the way and time has never been an issue," says Andy. "It's nice to have a regular input, they'll turn up to see how it's going and it's all on a personal level."
Originally working from home, and with Shelley continuing to work part time, it quickly became apparent that the business would evolve and require a full time commitment.
"We found ourselves moving in a different direction," says Andy. "It was a lot busier than we thought and we were picking up more orders"
Opening their showroom towards the end of their first year, Shelley left her part-time job and a full time fitting team were employed. The initial 10 month turnover of just above £100,000 leapt to over £400,000 in the following year, a rise put down to both effort and retail premises, as Shelley comments.
"Our figures show that having a showroom does make a difference and that all our hard work has certainly paid off!"
Most Promising New Business - MOLLY MAID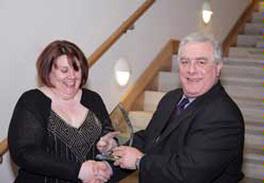 Karen Wilkinson and Lee Given business owners of MOLLY MAID Tonbridge, the domestic cleaning professionals, have been awarded the Most Promising New Business Award in the Kent Invicta Chamber of Commerce Business Excellence Awards 2008.
At a gala dinner held on Wednesday night all of the finalists eagerly awaited the results from the judges. All of the entries had submitted a presentation that demonstrated how the business met each of the criteria set out by the Chamber of Commerce, the finalists were visited and interviewed on an individual basis. These criteria covered every area of the business, starting with a description of the product or service provided, through to the financial validity of the company and their community involvement. After the awards Karen said "I can't believe that we have won, I am so delighted. I have a clear vision about where I want to take the business and to have the recognition from the local business experts that we are running a great business is fantastic."
Coming up to 2 years ago Karen and Lee started their MOLLY MAID business in the local area. Karen said "We started researching a domestic cleaning franchise because when searching for some help around the home ourselves we found it hard to find a local cleaning firm that offered flexibility and reliability. We realised that there was a gap in the local market for a high quality, flexible cleaning service, and discovered MOLLY MAID fitted the bill." Since then they haven't looked back.
When asked what makes MOLLY MAID stand out from any other local cleaning company Karen says that it is both their staff and their customer care. The MOLLY MAID teams are given a month long training programme that ensures that they can delight the customers day after day. Each staff member has an employee pack that gives them information and goals to achieve. "Our incentive scheme and clear promotional structure means that our maids are happy and motivated and this has a positive impact on our customer satisfaction." On top of the MOLLY MAID 100 per cent guarantee Karen offers a flexible cleaning schedule, ensures that regular quality checks are carried out, and calls customers on a regular basis to ensure that they are satisfied with their clean. "Myself and my supervisor have a very personal relationship with our customers, we are going into their homes so we feel it is important that they know us and can call us should they have any problems."
On the back of this award Karen plans to continue to grow her customer base through increasing her marketing activities and charity involvement locally so that more and more people think of MOLLY MAID when they need some reliable help in the home.
MOLLY MAID Shine in Local Business Awards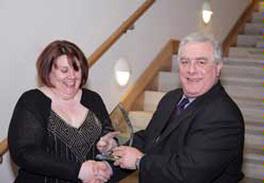 Karen Wilkinson and Lee Given business owners of MOLLY MAID Tonbridge, the domestic cleaning professionals, have been awarded the Most Promising New Business Award in the Kent Invicta Chamber of Commerce Business Excellence Awards 2008.
At a gala dinner held on Wednesday night all of the finalists eagerly awaited the results from the judges. All of the entries had submitted a presentation that demonstrated how the business met each of the criteria set out by the Chamber of Commerce, the finalists were visited and interviewed on an individual basis. These criteria covered every area of the business, starting with a description of the product or service provided, through to the financial validity of the company and their community involvement. After the awards Karen said "I can't believe that we have won, I am so delighted. I have a clear vision about where I want to take the business and to have the recognition from the local business experts that we are running a great business is fantastic."
Coming up to 2 years ago Karen and Lee started their MOLLY MAID business in the local area. Karen said "We started researching a domestic cleaning franchise because when searching for some help around the home ourselves we found it hard to find a local cleaning firm that offered flexibility and reliability. We realised that there was a gap in the local market for a high quality, flexible cleaning service, and discovered MOLLY MAID fitted the bill." Since then they haven't looked back.
When asked what makes MOLLY MAID stand out from any other local cleaning company Karen says that it is both their staff and their customer care. The MOLLY MAID teams are given a month long training programme that ensures that they can delight the customers day after day. Each staff member has an employee pack that gives them information and goals to achieve. "Our incentive scheme and clear promotional structure means that our maids are happy and motivated and this has a positive impact on our customer satisfaction." On top of the MOLLY MAID 100 per cent guarantee Karen offers a flexible cleaning schedule, ensures that regular quality checks are carried out, and calls customers on a regular basis to ensure that they are satisfied with their clean. "Myself and my supervisor have a very personal relationship with our customers, we are going into their homes so we feel it is important that they know us and can call us should they have any problems."
On the back of this award Karen plans to continue to grow her customer base through increasing her marketing activities and charity involvement locally so that more and more people think of MOLLY MAID when they need some reliable help in the home.
Young, Vibrant and Growing Business for Andy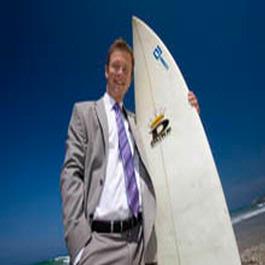 Surf fan Andy McCreadie has settled in Cornwall after a series of high flying jobs around the world in sales and management. But a laidback lifestyle is the last thing on his mind. Instead, he has chosen the west country to launch a thriving new business…one that gives him time to pursue his passion for the waves.
He has opened a Sandler Sales Institute franchise, in Pentire, near Newquay, where, after just four months, business is booming. In his new role, Andy provides ongoing sales training to small and medium size companies. And he has been delighted by the response – landing five big contracts in under six months. But his new base means he can stroll from his office to the beach in just five minutes.
Andy, 33, comments: "I used to travel all over the world and work 70 hour weeks, but I'm getting a bigger buzz working here.
"The economy is buoyant and there is a young, vibrant and growing business community. "I love my job but the big difference with my life now is I can find time to indulge my other love – for surfing."
Enterprising Andy worked as a management consultant for household name clients, before moving to Australia where he discovered the sport. Back in London -- where he ran a sales team for a leading estate agents -- he realised how much he missed the waves.
"I used to drive down to Cornwall from London at weekends and sleep in the back of my car. "I'd always had aspirations about running my own business and when I saw what the area here had to offer I finally took the plunge."
Andy points out that although his work-life balance has improved, he still faces the same hurdles as anyone launching a new business. His day begins at dawn when he goes for an early morning surf but he aims to be at his desk by 7.30am. He will break at 6pm for more surfing or rowing, but returns to work at 8pm often not finishing until 11pm. His hard work, though, is paying off.
He says: "I'm well ahead of all my business projections but the best part is being in charge of my destiny. "Our ideal client is a small business owner with big ambitions, so it's very stimulating work.
"It obviously helps that I've got 100 per cent faith in the training system we use. "I've worked in sales and management at senior levels all over the world for most of my working life but the Sandler system is by far the best I have come across.
"And at the end of the day I can unwind by leaving the office -- to catch a big wave!"