OVENU CLEANS UP IN GLASGOW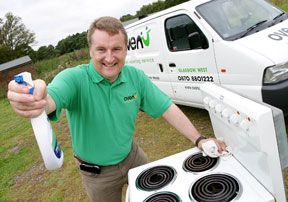 Oven valeting company Ovenu has expanded into Scotland with the appointment of its first specialist franchisee, John Crockett.
John will operate a professional domestic oven valeting service throughout West Glasgow. Franchisees located in the rest of the UK are already proving to be highly successful, with growing customer bases.
John spent 24 years in the Royal Navy Police before joining Strathclyde Police Force. Now he hopes to benefit from a gap in Scotland's oven valeting market, which he believes has not yet been fully exploited.
John explains: "Before I joined I wasn't really aware that this type of service existed. I believe that there's a real opportunity to establish the Ovenu brand in Scotland and West Glasgow in particular. I enjoyed being in the Navy and working for the police, but now I think the time is right to go it alone. Ovenu has been hugely successful and popular in England and I hope it will enjoy the same success in Scotland."
Ovenu's valeting process is unique because it involves dismantling key components of an oven (door, interior panels, fan and shelves) and placing them in to design-registered equipment which uses non caustic products to clean the oven parts. The whole process takes around three hours and leaves the oven, hob and exterior in immaculate condition.
Ovenu, which is based in Wokingham, Berkshire, was set up in 1994 and started franchising in 1999. The business is an oven cleaning and valeting service with almost 100 franchises covering different areas across the UK. It was recently accepted as a full member of the British Franchise Association, which is the prestigious umbrella organisation that covers the UK's leading franchisors. Ovenu has well in excess of 100,000 clients across the country and last year the franchise network had a turnover approaching £3million.
Rik Hellewell, Managing Director of Ovenu, adds: "We are delighted that John has joined the Ovenu team and is taking on the franchise. We are looking to set up franchises to cover other parts of Scotland as we believe the region could be a crucial growth area for us."
People who feel that their oven is in need of the service can find out more by calling 0870 880 1222 or by visiting www.ovenu.co.uk.