From Michigan to Glasgow to an ActionCOACH franchise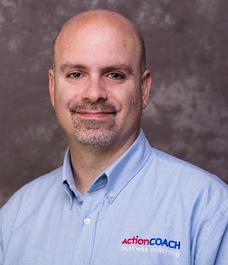 Andrew came over to the UK in 1998 and worked in sales until December 2008, when he decided to set up his own sales consultancy in Glasgow, supporting businesses on their management. By working with his existing skillset, the business was going ok, but Andrew wanted to take things to the next level.
"Like any new business, the first couple of months were tough, but as soon as things started to get going, I only wanted more. Franchising was always on my radar because of the ability to replicate something that's already proven and fully operational. The idea appealed to me as it meant I could work the franchise in partnership with my existing business."
The appeal of business coaching
Andrew started looking around for a franchise that would allow him to utilise his existing skills and, once he'd discovered ActionCOACH's values, he was eager to find out more.
"At the beginning, being my own boss and the potential to make some real money were the main factors in my search. I disregarded sectors such as retail or web-based franchises and that's when I came across ActionCOACH. My previous experience working within different businesses gave me the opportunity to see the benefits a business coach can bring to a company."
Andrew arranged to meet with ActionCOACH to decide whether the franchise was the right fit for him. After the meeting, he went home to conduct his due diligence by speaking to other Action Coaches and doing more in-depth research. Andrew took his wife with him for the second meeting and they both agreed that this was the right opportunity for him.
Getting fit for business
In April 2010, Andrew embarked on his journey to ActionCOACH University.
"I flew out with very little expectation but once I arrived, I knew it was going to be a huge learning curve. The main objective of the training is to learn about the general principles for coaching someone to support business growth – we use these to grow our own franchise and our clients' businesses too. There was a heavy focus on thinking and behaving like a coach, to prepare us for when it was time to launch our franchise. It was intense but, honestly, it just got me excited to get going.
"Landing back in the UK, I'd completely changed my way of thinking about business after learning about the systems and processes available to take my own franchise to the next level. I arrived back on the Saturday and kicked the business off on Monday morning. Whilst the first couple of years in business brought similar challenges faced by many business owners, I wasn't disappointed by the advice on hand from other franchise partners and the UK and global support teams. I may have my own business as an ActionCoach, but I know I'm not on my own."
Building a profitable business
Since then, Andrew's business has gone from strength to strength and so have those of his clients. One in particular, a kitchen company, went from two stores each turning over £1million a year, to franchising their business and expanding to 14 stores, each achieving the same impressive turnover.
"I've currently got 14 clients, for both group and one-to-one coaching. For the foreseeable future, I'm focusing on taking my business to the next level and the best way to do that is by helping my clients to success and impacting even more people in the surrounding communities of those businesses."
Andrew also has the opportunity to take part in ActionCOACH events throughout the year. With events such as the Business Excellence Forum and over 70 days of support available, all franchise partners have the opportunity to get more out of their business.
"We're constantly learning new things. Once a quarter, we have a member of the UK support team travel up to Scotland to hold a meeting – all of us Action Coaches up here attend. We get training on different aspects of business but it's also our chance to share best practice, helping one another wherever we can.
"On a more personal level, the days out that ActionCOACH organises are great. FUN is one of our 14 Points of Culture, so it's important we practise what we preach. We attend rugby games, watch horse racing and go white water rafting with Olympic gold medal winners. It brings the network together and that's great for each of our individual businesses too.
"I regularly contribute to the webinars ActionCOACH runs every Monday morning, sharing advice and top tips with others in the network. I think it's important to offer my help, especially to newer coaches because of my experience – I love helping everyone out. I was pleased to be asked to present at the UK conference in 2018, showcasing my story of resilience and sharing my knowledge on how to market yourself and find new customers."
Looking to the future
Woody Allen famously said "80% of success is turning up" and Andrew's certainly done that… his participation and consistent monthly client income of over £30,000 qualify him to apply to become a global trainer and Andrew is keen to give back further to the network in that role.
With his 10-year anniversary with ActionCOACH approaching, Andrew has a chance to reflect on his journey so far.
"I've never been part of an organisation which puts so much emphasis on the importance of education. We have the systems, it's up to us to teach them to our clients. I'm in a privileged position to improve other people's lives, not just business owners but their families and employees too."