Perfect timing for Scottish homecare franchising say Glasgow husband-and-wife franchise neighbours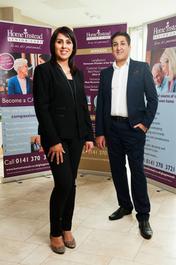 It's a tale of two halves for Home Instead Senior Care's husband-and-wife franchisees Suhail and Tasnim Rehman in Scotland.
After witnessing former software company director Suhail's Glasgow North territory growth in under three years, wife Tasnim, a business manager with Chanel cosmetics for 14 years, realised she saw her future with Home Instead too. But as a franchisee in her very own right.
With Suhail's territory on course to hit a £1 million turnover in 2017, Tasnim whose career spanned major retail brands including Calvin Klein and John Lewis, left global cosmetics company Chanel on Christmas Eve opening up the Glasgow South territory in April this year.
Today, the couple are united in their passion for the Home Instead franchise model and the support they have received from National Office at every step of their respective investment journeys. Together they are firmly focussed on maximising upon the business opportunity the Scottish homecare sector currently presents for each of their territories.
A perfect landscape for Scottish homecare franchisees
Two key factors have created a perfect landscape for homecare franchisees to flourish in Scotland:
Recent legislative changes have brought in self directed support enabling individuals to have a choice over care options and
People wanting to experience a better standard of care for themselves and their loved ones.
"Together this has created market opportunity for private homecare providers that can offer quality and excellence," says Suhail, who joined the Home Instead network after he sold his shares in his software company.
"I was looking for a new business opportunity but I didn't want to take the risks associated with a conventional start-up given the high rate of business failures.
"Franchising isn't as big in Scotland but I knew it was the answer for me. I wanted a proven business model not risk. I'd looked at all kinds of franchisors from Domino's to Pizza Hut when a friend suggested homecare.
"With society's generally ageing population and Scotland's personal care funding changes, I could see the landscape was changing and the potential market opportunity for private homecare companies that could provide quality and choice."
Impressed by its ethos from day one, Suhail joined the Home Instead network as its 2nd Scottish franchisee - today he has 60 clients and 60 CAREGivers.
Exemplary support and franchise friendships
Suhail says he found the support provided by National Office invaluable, with its 4:1 ratio of experts to franchisees. He added: "With a non-care background, the support in Care Quality and Standards was a key area for me understandably, then we had weekly calls and the 90 and 180 day training sessions. It was close, dedicated, personal support. Plus I was in a peer group of Home Instead franchisees all at the same level, so I was making franchise friendships at the same time, sharing tips on what's worked and equally what's not worked so well. We dubbed the group 'Homies Instead' and those early business friendships have stayed strong to this date.
"I can honestly say that there is no selfishness in this franchise family, instead there's robust support in any area you need in order to succeed. Plus there's a genuine spirit of willingness to share ideas and best practices right across the network."
From cosmetics to homecare
It was the Home Instead ethos that Tasnim was experiencing through Suhail's journey that started to call her away from a 'lifetime' in retail.
Said Tasnim: "I was seeing the difference my husband's business was making to people's lives, how the Home Instead care model was truly helping clients and their families in turn. I was still working in retail but I was getting the Home Instead ethos by 'osmosis' you could say via Suhail.
"I had a dawning realisation that I wanted to own my own franchise, I was ready to be a businesswoman in my own right. After 14 years I was ready to 'cut the cord', leave Chanel and move from cosmetics into homecare."
Tasnim opened her Glasgow South office in the spring of this year and is excited about becoming the brand's 4th Scottish franchisee in turn.
She added: "There are husband-and-wife teams in the Home Instead network but they're part of the same franchise office. It's a bit different for us. As neighbouring franchisees there's a healthy sense of competition between us but that's complemented by the Home Instead spirit of collaboration too, so there's practical support from National Office and peer support from Suhail as a franchisee on his way to a £1 million turnover business too."
There are 24 territories available in Scotland with Home Instead Senior Care. Book a place on Home Instead's Franchise Discovery Afternoon on 8th September from 12:45 - 5pm at the Grand Central Hotel, 99 Gordon Street, Glasgow, G1 3SF.
To find out more about Home Instead Scotland and to book a place on the discovery afternoon, click here