Snack in the Box franchise for sale in Manchester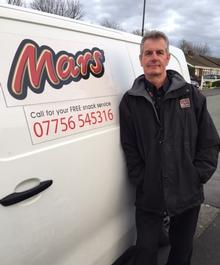 Name: John Robert Langshaw
Location: Manchester
Franchise: Snack in the Box
Date launched the franchise: May 2017
Tell us a bit about yourself and what you were doing prior to buying your Snack in the Box franchise?
Prior to buying my Snack in the Box franchise, I was working as a joiner. Increasingly despondent with the trade, I decided a career change was needed.
Why did you go down the franchise route initially? And why did you choose A Snack in the Box vending franchise?
I had previously worked for myself but not wanting to go it alone again, I decided to look at franchising as it ticked all the boxes for me.
After an extensive study into various franchises, I decided on Snack in the Box. They had been established for over 20 years and after making enquiries, I found that they were very supportive and genuine.
Why have you decided to sell your business?
I initially started the business with my partner's daughter which worked well. We built up the business and then she was offered a job that she couldn't refuse. Since then I have been working solo. As I am coming up to my 60th birthday, I feel I don't want to be working full time for much longer and so hence my decision to sell.
What's the key selling points of your business?
Established business model
Established client base which is to a high standard
Friendly clientele
Time saving routes already worked out
What support should the new franchisee expect to receive?
I received great initial support from the Snack in the Box team and still do if it is needed. There is always someone at the end of the phone to help you. They particularly helped me with advice on sales techniques.
What are the other benefits of buying a resale?
You are your own boss
You can work the hours that suit you
The harder you work, the bigger the monetary rewards
Building good rapport with your clients
Work to your own timetable
Flexibility
What is a typical day for you as a franchisee?
Leave home on a set route each day to delivery boxes to clients/replenish stock. On arriving home, I prepare the boxes for my next day's delivery and load the van. Each Friday afternoon I unload my pre-delivered stock order for the following week. Banking can be done on your preferred day to fit in with your deliveries.
Has becoming a franchisee changed your life, if so how?
After working in the building trade for so long I wish I had done this much earlier. It I a pleasant way to make a living.
What is the most invaluable piece of advice you could give someone looking to buy their first franchise?
Talk to other franchisees and make sure the franchise suits your lifestyle.
In your opinion, what makes a successful franchisee?
Being committed to the business
Not being afraid to introduce the business to clients
Having a friendly and warm personality
Find out more about this vending franchise for sale in Manchester
Read more on a Snack in the Box Franchise