20-July-2018
New Investor in Hereford and Worcester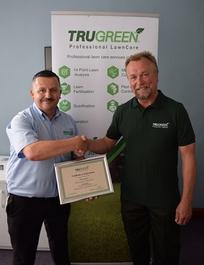 TruGreen UK are proud to welcome the newest business owner in to the franchise network, Mark Symington of TruGreen Hereford & Worcester.

Having worked in the marketing and PR industry for the last 25 years, Mark understands the fundamentals of our sales and marketing franchise model. His experience will no doubt stand him in good stead when it comes to marketing his business to grow his customer base.
Mark has successfully completed our two-week training academy covering operations, sales, marketing, products, equipment and business management systems as part of his investment and will now be treating lawns within his territory.

Mark commented:

"I looked at other franchise options and TruGreen really stood out from the crowd in terms of service, products and support. It's a recognisable brand that has thousands of happy customers across the UK and that speaks volume to me."

Steve Welch, brand operations manager for TruGreen added;

"Mark's history and experience will stand him in great stead to build a really successful business. We're delighted he chose to invest in TruGreen Professional LawnCare and it's fantastic to have another van on the road and hopefully many more vans to follow."

Our TruGreen lawn care franchise opportunity is suited to those looking to escape the rigidity of a 9 – 5 job to spend time outdoors during flexible working hours. Building relationships with customers is a must, in order to provide a tailored lawn care programme to those with problematic lawns and a desire to have a perfect carpet of grass.