Last Updated: 03-March-2017
FAQs for prospective franchisees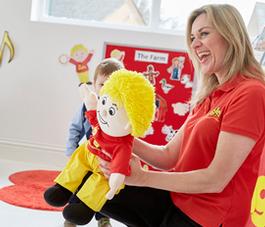 1. What skills do I need to become a Jo Jingles Franchisee?

Being business minded and able to relate to young children is a great advantage, but being confident, patient and able to multi-task are also important skills when running a business centred on young children. You also need to be able to communicate effectively with all age groups.

2. How much will it cost me to buy a franchise?

Depending on the size of the area you require and the number of towns allocated to a territory, Franchise areas are currently available from as little as £6500+VAT
For instance, a territory that includes three different towns (dependent also on population size of c.150k) would typically cost around £9000+VAT

3. How long will my contract be?

The initial contract runs for 5 years with ongoing support and advice from our HQ Team during that time. Our franchise Network offers regular support too, and many of our franchisees have been with us for over 12 years – some for over 20 years!

4. What training will I receive before I start running my own franchise?

We have a vested interest in making sure you have the support and the tools necessary to hit the ground running. Your success is our success so we'll provide all of the training you need to ensure your business flourishes.

We run an initial 4 to 5 day in-depth training course at our Head Office in Buckinghamshire supported with in-class training and a one to one business advisory session prior to the launch of your business. We also run regular group training meetings throughout the year and conferences giving you the chance to network and meet other Jo Jingles franchisees as well as the team at HQ.

We'll also support you with regular business coaching, visits to your classes by an appointed local mentor and/or representative from HQ and provide you with ongoing support, business solutions, development and ideas.

5. Will I have to do my own Marketing and advertising of my classes to local customers?

Yes it's important you know your own local area and that you are able to communicate and network within the local community. We will also support you at HQ with access to an established intranet facility to encourage and support internal communication, share knowledge and network with our franchise community.

6. Will I have to create and buy all my own equipment and materials?

No we'll provide you with all your Jo Jingles branded equipment, instruments, merchandise, music, class programmes (covering first 3 years) and an initial pack of marketing materials to get you started. You'll receive all this once you've had your training and are ready to get started! Many of our franchisees do source additional props for use in classes too.

7. How many classes per week do I have to run and how often?

Most of our franchisees run classes for at least 36 weeks of the year, following the patterns of the typical school year. However, you can run for more weeks and provide as many classes as you like per week. There is also the option to do afterschool workshops, parties, nursery classes and holiday workshops. We are increasingly running for more weeks of the year due to demand for classes.

Contractually we expect all franchisees to run a minimum of 15 sessions per week and have at least 100 children registered at classes by the end of the first year.

8. In addition to the franchise fee, are there any additional costs?

Once you've purchased a franchise, there is an ongoing Management Services fee determined by the turnover you report each half term period. We offer a staggered management fee and on turnovers up to £15,000 per annum the fee is 12.5%. From £15,000 - £50,000 this reduces to 10%. You also need to consider the following:

Class Administration Fee - £3 per child at public classes (per term)
Registration for Data Protection – currently £35 per annum
DBS check - £52.40 and valid for 3 years
Public Liability Insurance – currently £155 per annum for a full year
Employers Liability Insurance (if you employ class teachers) – currently £95 per annum
*(Please note: prices quoted above exclude VAT)

9. How do I find out more or apply?

Simply click on this link and we'll get in touch to talk you through the application process.