09-October-2012
Raring2go! franchise opportunities expanding throughout Scotland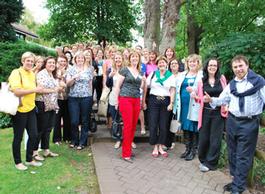 There's some good news on the business horizon as a leading ethical British Franchise Association accredited franchisor, Raring2go!, sets their sights firmly on Scotland to extend their proven and successful franchise network.
Raring2go!, the national magazine, is produced through a network of 60 editors (their franchisees) and is fast becoming recognised across the UK as the definitive guide for interesting, educational and fun activities for those who have, or are looking after, children.
Magazines are aimed specifically at parents, guardians and carers of children aged up to 11, helping families have fun by publishing local events, activities and offers. Raring2go! editors are responsible for creating a fun packed and informative community based magazine on a quarterly basis, attracting advertising from local businesses targeting their readership, providing plenty of information on fun and educational activities within the local area to their readers.
The Raring2go! franchise system has been developed to give editors as much flexibility in their home and working life as possible. Offering a fully comprehensive back office business support package to reduce the administrative burden of running a successful business, magazines are printed centrally and distributed all over the country through schools, nurseries, libraries, leisure centres and other community outlets.
Already successfully covering England and Wales, there are currently two editors in Scotland, and managing director Freddie St George is now spearheading a recruitment programme in Scotland in an endeavour to bring Raring2go! to all the main cities and towns represented, along with rural areas in Scotland.
"We'd love to start with Edinburgh but I'd be absolutely delighted to hear from anyone in any Scottish city or town who'd like to know more about running their own Raring2go franchise!" says Freddie, "We're particularly keen to speak to anyone who's had a career in sales, publishing or marketing.
This is an incredibly exciting opportunity for anyone who's been thinking about running their own business and is nervous to start up on their own, or those who've been made redundant or are currently unhappy with what they're doing. Scotland – take up the challenge, let's get Raring2go! editors launching their own businesses from the Shetlands down to the border!"
Franchising brings all the freedom and challenges of running your own business. You need to be self-motivated, organised, IT-literate and unafraid of hard work. On the positive side, there's no boss breathing down your neck, you can work flexible hours to suit, set your own targets - and keep all the profit! Potential earnings are significant and there are also opportunities to make a success of one territory and then expand to own and manage multiple territories.
Raring2go! makes life easy in practical terms for its editors. Not only do they become part of a highly successful established brand, but full ongoing support and training is given from the moment they join the Raring2go! team and franchise network.