Last Updated: 06-March-2020
Interview with Stephen Trezona, Founder & Managing Director of Clear Brew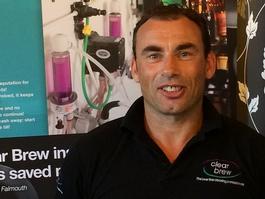 Stephen Trezona set up on his own in 2006 to offer a professional beer line cleaning service to any establishment in Cornwall that distributed beer through a dispenses system. He spent 6 years perfecting his business before deciding that, due to immense demand for his services, to go down the franchise route. In 2012 he sold his first franchise in Taunton and the Clear Brew franchise was officially launched.
As well as managing the franchise side of the network with the aim to have national coverage across the UK, Stephen still runs his own Clear Brew business in Cornwall.
When Stephen isn't working, he enjoys sailing around Cornwall's scenic coastline.
To understand the industry in more detail, and the demand for Clear Brew's service, we asked Stephen why more establishments are opting to outsource their beer line cleaning. We also asked about clients and what growth the industry has seen.
"Traditional beer line cleaning would take place on a weekly basis to ensure dispense quality. In line cleaning the proprietor suffers a significant amount of waste, in that all the beer sitting in the lines must be released and literally thrown down the drain. By extending the frequency of the clean, you can reduce waste and water use. Clear Brew's three weekly service allows for a 66% reduction in both the ullage (beer waste) and water use. By default we offer an environmentally sustainable method; we save clients significant amounts of water and we use no electricity or gas but instead utilise a natural energy source (inhibitors) to increase yeast buoyancy in the lines."
"Clear Brew has over 1500 clients nationally, from some of the major pub and hotel chains, to small local social clubs, sports clubs, bowling alleys, bingo halls…basically anywhere that dispenses beer. Research and improvement in the chemicals used and the greater demands on the beer industry to improve yields has pushed this once weekly task to extended periods, and now many establishments enjoy the benefits of using professional line cleaners."
With more businesses opting to out-source this service, how do you stay ahead of the competition?
"Our four-part service i.e. labour, chemicals, technology and equipment, combine to provide an entire line cleaning package, something many of our competitors are unable to offer. Many of our competitors use technology that still requires chemicals to be held on site and send untrained staff to do the job. Our commitment to providing first rate customer service by taking care of all the elements of the line cleaning process sets us aside."
With 50 franchisees in the UK, is there a specific "type " of person that makes an ideal franchisee? And do they need experience?
"Most of our franchisees have no prior experience of line cleaning but they recognise the vast opportunities the potential marketplace offers. We have franchisees who were councillors, in the armed forces; IT consultants and we even have an ex 80's popstar!! They all have one thing in common and that is, the motivation and drive to operate their own business and make it successful."
"All new franchisees visit Cornwall for a four-day residential training course which is a mixture of on-site practical training alongside some classroom theory. It is imperative to us that all of our franchisees are successful, so on an ongoing basis we provide support in those areas that many of those new to business are unfamiliar with including accounting software, IT support, technical advice lines and general business support through our connection with the Federation of Small Business (FSB)."
So what has been Clear Brew's biggest achievements to date?
"Signing our first franchisee back in 2012 was a huge step and now we have just signed our 50th franchisee! Securing a nationwide contract with a large pub chain and then some of the Hilton hotel group is a constant reminder of the effectiveness of our service."
And what about challenges, how have you overcome those?
"One thing that has always been a constant is the effectiveness of the service we offer. The biggest challenge has been trying to change the culture that exists within the industry, in that there is the perception that moving away from weekly cleans to three weekly impacts upon dispense quality. This is slowly changing as we can provide evidence that if done correctly, the line cleaning process can save the establishment a significant amount of money."
What does the future hold for Clear Brew?
"We already have great coverage throughout the UK but want to extend it so that every region has a Clear Brew representative carrying out cleans. We want our current number of franchisees to increase to 75 by 2023."
"We are continuing to centrally arrange contracts with some of the major pub and hotel chains and will continue to offer trials to these groups in order to secure the cleaning service contracts. We are very excited about Clear Brew's future."
view Clear Brew profile