Exclusive interview with Angela Sterling, Lingotot Franchisor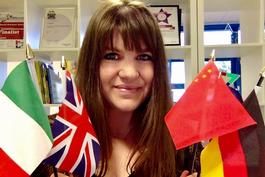 Franchisors name: Angela Sterling
Name of franchise: Lingotot
Tell us about how/when the business was started and the motivation behind establishing Lingotot.
I was a teacher in the UK and internationally for many years and decided upon a career change when my first baby came along. I used my experience as a teacher and languages researcher to develop the Lingotot programmes. Such was the interest and demand, that the BBC came along to my very first class!
When and why did you decide to go down the franchise route?
Right from the start I couldn't keep up with the demands of the business and franchising seemed to be the perfect way to grow quickly, while also offering the opportunity to other women to work flexibly in a professional role. As a teacher, I love developing and supporting learners, so the role of franchisor is very comfortable to me.
What have been Lingotot's biggest achievements/successes to date so far?
I am super proud that we offer two qualifications for languages teachers and the only qualification for primary-aged children in the UK for languages. I am also proud of our international expansion and can't wait to see that grow. However what brings me the most pride is seeing my franchisees thrive and grow their own businesses.
What challenges have you had to overcome?
I franchised the business with two babies under two and a husband who worked away from home and no childcare. I have memories of business meetings in my kitchen and breastfeeding while leading the Hokey Cokey in French!
How did COVID-19 affect your business?
Covid-19 turned our operational function on it's head with the closure of schools, nurseries and community venues. However, we were prepared from day 1 with an online learning portal. All of our franchisees continued their lessons throughout the pandemic online and, when restrictions allowed, in outdoor Summer Camps and Forest Schools. COVID-19 has transformed our business and it's culture in many ways, but for the better. We now have an established online learning platform and all necessary resources to run outdoor classes and camps. Our network has shown the true strength of our resilience and collective spirit.
What marketing/promotional tools do you use to grow your franchise?
We have always grown organically. This is the first time we have advertised.
What differentiates Lingotot from the competition?
We are the only children's language franchise with qualifications for teachers and children. We are the only operators which offers classes in eight languages for children aged 0-12 AND adults (English, French, German, Spanish, Italian, Arabic, Chinese and Welsh). Our teaching programmes are unique and include thousands of lesson plans, stories and songs which are not available for resale.
In your opinion, what makes a successful Lingotot franchisee?
Someone who loves children and languages. Our franchisees don't need to be teachers or have any business experience. If they want to teach for themselves they just need to be able to speak a language, however some franchisees don't teach and hire teaching staff.
What changes have you seen in your industry over recent year? And how have you adapted to them?
There are a LOT of children's activity franchises and the market has become saturated. While we are more of an education franchise, the market is getting tougher. We work very hard to ensure our classes are of the highest possible quality - quality always shines through.
What does the future hold for Lingotot?
We have a robust national and international expansion plan which is very exciting!
What advice would you give to someone considering franchising their business?
Being a franchisor is fantastic, but you must take it seriously. Your franchisees depend on you for their livelihood and you have to take that extremely seriously.
If you had to do it all again, what would you do differently?
I'd have done it years ago!