Sign up to receive our latest franchise news, advice and opportunities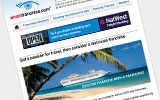 If you are a potential franchisee i.e. looking to buy a franchise, and hence interested in finding out more about franchising, subscribing to our monthly newsletter and weekly franchise alerts will keep you up-to-date with the latest developments in franchising.
This includes the latest industry news, franchise opportunities, existing franchises for sale, international franchising, steps to buying a franchise, advice from industry experts such as franchise finance and legal advice, upcoming franchise events, interviews with franchisees and franchisors, special offers from selected franchise partners and much more...
We never share or sell your personal information.