---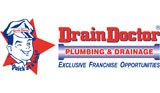 Drain Doctor (franchise for sale in Middlesborough)
Location(s): Middlesborough
Investment Level:Cost reduced - £109,995

Drain Doctor Franchise Business for Sale
- Middlesborough

Cost reduced

Drain Doctor gives a nationwide, high quality, uniform service experience for all those in need of expert emergency plumbing and drainage services. They are the first worldwide company to combine the two services. Others have tried emergency plumbing, or emergency drain clearing. However, none have provided a combination of the two services on a national, high profile basis.

Drain Doctor specialise in providing a top quality, swift, and caring service, and are looking to bring in further franchisees who are willing to provide the kind of service that will keep on attracting recommendations and follow up business.

The current business has been in operation since 2007 when it was started as a new territory. Since then the business has taken on 2 engineers and is consistently turning over £250,000. The business offers a large territory giving the incoming franchisee plenty of scope to continue developing and growing the business.

Currently being ran from home, with the help of a forward thinking franchisor, the business has built up a well-known presence around the Middlesbrough area.

The current franchisee is looking to move away from the local area and pursue other avenues abroad.

The potential profitability of owning and running a Drain Doctor franchise is very high. They have a great number of franchisees who are putting well over 20% of their turnover to their bottom line.

This opportunity to purchase a Drain Doctor is available and will accept offers in the region of £109,995. A Prospectus of Sale is available with supporting accounts following the signing of a non-disclosure agreement.