Join our multi-award winning home care franchise family!

If you are searching for an opportunity to be your own boss, Right at Home offers a tried-and-tested business model within a highly lucrative market.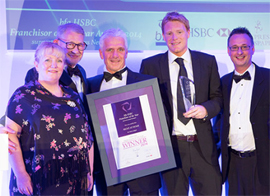 With over 500 offices throughout the globe, Right at Home is not only a leader in the care sector but also within the franchising industry; multiple awards demonstrate that our highly reputed brand name is synonymous with top-quality service and an immensely successful business system.
It has never been a better time to invest in a care franchise. Government statistics confirm that the UK's senior population is growing at an unprecedented rate, with projections of eight million elderly by 2050.
"The caring ethic of the company appealed to me – I was in accounting and I wanted to do something with a more human impact to it. I liked what Ken stood for and admired the ethos behind Right at Home."
Julie Foote. Right at Home East Lancs & Ribble Valley
Right at Home are currently seeking ambitious individuals who are looking for a person-centered business within a lucrative market. Interested in finding out more.
Why not immediately download our prospectus here to find out more about our award-winning franchise opportunity?
Want to join the best?
At Right at Home, we are more motivated to be the best… rather than the biggest; Our continued achievement of this is demonstrated in our growth, our multiple awards and franchisees' great return on investment. Here are just a few examples of this:
A major indication of a successful and ethical franchise opportunity is the satisfaction of the franchise owners. We consistently score over 90% from independent franchise satisfaction surveys.
One of our Right at Home franchisees was recently awarded for delivering over 1,750 hours of care a week to their clients; this demonstrates what is possible with our business model.
In the UK over 30 Right at Home offices have been established; the most successful of which has a turnover approaching £2m.
Following a successful pilot our first franchise partner joined us in September 2011. He now has a business turning over £1m and is a great ambassador for the company. Since then we have developed a growing network of over 30 offices – however I would stress our aim is not to be the biggest home care franchise, but rather the most supportive and the best at what we do." Ken Deary, Managing Director
What do I get for my investment?
At Right at Home, we only accept the best and, as such, fewer franchisees means a higher support ration, which means more personalised support and assistance for you and your franchise.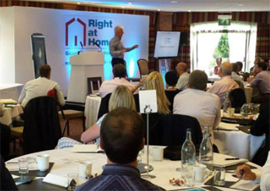 In particular, our franchisees work very closely with Ken Deary, Right at Home's UK Managing Director. Ken is a veteran within the franchising industry and was an award-winning McDonalds franchisee. He assists all franchise owners in the building of their businesses and they also get as much training and support as they need from our senior management team.
Primarily, our franchise owners are awarded exclusive rights to an agreed territory containing at least 35,000 over 65s for 10 years, with a 5-year renewal option. We offer franchisees larger territories than the competition, as well as scope for expanding territories as the business grows.
"Right at Home impressed with the level and quality of support to franchisees and the fact that their expansion was within their means to support it. They've built a road to success neither cutting costs nor compromising on quality." Brian Smart BFA Chairman
To get fuller details of our fantastic franchise package, why not immediately download our free prospectus here.
Are we right for each other?
As we offer a model which offers an excellent return on investment and great potential profits, we want to ensure franchise partnerships are based upon the right people doing the right things for the right reasons. Focus on top-quality care is paramount.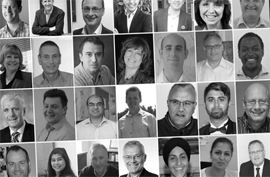 However, you do not need previous experience of the care sector as we would train and support you in the recruitment of experienced and well-qualified Registered Care Managers to oversee care delivery, compliance, recruitment and training. You will however, need to be a great leader and a confident networker.
Likewise, we see ourselves as a family at Right at Home; no one is just a number. If you want to be part of a close-knit franchise network and want to bring a fantastic service to your community, we would love to hear from you.
"Taking only the best applicants as franchise owners means a rigorous recruitment process. We like to think ours is the toughest in the industry and for good reason; the quality of care our clients receive is everything to us and we ensure they get it by only awarding franchises to those people whose ethics, standards and motivations we trust in 100%" Tim Jones, Operations Director
Next steps
If you think Right at Home sounds like a good fit for your own business aspirations, then please complete the short form below to immediately download our prospectus and/or submit interest in one our free and informal Discovery Days.
Then, if you haven't already, please watch our video in the tab above – it's a great way to see who we really are as a company.