Little Dessert Shop Franchise Yorkshire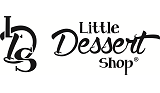 Discover the award winning Little Dessert Shop franchise and embark on a journey of pure indulgence
Little Dessert Shop is an award-winning franchise specialising in a huge selection of top-quality sweet treats, from classic temptations like sundaes and ice-cream to innovative 'create-your-own' desserts.
Our delicious offerings, constant evolution and home delivery service are just a few of the elements that set us apart and keeps our customers coming back for more.
Since the first store was opened in 2014, the brand has expanded quickly and there are now nine Little Dessert Shops in the UK.
The success of our tried and tested franchise systems, has resulted in us receiving provisional membership of the British Franchise Association.
We are now looking to bring our mouth-watering treats to Yorkshire and so looking for individuals with the drive and commitment to build the brand across the region.
Why franchise with Little Dessert Shop?
Just a few of the reasons to franchise with Little Dessert shop include:
A growing industry: Just Eat reported that dessert was one of the fastest growing categories (March 17)
Unique concept: Specialist dessert stores with innovative and customisable products provide a breath of fresh air to customers in a market saturated with coffee shops and fast food chains
Successful brand: Little Dessert Shop has been able to quickly expand since its foundation and has a proven track record, success, experience and knowledge within the industry
Choice of store formats: Depending on depending on location, store premises and footfall, there are three store formats franchisees can choose from: kiosk, café or restaurant
Excellent franchisee support: All Little Dessert Shop franchisees are given in-depth training and support, including assistance with hiring and training staff members, ongoing training for the store manager and an operations manual
Our franchise opportunity
Little Dessert Shop is an exciting alternative business model to an already saturated coffee and fast food market. Desserts are a new and so we are creating a unique opportunity for the UK franchise market which is supported by a proven success story.
Little Dessert Shop offers an attractive return on investment, a strong online presence with support from a central head office and stock distribution centre. Our store concept will cater for any market and all age groups.
There are 3 models to choose from depending on location, store premises and footfall: kiosk, a café and a restaurant.
The start-up cost varies based upon the model chosen; typically, a restaurant store will start from £155,995 and a kiosk from £87,995. HSBC and Lloyds can fund up to 70% (dependent on personal circumstances) and so you will need a minimum of £31,679 of your own money to buy a kiosk and £56,160 for a restaurant.
If you would like to find out more about this master franchise opportunity, please fill out the form below.