PACK & SEND Franchise West Midlands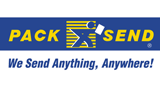 Looking to start a franchise in Birmingham?
PACK & SEND are currently recruiting in the Birmingham area
PACK & SEND, the UK's leading supplier of packing and shipping services, is looking for an individual in the Birmingham area to become a PACK & SEND franchisee.
With a population of well over 1 million people, 75,000+ businesses and the best connected transport infrastructure in the UK, the wider Birmingham region is one of the most attractive commercial areas in the UK. With just one, well-established PACK & SEND store in the region at present, run by our franchisee Inderjit Dhesi, it is an obvious opportunity area for franchisee applicants.
So why PACK & SEND?
We pride ourselves on the fact we are different from other courier or shipping franchises.
Our franchisees run their own retail store providing packing and shipping solutions for business and domestic customers who have complex or bespoke packing and freight problems. We love the challenge that our customers often give us and we are proud that no job is too big or too difficult for us!
If you would like to be part of our success story and open your own franchise in the Birmingham area, then please fill in the form below.