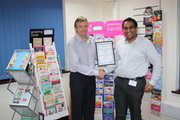 Leading greeting card publisher and franchisor, Card Connection, has announced Munawar Mohammed is taking over the Scottish franchise territory of Aberdeen from Andrew Orr, previous franchisee for the region for 18 years. Munawar will now supply Card Connection's quality range of greeting cards and accessories to retailers in the 200 square mile North East Scotland territory, from Stonehaven to John O'Groats.

"Andrew originally supplied my brother's retail outlets some 15 years ago so I knew of Card Connection's clever franchised business system and we kept in-touch," confirms Munawar Mohammed. "I have been working for the well-known furniture retailer DFS as one of the top sales people bringing in well over £1million for the company each year. Although I liked the job and the company, I felt it was time to branch out on my own and be directly rewarded for the effort I put in by running my own business.

"Card Connection has a number of unique selling points which attracted me to the franchise: including licenced product such as Boofle and Disney, plus the Company's own in-house designed cards. There is a national account network where the franchisees supply around 100 Regional and National retail accounts such as Costcutter, WH Smiths Motorway Services, NISA, BP and Spar. In addition, I also liked the fact that there are only re-sale territories available which means the company has good systems in place and is particularly established in its sector."

"Although franchisees don't need any direct experience of the industry, as we provide full training, Munawar's retail sales background will make him ideally placed to manage the franchise," confirms Michael Johnson, Card Connection. "We are delighted to welcome Munawar to our Card Connection family and are very much looking forward to helping him develop his franchise business over the next few years."

Card Connection is part of UK Greetings, which is a subsidiary of American Greetings Inc., one of the largest greeting card publishers in the world and has limited vacancies for franchisees that are keen to run an expanding business. Since the franchise network in the UK is complete, the available opportunities now consist of acquiring an already-established territory from an existing franchisee. These vary in price according to their level of development, but start at £7k + Stock + Card Connection fee with earnings potential in excess of £50k per

Territories currently available include: Bath, Coventry, Reading/Windsor, Northampton, Plymouth, Oxford, Leicester, Liverpool, Ayr, Edinburgh and Ireland South.