Oggy Oggy Pasty Opens in Glasgow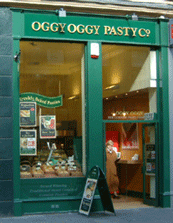 "Pasties to shout about!" - that's the claim of the Oggy Oggy Pasty Company as it opened its doors to it's 25th franchised business in Glasgow.
The franchised shop, at 36 Gordon Street, opened for business on Wednesday (22 March) and is the first Oggy Oggy traditional Cornish pasty shop to open in Glasgow.
Owner Ahsin Akram opened the business with his wife Rohma and business partners Waheeda & Hasseb Ahmed. Ahsin was born in Glasgow and has big plans for the Oggy brand in the City.
Ahsin said: "We've spent a few good holidays in Cornwall and really enjoyed the pasties we had down there. We saw the Oggy Oggy shops throughout Cornwall and Devon and I wanted to bring the pasty up to my home town of Glasgow. It's a great city. I am hoping that the business will be a success and have plans to open more shops across the area."
Ahsin's wife, Rohma continued: "The shop is a real traditional Cornish Pasty Shop, with a warm welcome and a great choice of delicious hot pasties. We cater for vegetarians as well as having a number of speciality pasties, like steak and ale or lamb and mint and we even have a haggis pasty! As well as pasties we offer a range of filled Jacket potatoes and made to order baguettes - these have all been really popular over the first few days."
The customers on opening day were impressed with the fresh baked approach taken by Oggy Oggy. The pasties are all made in Cornwall and hand crimped, before delivered to Glasgow. This means they are freshly cooked every day - the only way to eat a pasty.
The shop is open from 8am to 6pm on Monday to Saturday and from 11 to 4 on a Sunday.
Oggy Oggy Franchise Director Paul Clark says, "Oggy Oggy pasties are taking the country by storm. People like to know where the food they eat comes from and love the idea of proper fresh baked pasties. I'm sure people who live in Glasgow, and those who visit, will love them too. We wish lots of luck to Ashin his wife and their partners in his new venture and look forward to developing more Oggy Oggy shops throughout Scotland."
For further information, contact: Catherine Webster Marketing Manager The Cornish Oggy Oggy Pasty Co Tel: 01726 861120
Stephen Gilbert Deborah Clark & Associates Ltd Tel: 01872 276 276 E-mail: dclark@dclark.co.uk